Narayana Group of Schools
Over 60 students from 18 branches of Narayana Group of Schools attended a felicitation event to celebrate their results in the Joint Entrance Examination (Main) on February 11. It was a huge boost for these boys and girls, just before their CBSE board exams, as their efforts were recognised in a grand event at a city hotel.
The chief guest on the occasion was Suranjan Das, vice-chancellor of Jadavpur University. Other guests included Priya Ponguru, managing director of Narayana Group of Schools, Bengal.
The top scorers from the 18 branches were called up on stage to receive their awards and share their experiences. Some teachers were also felicitated.
"It's an overwhelming experience for all of us to be recognised for our hard work and to meet other toppers and interact with them," said Sanchari Ray of the Maheshtala branch who scored 96.14 percentile. She had come with two of her classmates and top scorers.
"This event gave us a welcome break from studies," chipped in Mohor Kanti Biswas from the Kalyani Expressway branch, having scored 99.35 percentile in JEE (Mains) and harbouring IIT-Bombay dreams.
The best part of the event for these students was meeting Das, who shared some pearls of wisdom with these students. "You have a moral obligation to pay back to society. When you complete your education share the knowledge that you have gained with those less fortunate and deprived of basic education," he said.
Das also told the students to remember Tagore's words that school education should make them both creative and tolerant. "We should be aware of the long-term implication of this unqualified craze for science and technology. Science students also need a proper grounding of social sciences...Education should teach us not to stop thinking," he said.
Das also conducted an interactive session with the students, asking them about their dreams, long-term goals and what made them stay grounded.
Congratulating all the students and teachers Ponguru said: "Material things can get stolen but nobody can steal knowledge from you. All of you are creating a bright future for yourselves," she said.
The state CEO of the group of schools, Deblina Saha, said: "The event is a celebration of a very proud moment for us. We hope to encourage students to perform even better in future and take inspiration from each other. Over 60 students, parents and teachers were present at the event."
"This event is held every year. The students as well as their parents were left overwhelmed after hearing professor Das," said Priyanka Mukherjee, state academic head of Narayana Group of Schools.
Assembly of Christ School, Barrackpore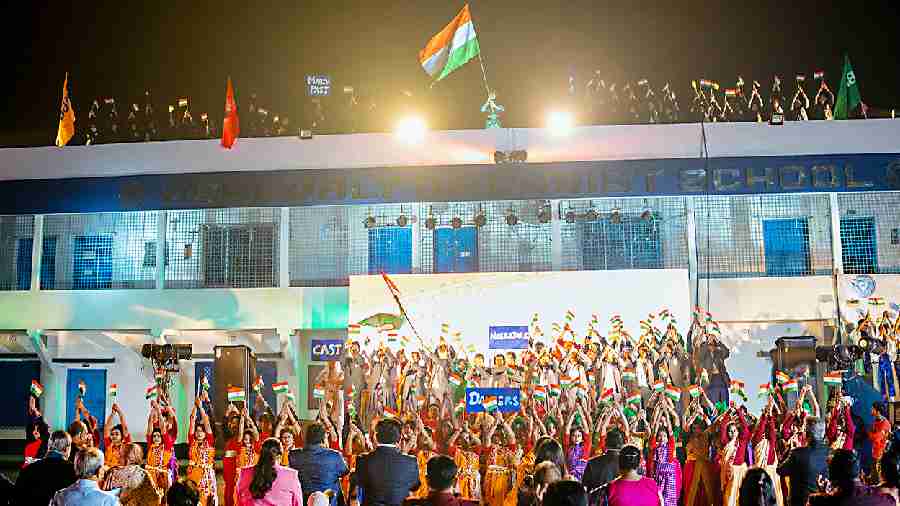 An open-air performance, three stages and tales of progress — over 300 students of Assembly of Christ School, Barrackpore, celebrated their silver jubilee year by staging a programme, focusing both on the school's journey as well as that of the nation's since Independence. The event was held on January 22 and 23.
The chief guest on Day I was Dr Kunal Sarkar, chief cardiac surgeon and senior vice-chairman of Medica Superspecialty Hospital.
The school released an app, its in-house magazine and a calendar on the occasion.
Students presented a light-and-sound show, Silverado: The March of Time, highlighting the lives of some bravehearts of the country as well as those who founded the school. The event was full of music, narration, mime and dance.
The chief guest on Day II was Gerry Arathoon, chief executive and council secretary for the Indian School Certificate Examination and educator Anita Arathoon.
"The programme was the result of hard work of over 300 students and teachers. We held it on the school grounds, using even the terrace as our stage. There was music, light, sound and even 3D effect to make the students' presentations memorable. We fused two significant milestones — the nation's 75 years of Independence and our 25-year journey," said principal A.D. Gomes.
Tribeni Tissues Vidyapith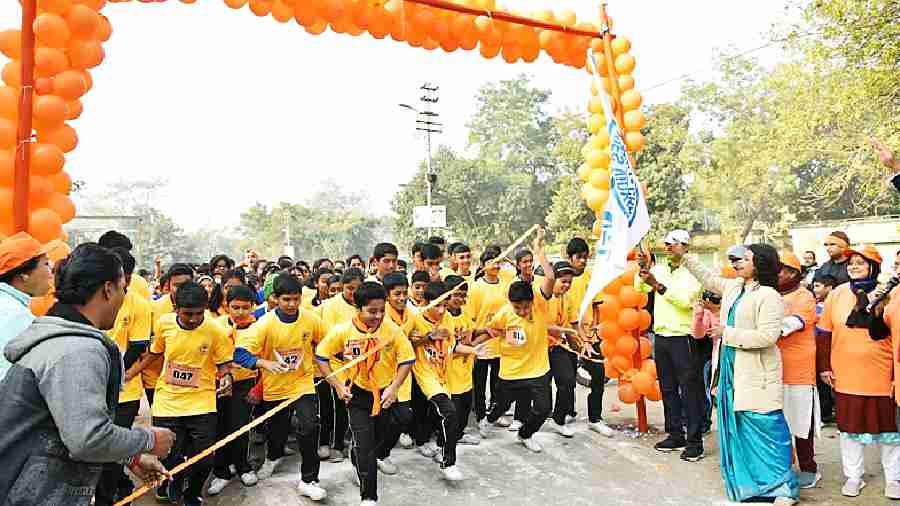 As a tribute to Swami Vivekananda on his birth anniversary, Tribeni Tissues Vidyapith organised a mini-marathon on January 12. The aim of the event was to promote fitness among the youths.
Students, teachers, parents, alumni and members of the ITC PSPD, Tribeni Unit took part in the 2km and 5km marathons.
A zumba session warmed up the participants at 7am, followed by Pranav Kumar Sharma, unit head of the PSPD Tribeni, offering a floral tribute to Vivekananda's picture.
Marathon runner Bapai Bhattacharyya flagged off the event.
Young participants ran with enthusiasm, most finishing the run well in advance of the cut-off time. Those, who completed the race, got medals. The event ended with the national anthem.
"The thought behind organising such an event is to invoke positivity in young minds and promote physical fitness among them. These were Swamiji's dreams for the Indian youth. The success of the event is visible in the overwhelming response of participants. Our school will continue to remain a symbol for physical fitness and environment care, along with academic excellence," said principal Sanghamitra Chatterjee.
Ruby Park Public School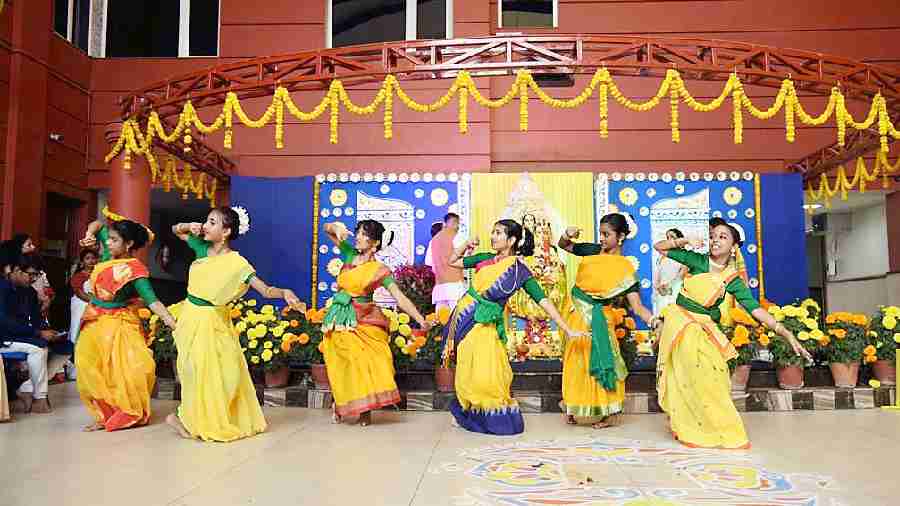 Students, teachers and staff members of Ruby Park Public School came together to celebrate Republic Day and Saraswati Puja in style.
The morning began with the student Bulbuls taking part in a parade, followed by the unfurling of the national flag. Everybody sang the national anthem.
The chief guest for the day was IAS officer Tapas Chowdhury, who is also a member of the state's Staff Selection Commission. The day continued with Saraswati Puja celebrations. The students took part in the floral decorations and alpana making. The school looked aesthetically decorated and a picture of calm.
The air resonated with the sound of conch shells that blended with the chanting of shlokas and mantras. The students presented devotional songs and some dance performances. Everybody enjoyed the celebrations.
"The twin celebrations spread the feeling of love and universal brotherhood. The spirit of harmony and unity reverberated in the air. The students presented a cultural programme with great enthusiasm, reflecting beautiful teamwork and spirituality that the festival had instilled in them," said principal Joyeeta Majumdar.
Sushila Birla Girls' School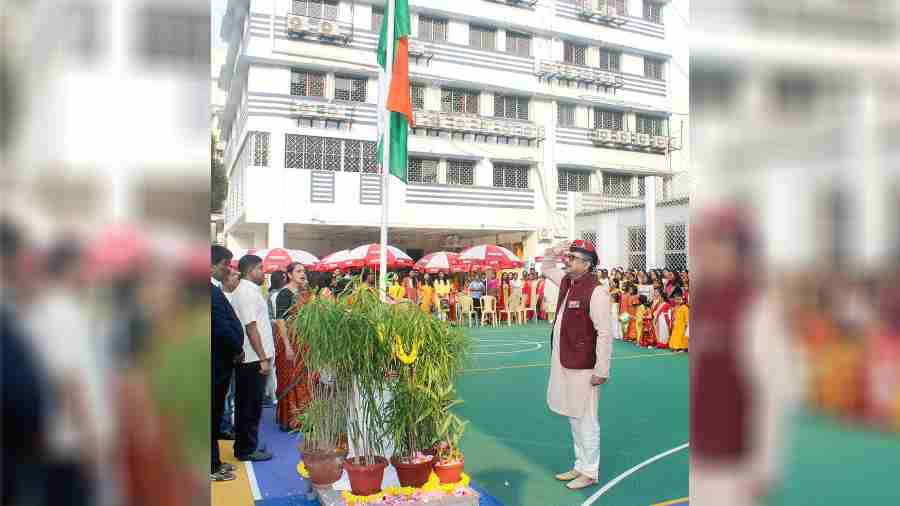 The girls of Sushila Birla Girls' School celebrated Republic Day on the school premises. Chief guest Colonel (retired) T.R. Bera hoisted the national flag.
Students sang patriotic songs and concluded with the national anthem. There was an air of solemnity all around.
School director Sharmila Bose, principal Koeli Dey, headmistress Vidisha Panja, co-ordinators, teachers, students, parents and support staff members attended the programme.
"As we hoisted the tricolour on January 26, our hearts were filled with pride. The history of our nation serves as a huge source of inspiration for our younger generation. It is truly a red letter day," said the principal.
Vivekananda Mission High School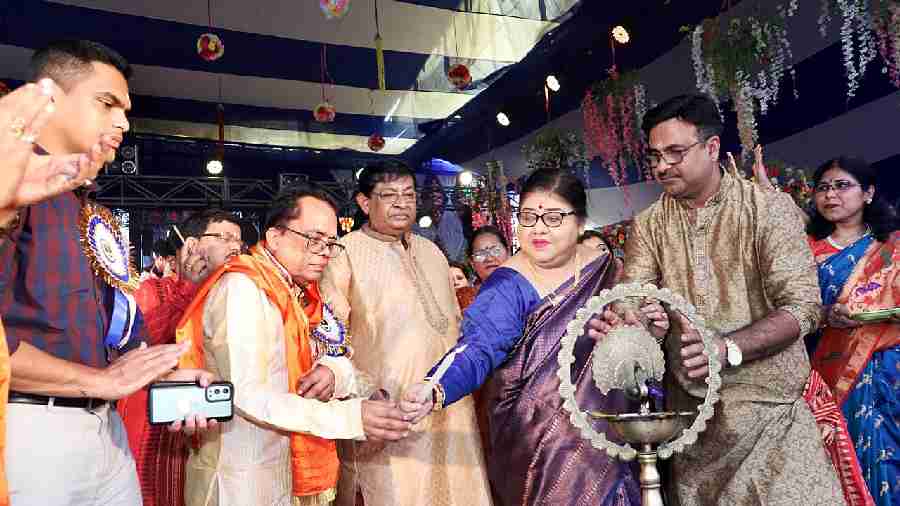 Vivekananda Mission High School, Mechogram, celebrated its annual cultural meet on January 25, after a break of two years due to Covid-19 pandemic. The programme was inaugurated at 10 am by educator and MLA Saumen Kumar Mahapatra. Also present was IPS officer Amarnath K.
The school building was decorated with flowers, garlands and light. The cultural programme began with Vishnu Vandana performed by the students and teachers.
School manager Nathuni Singh presided over the programme. It included music, recitation, dance, extempore speech, pantomime and other performances. IPS officer Amarnath K. handed over the certificates and a cheque of Rs 1,000 to 50 students, who have scored over 90 per cent in their Class X and XII board exams.
Principal Hrishikes Roy, in his speech, mentioned how the school has been making a mark in the area. He mentioned how the institution had initially struggled because of the financial crisis and other issues.
"Nobody imagined that this institution would become an iconic model in this vicinity over the years. Vivekananda Mission High School has earned its credibility in terms of amenities, infrastructure, facilities and experienced faculty in nearly two-and-a-half decades," he said.
Singh said: "I am convinced that Vivekananda Mission High School will be the preferred destination for aspiring learners and dedicated professionals in future."