A Kolkatan and another person from near the city, who are now in Kiev, shared with The Telegraph through phone calls and messages their experience on Day One of the Russian invasion of Ukraine.
Rahul Chanda, from Behala in southwest Kolkata, works with a trading platform in the capital of Ukraine. He lives in a neighbourhood called Nyvky with a Ukrainian friend.
Swagata Sadhukhan, from Gobardanga in North 24-Parganas district, around 60km northeast of Kolkata, is a medical student at Kiev Medical University. She lives in Kharkivska, on the outskirts of Kiev. Swagata shares a three-bedroom apartment with five others, all medical students from Bengal.
Both Chanda and Sadhukhan woke up to sounds of explosions and sirens at the crack of dawn. Even till a couple of days ago, they were "realistically hopeful" that the high-pitched rhetoric would not lead to a war. But the sound of shelling on Thursday morning shattered the last ounce of hope.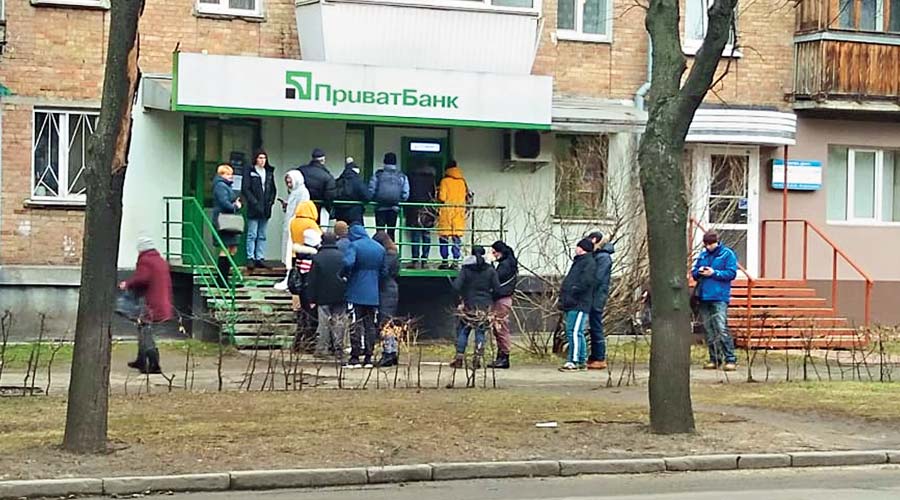 Queues outside ATMs in Kiev on Thursday morning
Morning jolt
Chanda was woken by the noise of air raid sirens that rang out across the capital around 5am on Wednesday.
"Two loud booms", at a distance, one after another, had Chanda and his Ukrainian friend rush towards the window in the northern corner of the room.
The explosions were followed by a lull of around 10 minutes. Then, there was a third blast.
A sound similar to that of whistling winds came like a prologue before every explosion.
After the first two blasts, a mushroom cloud suggested the blasts happened near the airport.
By 6am, Chanda had learnt from local news channels that the airport had been targeted by Russian missiles.
For Chanda, who lives around 10km from the airport, the sounds were louder than they were for Sadhukhan, who lives around 30km away from the airport.
Sadhukhan and her roommate stayed awake almost the entire night. "I must have dozed off towards dawn and was woken by the sound of an explosion," she said.
The explosion was accompanied by a rumbling sound and vibrations that "shook" the window panes, she said.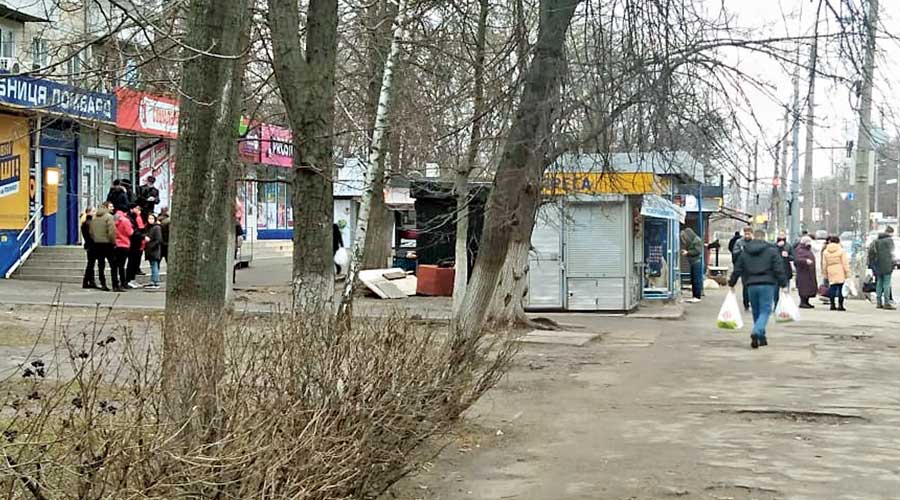 A queue outside another ATM and residents with grocery bags in Kiev
Panic on streets
Traffic was gridlocked on the main roads out of the capital, despite the government asking people to stay at home.
On the basis of conversations they had with their Ukrainian friends, both Chanda and Sadhukhan said many residents of Kiev were trying to flee to Lviv, a city in western Ukraine, around 65km from the border with Poland, perceived to be relatively safer.
There was another section of people who live closer to the Russian border who tried to flee their homes and reach the capital, which they thought would be safer, said Chanda.
"The relatives of a couple of my Ukrainian friends are trying to move into Kiev," he said.
Chanda stepped out of his home in the afternoon to withdraw money from an ATM.
He saw a long snarl of cars on the road and at gas stations. Every ATM had scores of people in the queue.
"I went to three ATMs but could not withdraw money because of the rush," Chanda said.
Sadhukhan said her friends saw "panic buying" at supermarkets, where they went to get some dry ration.
"People are literally emptying racks at the stores. From chocolates to cereals, everything is in demand," she said.
"Everyone is preparing to stock up for what they believe is going to be an uncertain future," she said.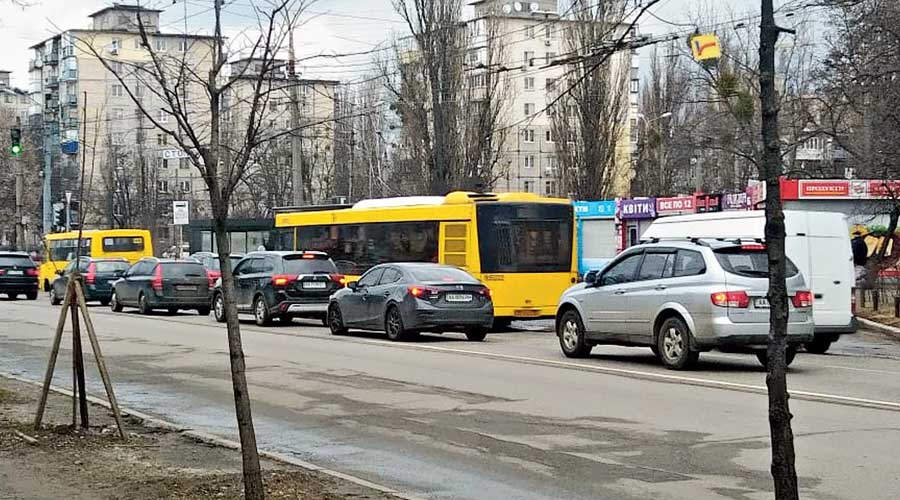 Traffic in Nyvky
Men and machines
Throughout the day, Ukrainian army personnel marched and tanks rolled down the city's streets.
A section of people also walked the streets, vowing to defend their territory against the Russian invaders, said Chanda. He shares his flat with a Ukrainian teacher, working with an ed-tech platform.
"She said she is ready to shed her last drop of blood for her country. Some of her relatives have come from a neighbouring region to live with her. They share the same feeling," said Chanda.
While the sound of explosions have not been heard since morning, the sound of choppers flying low has been a constant, said Chanda.
In the evening, there was a speculation of Russian troops having entered Kiev. "But we have not been able to spot Russian soldiers so far," he said around 7.30pm (IST).
Many people were trying to take shelter in subways and Metro stations, fearing more bombings from Russia, both Sadhukhan and Chanda said.