The bodies of five trekkers from Kolkata who went missing in the Himalayas and were found dead arrived in the city on two flights from Delhi on Monday.
The family of one more trekker who is still missing hopes that he will be rescued and will return home.
An IndiGo flight carrying the bodies of three trekkers arrived at 8.15am. Another flight of the airline carrying the bodies of the other two trekkers touched down at 9.35am.
The dead are Bikash Makal, 33; Sourav Ghosh, 34; Tanumoy Tewary, 30; Richard Mondal, 30; and Subhayan Das, 28.
They were among the seven trekkers who had left for Uttarakhand on October 11. They had planned to trek from Harshil in Uttarakhand to Chitkul in Himachal Pradesh via the 17,300ft-high Lamkhaga pass but went missing after the weather turned hostile.
A state government official said Richard's body was found near Chitkul. The other four trekkers were found dead near the Lamkhaga pass.
Mithun Dari, a member of the team, survived the tragedy. He arrived in Kolkata late on Sunday. "He has suffered a fracture in his right leg," said a state government official.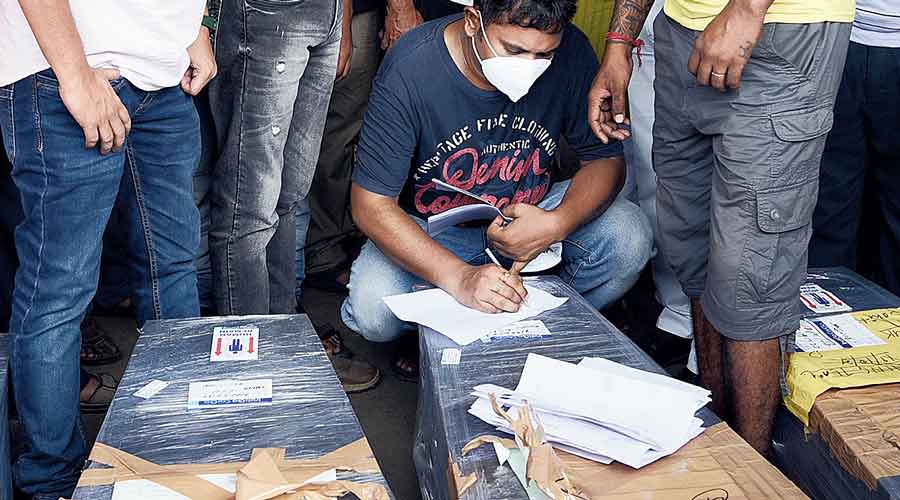 Relatives and friends of the trekkers at the airport after their bodies arrived on Monday.
Gautam Bose
Bikash, Sourav, Tanumoy and Richard were childhood friends and studied in the same school, their families said.
"They grew up together and knew each other for decades," said Prasenjit Naskar, a relative of Sourav, who had turned up at the airport on Monday morning.
While Tanumoy was from Haridevpur, the other three were residents of Nepalganj Raghabpur in Bishnupur, South 24-Parganas.
Subhayan, who was from Nepal Bhattacharjee Street in the Rashbehari area, became acquainted with the group later.
Tanumoy's uncle Sukhen Majhi, who was part of the trekking team, was missing till Monday evening.
"We are hoping for some good news. We hope news will come that he has survived and been rescued," said a relative of Majhi.
 Police escorted the bodies out of the airport. The state government had hired an agency to carry the bodies home.
The bodies of Bikash, Richard and Sourav were taken to St Joseph's Church in Raghabpur, where tributes were paid to them.
The block development officer of Bishnupur-I and police officers from the Bidhannagar commissionerate were at the airport on Monday morning to help the families.