A traditional hunting festival in Paschim Medinipur district killed several birds and animals on Monday, alleged animal activists who accused the forest department and police of inaction.
A Calcutta High Court order in 2019 put a complete embargo on ritual hunting in various districts of south-west Bengal. In another order dated March 21, 2021, the court iterated its earlier order, saying that all such illegal activities have to be completely stopped by the state by exercising police power, if needed.
The hunting calendar started from Monday, April 4.
Animal lovers fear a rerun of the massacre of a range of wildlife on several upcoming dates of ritual hunting in the southwestern districts of Bengal — Paschim Medinipur, Bankura, Jhargram and Purulia.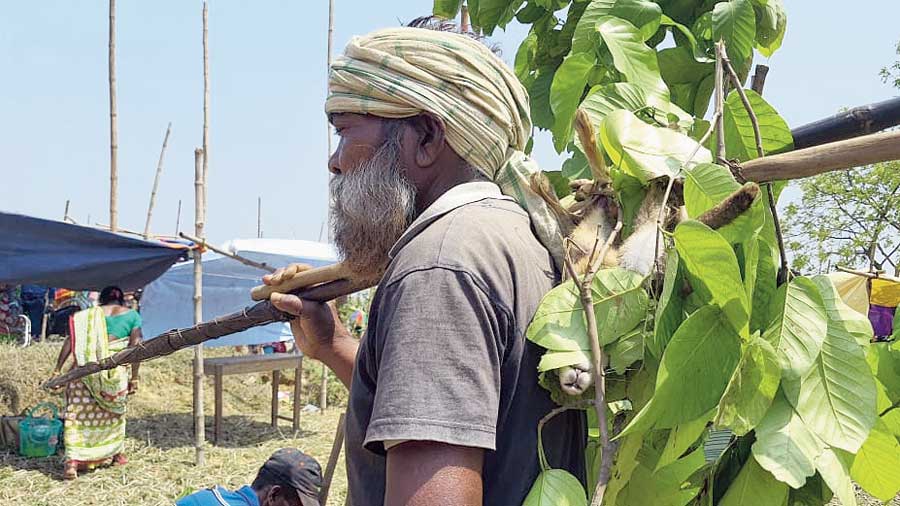 Monday's killings were reported from Gopegarh forest in the Chandra beat, around 5km from Medinipur town.
The kills included wild boars and birds like orange-headed thrush, said members of HEAL (Human and Environment Alliance League), who were in Paschim Medinipur to track the alleged hunters.
"The hunters were emboldened by the lack of action of the authorities and were threatening anyone who was documenting the kills. More than 100 vehicles moved towards the forests but not one was stopped by the administration or foresters. No checkpoints seen anywhere. This, despite informing all the relevant authorities well in advance," said Meghna Banerjee of HEAL.
"The hunters have changed their strategy. Instead of displaying the kills at the congregation, the hunters are moving the kills inside the forest surreptitiously. Photography and documentation is becoming increasingly difficult," she said.
Last April, this newspaper reported how several birds and animals were killed in Gopegarh and Tamakbari forest in the same beat. The kills included at least one Indian pitta and six black francolins, species described as "iconic" by birdwatchers.
Debal Ray, the chief wildlife warden of Bengal, said: "Curbing ritual hunting needs long-drawn preparations. We are coordinating with the district magistrates and police authorities. We have also organised pre-season awareness camps. A lot of effort is going into this.
But some people are still resorting to cruel and gruesome rituals."
A police officer in Paschim Medinipur said the cops have also been campaigning, often with Chhau dancers, on the perils of hunting in villages near the forest.
"For the past two years, we have been putting in a lot of effort. We have set up dedicated units to curb ritual hunting. On the days of hunting, we set up checkpoints in multiple places. The menace has reduced but complete eradication will take some more time," he said.