Colour your heart with compassion/ Your Holi colours give us infection.
Water balloons Holi so bright/ Beware, it can take our eyesight.
Rallyists, human and canine, walked in New Town with placards carrying such messages on the eve of Doljatra on Monday.
Bidhannagar police commissionerate organised an awareness rally about how to take care of pets during the festival of colours. The aim of the rally was to urge people not to splash colours on dogs, irrespective of whether they are household ones or strays, in the frenzy of the festival as it is harmful for them. The rally began in the afternoon at the pedestrian plaza beside City Square and continued for half an hour.
Police commissioner Gaurav Sharma, deputy commissioner, headquarters, Debasmita Das and assistant commissioner, New Town, Shreya Sarkar took part in the rally along with other police officers. But the stars were the dogs that several pet owners had brought.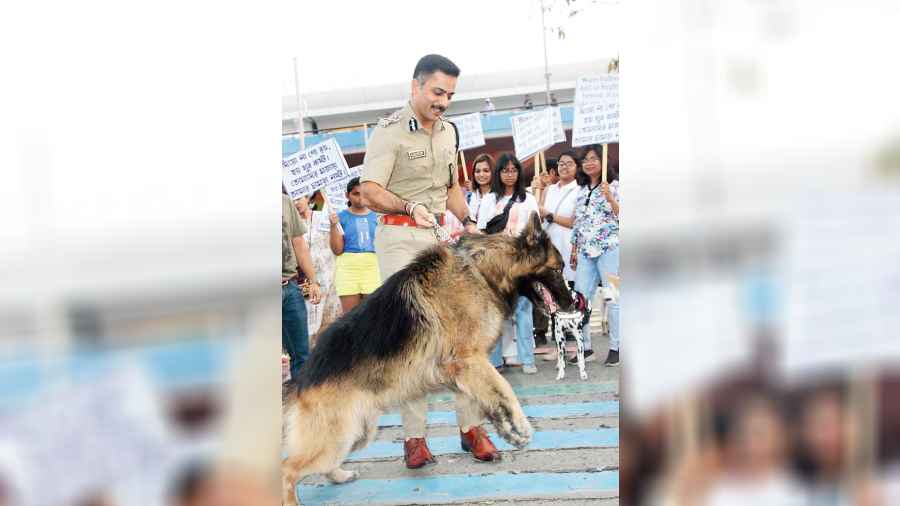 Police commissioner Gaurav Sharma with a GSD
"We must be more sensitive towards pets and all other animals living around us in our community. Sometimes we see that people chase stray dogs and smear them with colours. Sometimes people get rough and splash balloons full of coloured water on the poor animals. This should stop. This Holi, let's be a little more sensitive towards animals of all kinds that we see in our neighbourhood," said Sharma.
Several residents of New Town, who attended the programme, were happy that the cops were taking such an initiative to safeguard animals. "This is a very good initiative taken by the police. Earlier we had organised programmes urging people not to harm stray dogs by tossing fire-crackers at them during Diwali. This rally is like a continuation of that message," said Ankur Roy Choudhury, a resident of CE Block, New Town.
"This sort of behaviour is common among people in several areas and can cause severe trauma among the animals. But we need to be more sensitive about them. We plan to spread more awareness about the issue and we will organise more rallies before Holi in our locality from next year," he said.
Tania Das, a resident of CA Block, attended the rally with her pet dog, Juno. "I can't even imagine such a thing happening to my pet. As animal lovers, we need to be more active and spread the word in interior areas. Strict action should be taken against people who engage in such inhuman activities," she said.