Krishna Chakraborty, who has been chosen as the mayor for the second time of the Bidhannagar Municipal Corporation, announced the list of members, mayor-in-council (MMIC) as well as borough chairpersons from her CJ Block residence on Monday.
Deputy mayor Anita Mondal and Sabyasachi Dutta, the chairperson of the civic body, were not present while the names were announced.
The departments of the mayoral council members are yet to be allocated and sources in the civic body said that the announcement is expected to come on Friday after the swearing-in ceremony of the MMICs and the borough chairpersons.
The list of names includes a mix of old-timers and debutants.
The Telegraph introduces the mayor's council:
Rahima Bibi Mondal
Councillor of Ward 2
Past experience: MMIC, environment, in last civic board.
"I gained an insight into the importance of environment when I headed that portfolio. Tree trimming is extremely important in Salt Lake as unlike in Rajarhat, where the soil is such that tress can withstand strong wind, Salt Lake has sandy soil that makes trees tip over the moment they get top heavy," said Mondal.
Mondal, who is said to be close to Rajarhat New Town MLA Tapash Chatterjee, said that one of the main issues in several areas in Rajarhat was waterlogging and she wanted to ensure that the new board comes up with a solution for this.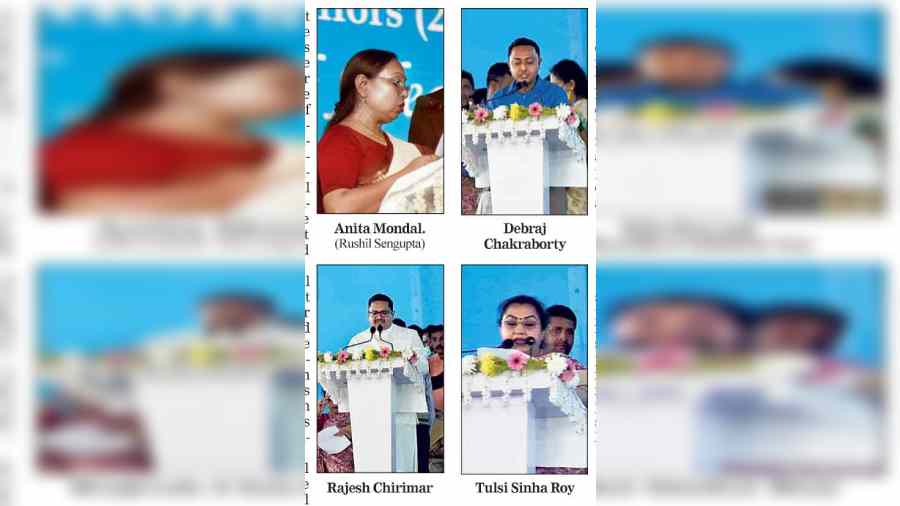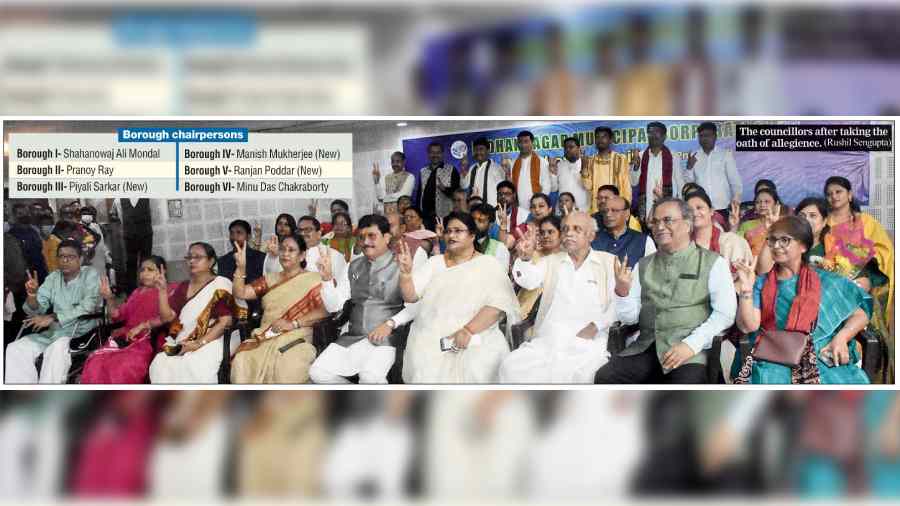 Aratrika Bhattacharya
Councillor of Ward 3
Past experience: The daughter of Tapash Chatterjee, Aratrika is a first-time councillor.
Irrespective of whichever department she is handed, she said she wanted to find solutions for the people living in Rajarhat and Gopalpur.
"We need to upgrade the civic services in these areas across everyfacility, from roads and drainage to clean water supply. I do understand that providing services like those which people in Salt Lake are used to getting is not going to be easy but we can at least try and provide better services than they have been getting," said Bhattacharya.
Tulsi Sinha Roy
Councillor of Ward 40
Past experience: New as MMIC. Sinha Roy is on her fifth stint as a councillor. An advocate by profession, she is the president of the Trinamul Town Congress's Bidhannagar wing. She had headed the water supply department of the civic body for six months when the Corporation was being run by a board of administrators.
The first thing she wants to do is revive potable drinking water supply to the added areas of Salt Lake, including Duttabad, Naobhanga, Sukantanagar as well as places in Rajarhat that are still dependent on ground water.
"We will also try to get the Kestopur Canal dredged properly as we saw what happened when the city was lashed with heavy rains last September," she said.
This will also help as the water will keep flowing and then the entire canal will become a breeding ground for mosquitoes," Sinha Roy said. Many houses, particularly in Sector I, were getting flooded as the level of the road had become higher than the level of the houses. "We have received multiple complaints of waterlogging and this issue must be addressed," she said.
Debraj Chakraborty
Councilor of Ward 7
Past experience: MMIC, sports and youth services, in last civic board
Debraj Chakraborty, among the youngest councillors, is a close aide of Trinamul Congress national general secretary Abhishek Banerjee and currently heads the Dum Dum and Barrackpore youth wing of the Trinamul Congress.
"There is a glaring disparity between the levels of civic services that the people of Salt Lake and those who stay in Rajarhat and Kaikhali are getting. I want to ensure that we provide better services with a focus on these places," said Chakraborty, who raised the slogan 'Jai Rajarhat' after being sworn in.
Banibrata Banerjee
Councillor of Ward 33
Past experience: New as MMIC. The three-time councillor headed Borough 4 in the previous board.
"I headed a borough that comprised nine wards which is the highest in the civic body. I brought in digital services and tried to provide services like birth and death certificates from the borough office seamlessly through both online system and physical means. My vision is that people should not have to run from pillar to post to get civic services," said Banerjee.
In his previous stint as councillor, Banerjee was both lauded and criticised as he rehabilitated hawkers by providing them permanent stalls on a stretch of pavement in front of FD Park.
Sujit Mondal
Councillor of Ward 15
Past experience: New as MMIC. This is Mondal's second term as councillor.
"I used to be good in football and like in the game, I can play in any position. I will excel in any department that I am given charge of," said Mondal.
Repairing roads in places like Kestopur, Rajarhat and Gopalpur tops his list. "The state of the roads here is really bad. We have been getting reports of accidents every now and then," Mondal said.
Rajesh Chirimar
Councillor of Ward 39
Past experience: MMIC, education, in the last board.
A Sujit Bose loyalist, Chirimar said he had had undertaken development activities in schools like the Bidhannagar Municipal School and Begum Rokeya Smriti Balika Vidyalaya.
"The work I did included expansion of school buildings and distribution of relief ration among children who study in municipal schools. I am up for a new challenge and will also not be unhappy if I am given my previous portfolio," Chirimar said.