The Bengal government has sent a rescue team to Balasore in Odisha and set up an emergency control room from where relatives can collect information about passengers on board the Shalimar-Coromandel Express and the Yeshwantpur-Howrah Express that met with an accident.
Chief Minister Mamata Banerjee said the Bengal government was coordinating with the neighbouring state and that she was personally monitoring the situation.
"Shocked to know that the Shalimar-Coromandel express, carrying passengers from West Bengal, collided with a goods train near Balasore today evening and some of our outbound people have been seriously affected/injured," Mamata tweeted.
"We are coordinating with Odisha government and South Eastern Railways for our people's sake. Our emergency control room has been activated at once with numbers 033-22143526/22535185. All our efforts for rescue, retrieval, aid and assistance initiated. We are sending a 5-6 members team to the spot to cooperate with the Odisha government and railway authorities and to assist rescue operations. I am monitoring the situation continually personally with chief secretary and other senior officers."
The state health department said 25 ambulances and a dozen doctors were rushed to Balasore to help with rescue and relief operations.
Medical colleges and other health facilities in south Bengal have been put on alert.
Railway officials announced a separate set of helplines.
In the wake of the crash near Balasore, many other trains had to be either re-routed or cancelled.
Railway officials said at least six trains were cancelled, including the Sealdah-Puri Duronto Express, Howrah Sambalpur Express, Howrah-Puri Superfast Express, Howrah-Chennai Express and the Howrah-Bengaluru Express. Four trains were re-routed through the Tata-Jaroli route.
One survivor, who spoke to TV channel ABP Ananda, spoke of cries of despair and bodies beyond his count.
In absolute darkness, local people were the first responders, Arjun Das told the channel. It was at times difficult, he said, to locate where a cry for help was coming from.
Personnel from the National Disaster Response Force and the Odisha fire services department were trying to cut open coaches with acetylene gas cutters late into the night to try and rescue trapped passengers.
"There are injured lying everywhere inside the coaches and along the tracks. It is difficult to see because of the darkness. Villagers and others have joined the rescue operation. Many appear dead," Das told the TV channel.
Late at night, generator sets were brought in and the accident site was lit up.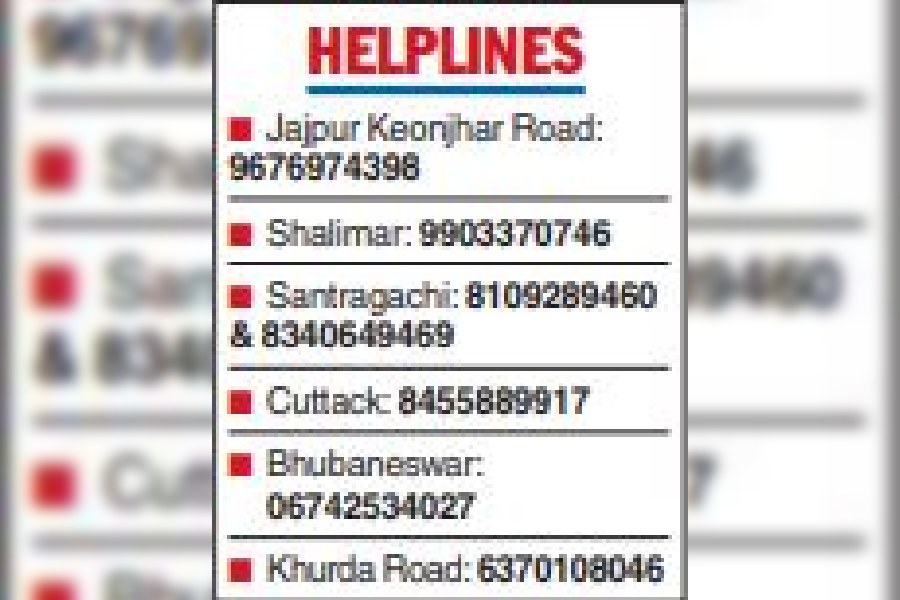 Bangla helpline
The Bangladesh deputy high commission in Kolkata released a WhatsApp number — 91-9038353544 — for relatives of people from that country who might have been on the trains that met with the accident near Balasore.
"Usually, several Bangladeshi residents take this train to undergo treatment," said a statement released by the deputy high commission. "The deputy high commission is in touch with the railway and the Odisha government."
Railway officials said many Bangladeshi residents who were headed to Chennai and Bangalore for treatment were stranded in Kolkata following the cancellation of several trains to these destinations.