The city celebrated Baisakhi and Bihu on Friday with members of the Sikh and Assamese communities rejoicing in the celebrations.
For the Sikh community, Baisakhi has both religious and cultural significance, said a community member.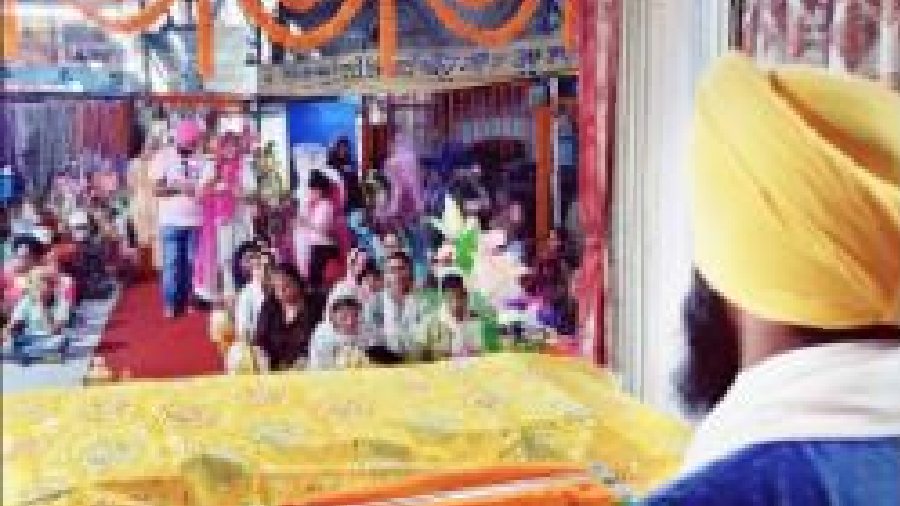 Baisakhi celebrations at Behala Gurdwara on Friday
The day commemorates the formation of the Khalsa panth, which is why it is also called the Khalsa Panth Sajana Diwas, under Sri Guru Gobind Singh in 1699, said Satnam Singh Ahluwalia, general secretary of the Behala Gurdwara.
"It is also a spring harvest festival for the Sikhs and Punjabis. Baisakhi marks the harvest time of the winter (rabi) crop. The day is observed as a thanksgiving for the abundant harvest and to seek blessings for future prosperity and progress," Ahluwalia said.
Across Kolkata, members from the Sikh community thronged gurdwaras. There were kirtans, kathas and Gurmat Vichar across gurdwaras.
Earlier, there used to be a large congregation on Baisakhi at the Shahid Minar ground but that has stopped since Covid. The heat this year has also been a reason not to hold the large public celebration at the ground.
Contrary to a perception among many, Baisakhi is not the New Year for the Sikhs.
The community members distributed chabeel (sweet chilled water) to people on the streets.
Friday was also Bohag Bihu or Rongali Bihu. Assamese people in the city celebrated the day. These celebrations were mostly private.
"On this day, we gift new clothes to each other. Back in Assam, there are large programmes where local artistes perform. There are also Bihu dances," said a member of the Assamese community.
She said there were three Bihus. The one in January is called Bhogali Bihu or Magh Bihu, the one in April is called Bohag Bihu or Rongali Bihu and the one in October is called Kati Bihu.
"Bohag Bihu also marks the beginning of the Assamese New Year," said another community member.