The prime suspect in the murders of two teenage boys from Baguiati in northeast Kolkata was arrested on Friday morning from the office of a travel agent near Howrah station, where he was said to be looking for a train ticket to Mumbai.
A police team swooped on Satyendra Chowdhury minutes after he had made a phone call to a contact asking for Rs 3,000.
"Send me Rs 3,000," Chowdhury apparently said in Bhojpuri. 
People, some of them stunned by the sudden police presence, heard the cops ask Chowdhury where was his motorcycle. He did not answer. 
The prime accused in the murders of Atanu Dey and Abhishek Naskar had apparently spent two nights at Yatri Niwas in the Howrah station complex, police sources said.
The Friday morning visit to Sai Telecom and Travels, a small travel agency near the station, was Chowdhury's third in the last three days, a co-owner of the agency told The Telegraph.
"He had been desperately looking for a train ticket to Mumbai. He came on Wednesday evening, then yesterday morning on a bike and again today morning. Every time he would ask for a berth on a Mumbai-bound train. But there were no seats," said Dipak Prasad, the co-owner of the travel agency from where Chowdhury was arrested by officers of the Bidhannagar commissionerate.
Prasad said Chowdhury had visited his agency around 9am on Friday and pleaded for a ticket to Mumbai by Friday night.
"Since we do online booking, I was checking the online availability of tickets. Suddenly, there was a power cut and my computer shut down. A few minutes later he asked me for my phone, saying he wanted to make a call," Prasad said.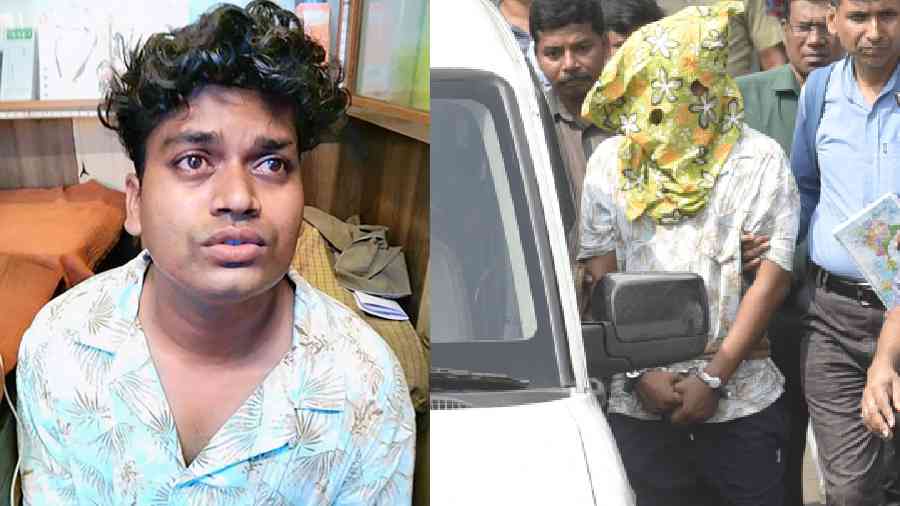 Satyendra Chowdhury after he was arrested and (right, in picture by Bishwarup Dutta) being produced at Barasat court on Friday
Prasad refused to hand his phone, prompting Chowdhury to take out his mobile phone.
"The man was carrying a black bag. When I refused to give him my phone, he took out a small phone from inside his bag and made a call," Prasad said.
Chowdhury, who had started his conversation with Prasad in Bengali before switching to Hindi, started speaking Bhojpuri when the call got connected.
"The man told someone that he needed Rs 3,000. He told the person to transfer the money to him through someone. He was speaking in Bhojpuri this time," Prasad said.
CCTV footage has emerged showing Chowdhury loitering casually inside Yatri Nivas on Friday morning, with no signs of nervousness or tension.
He is seen moving in and out of Yatri Nivas more than once making his way through dozens of passengers sitting in the waiting room.
"Even when he came today, he was talking casually like any other client. Who could imagine that he had killed two children?" Prasad said.
Originally from Bihar, it was not clear why Chowdhury was desperate to go to Mumbai or whether he had relatives or acquaintances there, the police said.
Sources in the Bidhannagar police said Chowdhury had been using multiple SIM cards and phones and turning off the phone after making every call.
Chowdhury had allegedly taken Rs 50,000 from Atanu Dey, 16, with the promise to get him a bike. He failed to deliver the bike.
On August 22, he allegedly kidnapped Atanu and his cousin Abhishek Naskar.
Both were killed the same night and dumped in a canal at different places in Basirhat, in North 24-Parganas district, around 60km away from Baguiati.