A suspected attempt to swindle Rs 50,000 on the promise of selling a second-hand motorcycle has allegedly led to the murder of two cousins aged 16, whose bodies were dumped in two places in a canal in Basirhat in North 24-Parganas district last month. 
One of the cousins was the last to speak to the family in Baguiati in northeast Kolkata on the evening of August 22.
He had responded to a phone call from his mother around 8.30pm and said he was with his brother and they were going to buy a bike.
When they did not return home, the family lodged a police complaint.
The police allegedly did not do what they were expected to do.
A fortnight later, the police arrested a suspect.
Apparently based on his statements, the cops traced the two bodies, which were lying unclaimed in a morgue in the Basirhat police district in North 24-Parganas.
The victims — Atanu Dey, 16, and Abhishek Naskar, 16, who were first cousins — were residents of Baguiati's Charaktala and Arjunpur, respectively. 
Both were students of Class X in separate schools in North 24-Parganas district.
"My son had left for school but gone to his cousin's home on August 22," said Abhishek's mother Kamala Naskar.
"All the while I thought he was in school but he was actually at my brother's house. When I called him after school hours, he said he was with a few friends. When I called him again at 8.30pm and asked him to return home immediately, he said he was with his cousin (my brother's son) and they were going to buy a bike. That was the last time I heard my son's voice."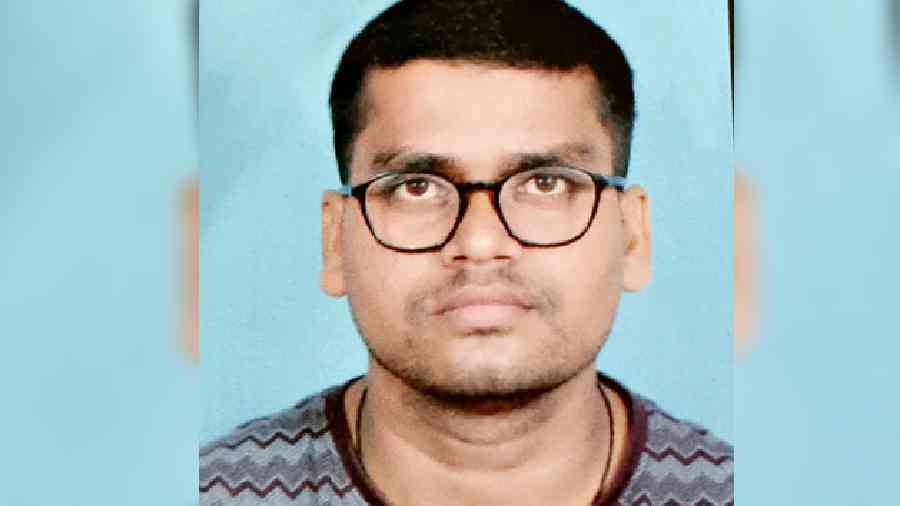 Satyendra Chowdhury, who police identified as the prime suspect
She alleged that the police did not take their complaint seriously and did nothing to save the children.
The police said they treated complaint "sensitively", suspecting it to be a kidnapping case and expecting the boys to be alive. The police said the two families had received at least three ransom calls and text messages.
Initially, they were asked to pay Rs 1 crore but the amount was later scaled down to Rs 1 lakh.
The family asked the callers to allow them to speak to the boys but the pleas were turned down.
Officers of Bidhannagar police identified the prime suspect as Satyendra Chowdhury, a neighbour of Atanu.
The police said Atanu had paid Rs 50,000 to Chowdhury, who is still at large.
Along with his associates, Chowdhury had allegedly used a hired Maruti Dzire to take the children to various locations in Rajarhat on August 22 night before strangling them on Basanti Highway with a rope they had kept in the car.
The bodies were dumped at separate locations in the Nazat police station area in Basirhat, around 60km from their homes in Baguiati.
Sources in the Basirhat police district said the two bodies were found on August 23.
The post-mortem was performed at the Minakhan block primary health centre on August 25.
It was only on September 6 that the bodies could be identified, when a team of officers from the Bidhannagar police commissionerate contacted them.
"Atanu had given Rs 50,000 to a neighbour named Satyendra Chowdhury to get a motorcycle for him. But Satyendra did not buy any bike. On August 22, Satyendra called up Atanu, asking him to accompany him to a bike showroom," said Biswajit Ghosh, deputy commissioner, detective department, Bidhannagar commissionerate.
"Atanu took along cousin Abhishek. According to the statement of one of the accused, both were killed in a hired car and the bodies were dumped in a canal in Basirhat the same night. Apparently, Abhishek had nothing to do with Satyendra but got killed because he was with his cousin."
Ghosh said they received a kidnapping complaint on August 23 but could make headway in the case only on Monday when they zeroed in on one of the accused, Abhijit Bose, 27.
"The family received three ransom calls and text messages asking for money ranging between Rs 1 crore and Rs 1 lakh," he said.
Asked about the family's allegations of negligence, Ghosh said the matter would be probed.
"So long we were dealing with the case thinking the boys were alive and we did not want the kidnappers to harm them. So we were proceeding very carefully," Ghosh said.
The police said Bose had been arrested earlier on charges of stealing a laptop near his home at Jagachha in Howrah. 
Based on his statements, the police said they arrested Shamim Ali, 20, Sahil Mollah, 20, and Dipendu Das, alias Sonu.
Prime accused Chowdhury and the person who was driving the car were at large.