Schools have finally reopened and Monday was the first day for most institutions that abided by the education department circular extending the summer vacation till June 26.
But despite the number of Covid cases rising again, students in several schools are finding it tough to keep their masks on as the humidity is high.
Senior students of Hariyana Vidya Mandir (HVM) had a trying first day as all 50 students had turned up to sit for an examination. "In normal classes before the vacation, several people would be absent, so it was easier. But in a full house, with both ceiling fans towards the back, no one wanted to sit on the front benches. But that meant we had difficulty hearing the teacher," said a Class XII student. Another complained of having to climb four storeys with heavy bags on their backs to reach the classroom. "The elevator is only for the teachers. And we have to do the climbing with our masks on!" she exclaimed.
Others spoke of the claustrophobic crowd that gathered in the lanes leading to the school gate around midday when morning classes give over and day classes started. "At 12.20pm this lane gets so congested that even a fly cannot pass by people. The school has three gates yet the authorities insist on morning students exiting and day students entering through the same one. The crowd could be better managed if the flow was bifurcated," the students complained.
A girl had fallen by the wayside recently, being pushed out of the road space by the press of the crowd. "Thankfully I wasn't trampled on. But imagine the possible effects of this chock-a-block situation with Covid making a strong comeback," she wondered.
HVM has hiked tuition fees recently. The hike could be justified only if the classrooms are now air-conditioned, the senior students argued.
This is indeed emerging as a bone of contention — air-conditioning of classes — with those that have the privilege being the envied lot.
In Salt Lake School, which resumed classes last week, Class X students sweated it out in April till the education department directed the summer vacation to be brought forward. They returned after the vacation to find their classroom comfortably cool. "Before this, only classes XI and XII were sitting in the new block which was air-conditioned from the start. Now even our classroom is so chilled that I caught a cold today by entering class after a basketball session in this sweaty shirt," said Soham Pradhan of Class X.
The heat is ruining Sayan Jana's high point in school too. "Due to the heat wave we are asked to not play in the school field during the break or the games periods. It's sad for us sports lovers to stay confined in the class with 50 students the whole day," grumbled the Sri Aurobindo Institute of Education (SAIE) student.
Discipline suspect
Not just the heat, the euphoria of being back in school is also taking a toll on discipline. "Students were sitting in groups and shouting. No one was listening to me. I am exhausted," said Aryaman Chattopadhyay, a Class XII student at the end of his duty as the prefect of red house at HVM on the first day. A maskless Class X student of Salt Lake School turned his back quickly on spotting his class teacher step out of the main gate. "She is very strict. The school has sent us three long paragraphs on WhatsApp on Covid rules. We are being thrown out of class if we take off the mask," he said sheepishly.
The picture outside the schools at break-up time is the same as that in malls and markets, with the maskless being the overwhelming majority in the multitude. "It's too hot to keep the mask on," said Panchali Banerjee, who had come to collect her brother who has taken admission at HVM recently.
Exam time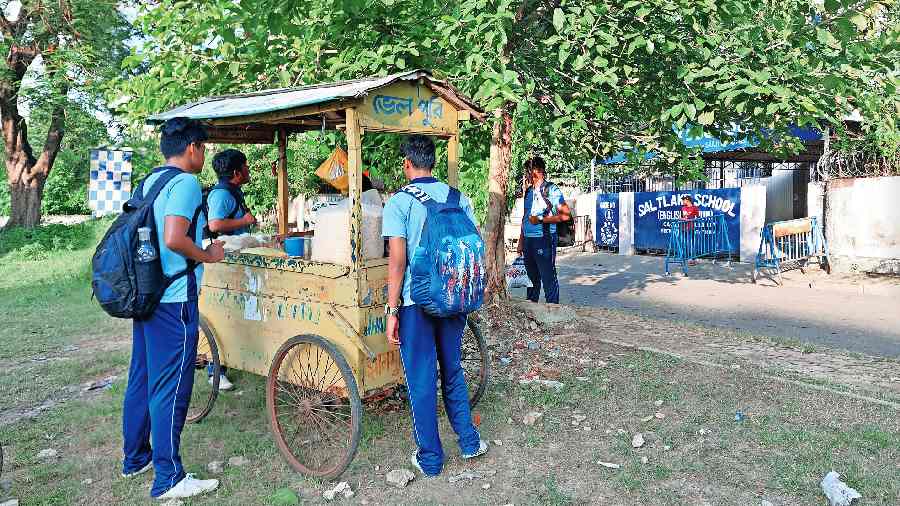 Phuchka and chat sellers in front of Salt Lake School are getting far less business than before.
Sudeshna Banerjee
The advancement of the summer vacation soon after reopening had meant schools had failed to complete the first term syllabus. "The exams were supposed to have got over before the vacation. But we are forced to conduct them now," said Gautam Mahato, Bengali teacher at Bidhannagar Government High School. "More than Covid, we are worried about completing the syllabus," he said.
At the BD Block school, unit tests started from Thursday. "Earlier, students would stop coming to school from a few days ahead of the exams. But this time, classes were full on all three days after reopening. Students have become interested in physical classes. Earlier, their eye would be on the clock waiting for tiffin bell. Now even after the bell rings, some teachers are continuing the class and students do not even murmur," Mahato pointed out.
At SAIE, school resumed for classes VI to X and XII on June 21 and for Class XI from June 23. Utkarsh Srivastav, a student of Class XII, said: "It was a great first week as we reunited with friends and teachers after a long break. Sadly, we had our unit tests from the first day itself."
Off with the mask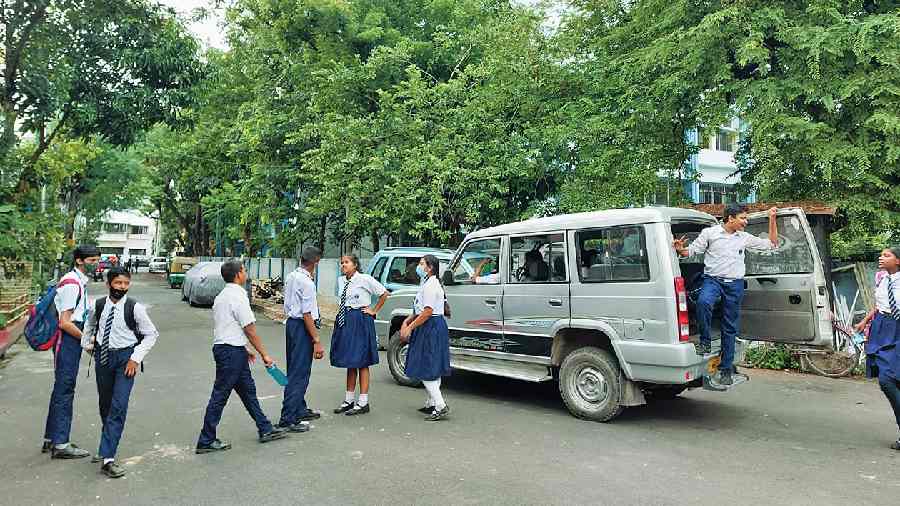 Students gather in the Salt Lake School courtyard to rehearse for an upcoming fest.
Picture by Shatadipa Bhattacharya
Schools like Our Lady Queen of the Missions School (QMS) and SAIE have decided not to make it compulsory to wear masks and most students and teachers are avoiding them as it's nearly impossible to keep them on in this suffocating weather.
"I'm glad the Covid situation is better now and that I can let go of my mask. My spectacles would continuously vaporise, and my asthama made it difficult for me to keep the mask on," said Shambhabi Sarkar of Salt Lake School.
"Our classes end at around 2.15pm and I feel my top of my head burn the moment I step out," said Shaoni Sen, a Class XI student from QMS. "It's much better inside the building even though the classes don't have air-conditioners. And the car pool system is the most exhausting part of my day."
Rajarshi Bag of AD Block's Laban Hrad Vidyapith was the only one in his group of friends seen wearing a mask on Monday. "We are responsible for our own safety so I choose to wear a mask even if it's difficult," he said.
Plan O for online
Despite relishing physical classes, students live in the not-so-distant fear of having to return to online ones.
"We are now prepared for everything," says Anwesh Chakraborty, Class XII student of Salt Lake School. "Only yesterday we were rehearsing the drama we were to perform at the Calcutta Boys' School fest but this morning they asked us to record the play and send in instead. So while we get used to physical classes, we must be ready to go online again."
Payel Das, English teacher at the same school, is also not counting her chickens just yet. "The school authorities are trying to return to the old school environment, keeping in mind students' safety. But seeing how suddenly things can change, we are keeping plan B ready," she said.
Guardians' worries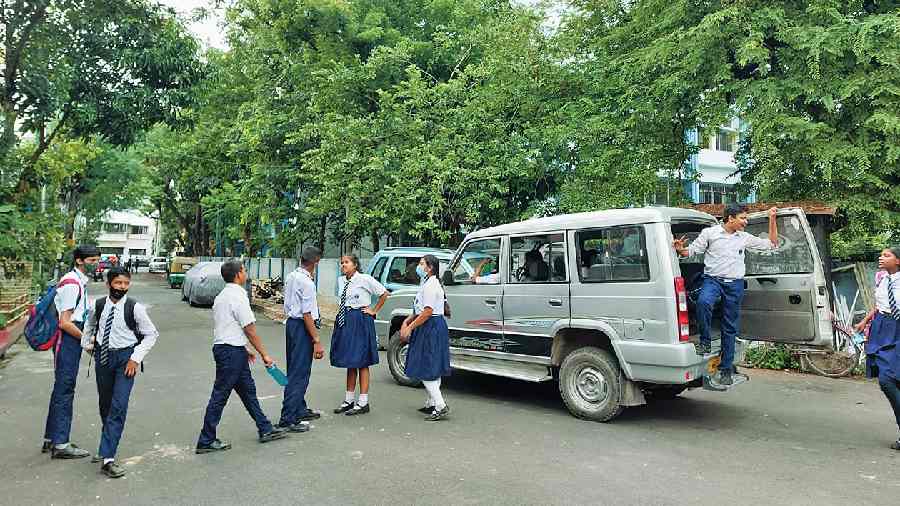 Students of Bidhannagar Government High School chat before getting into their pool cars.
Sudeshna Banerjee
Despite staying maskless themselves, most guardians are worried about the possibility of schools reverting to online classes if Covid cases rise. "Children will get into depression if school goes online again. My daughter stayed in bed all day during the vacation, even through her waking hours," said Munni Talukdar, mother of a Class XII student. Most of them are certain that there was little or no education when the children stayed at home.
Parents, especially those of young children, are worried about their kids adjusting in physical classes for the first time in their lives. "Our children are in Class I and are not used to going to schools. We are having to teach them afresh how to take notes from the board, how to not to cry, how to go to the toilet," said Jayashree Roy, mother of Shatarupa, a student of HVM. "We have also started a WhatsApp group among parents to help one another out."
Hari Devnath, the phuchka seller outside the school, is also praying that offline classes continue. "Students and even parents form a large part of my clientele. They buy from me during lunch breaks or while returning home. With schools staying shut, I had to stop selling bhelpuri and phuchka and would look for other work," he said, now with a smile.
Additional reporting by Aranyak Mojumder
Write to us at saltlake@abp.in