Easy availability of single-use plastic bags and the absence of any action from the civic body to stop their use have led to a proliferation of the banned items, traders said on Monday.
Any plastic bag that is less than 120 micron in thickness is banned in Bengal — the curb came into effect on December 31 — but such bags are freely available in all markets in the city.
Bags that are less than around 50 micron in thickness are loosely called single-use plastic bags because they do not have any recycle value.  
The ban on any plastic product less than 120 micron in thickness is a step-up from a ban on anything less than 75-micron thick that came into effect on July 1.
Customers are handed single-use bags by traders selling groceries, vegetables, fish, chicken and myriad other times.
On Monday, The Telegraph found the single-use plastic bags being sold in at least one store in Lake Market, which is run by the KMC. The trader said many other stores in and around the market were selling single-use plastic bags.
The KMC is responsible for enforcing the ban on plastic bags in Kolkata. The civic body has the power to impose a penalty of Rs 500 on sellers and Rs 50 on buyers of such bags. KMC officials, however, said no such penalty had been imposed since July 1.
"Single-use plastic bags are cheaper compared with the ones that are 120 micron or more in thickness. We operate with a thin profit margin. The business will not be feasible if I have to give a 120-micron-thick plastic bag to a customer who buys goods worth Rs 100," said the owner of a grocery store off Rashbehari Avenue.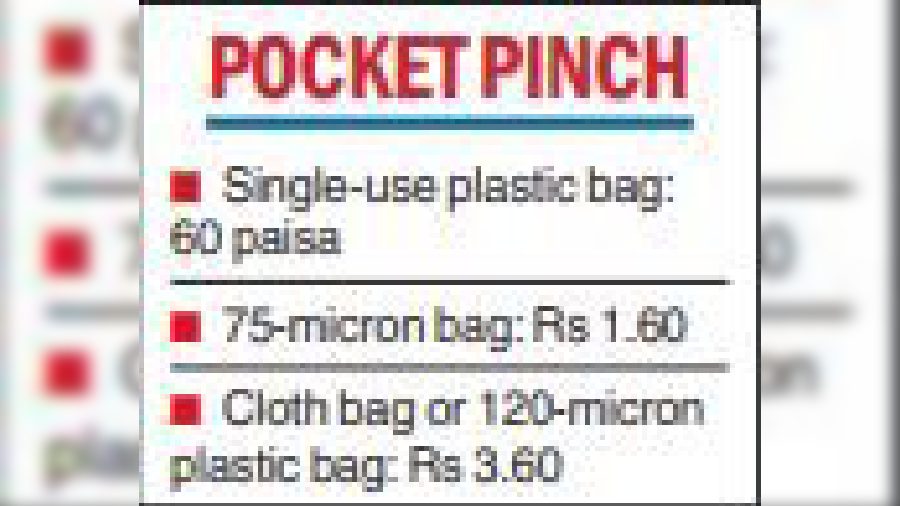 "If single-use plastic bags are manufactured and abundantly available, most traders will want to buy them because they are way cheaper. Why are the production and supply of such bags being allowed? Why doesn't the government conduct raids and stop their use?" said the trader.
At Lake Market, 25 pieces of plastic bags that are 75 micron in thickness were selling for Rs 40. Which means each bag costs Rs 1.60.
This newspaper failed to find 120-micron plastic bags. If anyone wanted to buy a bag thicker than 75 micron, there were cloth bags on offer.
Cloth bags were being sold for Rs 220 a kg. A 1kg packet usually contains around 60 bags, said a seller. Which means each cloth bag costs around Rs 3.60.
In contrast, a packet containing 250 pieces of single-use plastic bags were selling for Rs150, which means each piece costs 60 paisa.
Swapan Samaddar, mayoral council member in charge of the KMC's environment department, admitted that no one had been prosecuted for using banned plastic bags."I will speak to the mayor on Tuesday about what to do in regard to the enforcement of the ban," he said.
Residents across Kolkata said almost all stores in their neighbourhoods were still using single-use plasticbags.