An illustration shows a boat negotiating a rough sea. The sail propelling the boat forward has a world map imprinted on it and is an extension of the loincloth of Mahatma Gandhi.
Another illustration shows a group of people fighting with bombs and bricks. As the silhouette of Gandhi appears on the horizon, the violence stops. The reference —  Batman rising over a Gotham at war.
The first one was drawn by Bahman Halali, a cartoonist from Iran. The second by Mahafuj Ali, a Kolkatan who now lives in Australia. 
Both were among the winners of a contest that invited cartoons and caricatures projecting Gandhian values as a solution to problems around the world. The theme of the January contest was "Gandhi, an answer to global crisis".
Organised by Ekta Parishad, a Gandhian movement for the rights of the marginalised, the contest had over 1,000 entries from 54 countries.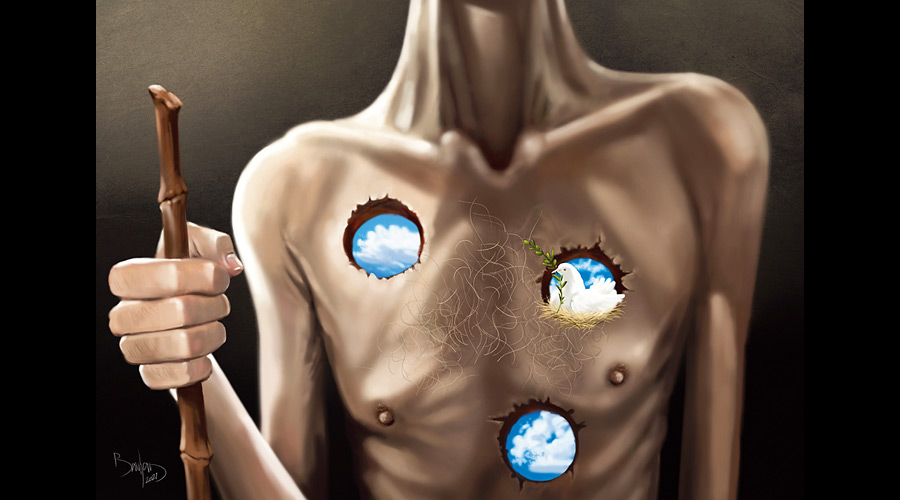 Bahram Arjmandnia's illustrations
The panel of judges included Yaser Ahmed, an artist from Syria; Valorie Traore, a rights activist in Senegal; Hardy Merriman, a US-based scholar on civil resistance; Jiivanii Redmarks, a curator and artist in Florida.
The two Indian members of the jury were diplomat-turned-politician Shashi Tharoor and Vikram Nayak, a visual artist and documentary filmmaker.
"The contest reasserted the relevance of Mahatma Gandhi in today's world. So many entries from foreign countries showed that Gandhi's influence went far beyond India. Indiscriminate loot of resources, mixed with the role of society and governments indulged in this vicious circle, are causing poverty, exploitation, injustice and violence. In this situation, the ideology and path of action shown by Mahatma Gandhi are an established and time-tested reference for us," said Nayak, who has been associated with Ekta Parishad for 15 years.
The organisers said they wanted to use the power and influence of cartoons as a powerful communication tool.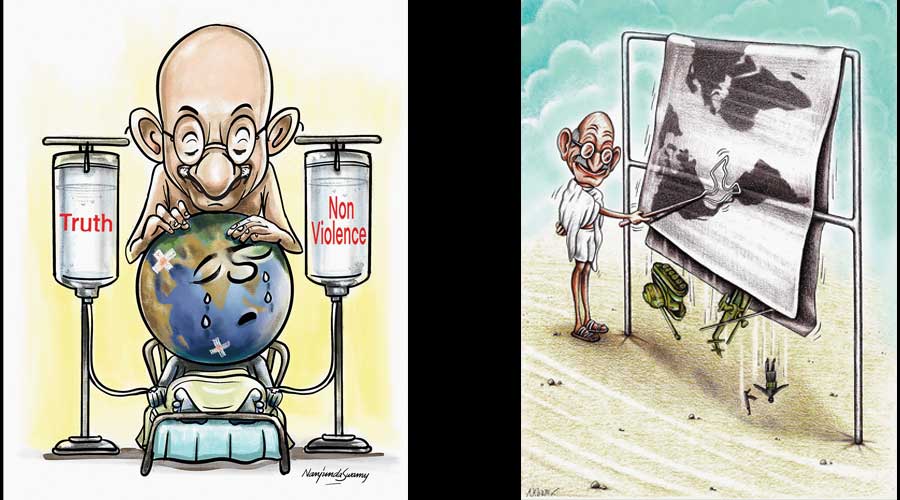 Nanjuda Swamy's cartoons (left); Mohammad Hosein Akbari's illustration
"Where a thousand words fail to express, a small picture suffices," said Nayak.
Ali, a landscape architect by profession and a cartoonist by choice, has a Facebook page with over 1,00,000 followers, where he uploads topical memes frequently.
An imaginary Gotham had similarities with the real and present India, he said. "In both places, brothers are fighting brothers. In both places, people with vested interests are instigating violence," he said.
On January 30, Prime Minister Narendra Modi paid homage at Gandhi Smriti, where Mahatma Gandhi was assassinated 74 years ago. But he is yet to comment in public on the calls for a genocide against Muslims and for the declaration of a Hindu Rashtra, made by a congregation of sadhus in Allahabad and Haridwar.
The results of the contest were announced on January 30.
The illustration by Halali, the Iranian artist, came first in the international category in the cartoon segment. The second slot. too, went to an Iranian, Mohammad Hosein Akbari. He had shown Gandhi "cleansing" a carpet with a world map of tanks and other weapons.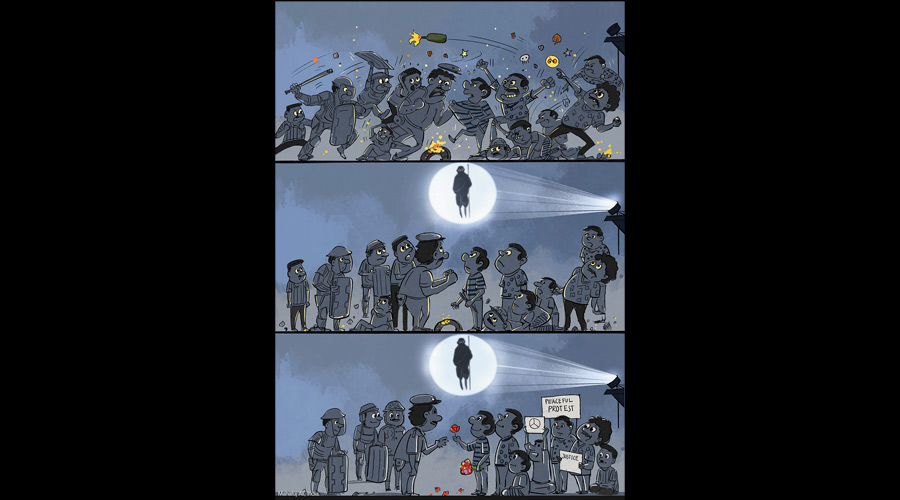 Mahafuj Ali
The third position went to Izabela Kowalska from Poland. Her cartoon showed Gandhi writing on a paper. The words are like flowers and Gandhi is surrounded by doves, messengers of peace.
The winning cartoon in the Indians' category, made by Sudhir Pagare from Maharashtra, showed Gandhi stitching a tattered world.
The runner-up was Nanjunda Swamy Y.S., from Karnataka, who showed Gandhi healing the world with two intravenous drips, of truth and non-violence.
Ali came third.
In an e-mailed response to this newspaper on Gandhi's relevance in the modern world, Jiivanii Redmarks, the Florida-based curator and one of the judges, said "the legacy of Gandhi is a thread that must be woven into the fabric of humanity until there was no more first and second class citizens in any country".
Ramesh Sharma, the national general secretary of Ekta Parishad, said the "question whether Gandhi was still relevant was irrelevant".
Asked about the communal tensions being stoked by the Right-wing ecosystem in India, Sharma put things in perspective.
"Gandhi never hid his religion. He always said he was a Hindu. Those who are calling for violence against Muslims neither understand Gandhi nor Hinduism. But they know that to propagate their views, they have to get rid of Gandhi's views. Hence, the call for violence," he said.