Petunias are popular annuals and have trumpet-shaped blooms. They produce gorgeous and colourful flowers for adding instant colour to any garden. They can be grown in containers, hanging baskets or landscape. They are prolific bloomers Plant and have a long flowering season. The flowers come in many colours and patterns, including Pink, purple, yellow, red, orange etc.
Petunia is a genus of 20 species of flowering plants from South American. The popular flower of the same name derived its epithet from the French, which took the word petun, meaning "tobacco," from a Tupi–Guarani language. A tender perennial, most of the varieties seen in gardens are hybrids. Petunia integrifolia is native to areas of Mexico and bears magenta flowers all summer long. Petunia Plants are evergreen plants.
There are four main types of petunia plants –
Grandiflora
Multiflora
Milliflora
Spreading (Wave)
Grandiflora petunias: are the oldest types, which were developed in the 1950s. Grandiflora petunia varieties boast blooms measuring up to 5 inches across on bouquet-shaped plants. The flowers are spectacular, but they tend to get tired and spindly in mid season. Grandiflora petunias perform best in moderate heat without excess humidity or moisture.
Multiflora petunias: have smaller flowers and a more abundant bloom. The stems are strong, which makes multiflora petunia varieties suitable for rough climates. The blooms tend to hold up a bit longer than Grandiflora petunia varieties, especially during rainy weather. Multiflora petunias are available in both single and double varieties.
Milliflora petunias: are miniature versions of growing petunias; they are compact and reblooming. They produce masses of 1- to 1 ½-inch blooms on miniature plants. The mature size of the plants is generally about 8 inches tall and wide. Milliflora petunias bloom early and are often grown in containers or hanging baskets. They are low-maintenance plants that require no deadheading (The removal of flowers from plants when they are fading or dead).
Spreading  or Wave petunias:  are a recent addition with blooms typically measuring about 2 inches  across. The plants, which typically spread 2 to 4 feet.
By the end of the season, look great in containers and work well as ground covers. They tolerate heat and drought fairly well and generally require no deadheading.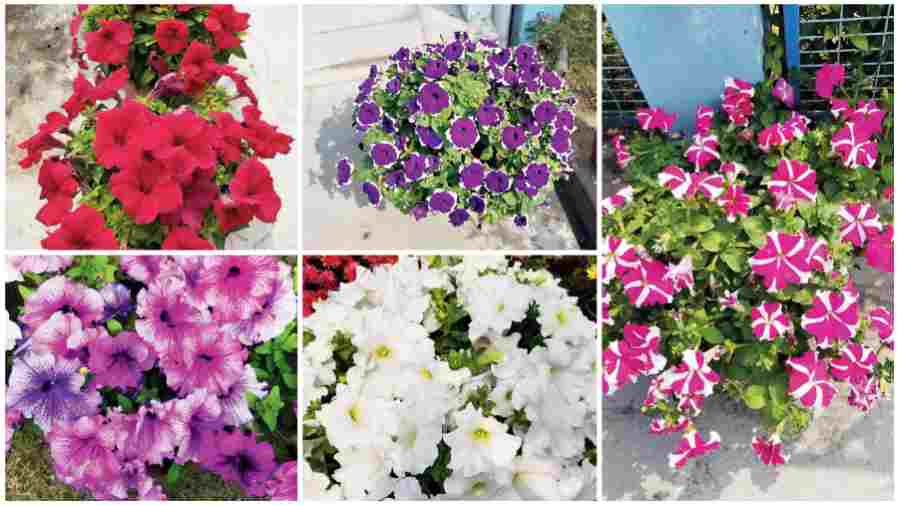 Soil: Soil prepared before planting petunias should have well-composted organic matter worked in. The soil should drain well and not stay overly wet, especially in containers because soggy soil can cause root rot and yellowed foliage. Mix fertilzer enough with soil to promote the best growth. Use 60:20:20 soil, sand and vermicompost/ well mature cow manure with one cup bone dust, 2 tsp superphosphet, 1 tsp potash and ½ tsp fungicide (SAAF / Bavistin etc.) for best soil mix.
Light: Petunias need full sun or they will become spindly. They don't tend to flower well in shade.
Water: Petunias need regular watering because their shallow root systems dry out quickly. However, Petunias grown in containers may need more frequent watering, possibly every day, especially in hot weather
Fertilizing: To keep petunias blooming vigorously throughout the winter, we should apply a monthly dose of liquid fertilizer . Plants in containers often need more frequent fertilizing because the nutrients get washed out
Pruning and deadheading: Petunia need frequent deadheading to prevent plants from going to seed.
Occasional pinching or pruning will boost flower production and create fuller plants.
If plants begin to get leggy and have less blooms, cutting them back will encourage new growth and more branching.