Puja revellers should behave responsibly and must wear masks and avoid crowding in front of pandals, public health experts said on Tuesday.
"We should not give away what we have achieved in the past few months in terms of fighting the pandemic. People should stay at home. Even if they step out, they should not return to the practice of pandal-hopping like they used to during the pre-pandemic days. Visit one or two pandals and come back. Avoid pandals that are crowded," said Abhijit Chowdhury, the founder of Covid Care Network, a voluntary organisation comprising health officials, doctors and those who have recovered from Covid.
Chowdhury suggested that everyone should avoid crowds for safety.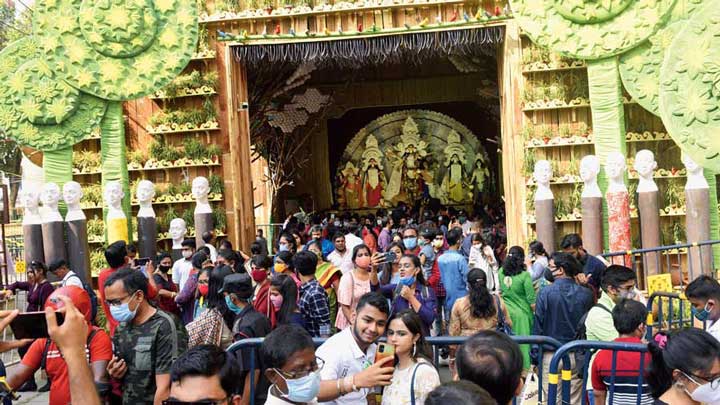 Visitors to the Singhi Park puja pandal in Gariahat on Tuesday afternoon
Bishwarup Dutta
"If we behave irresponsibly, we will lose the gains and benefits we have achieved through our hard work in the last one-and-a-half years. Have we forgotten the pain and agony our society went through when we lost so many of our fellow citizens?" added Chowdhury who is also the coordinator of the state government's Covid task force.
But a visit to some of the pandals in Kolkata on Tuesday revealed that a section of people had dropped their guard.
The Telegraph found dozens of people without masks either walking on the road or in the melee leading to a pandal.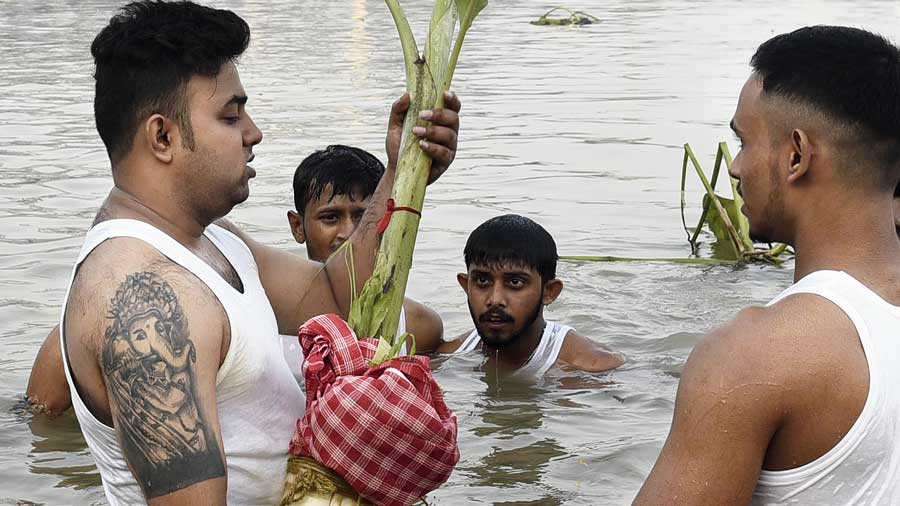 Saptami rituals being performed at Jagannath Ghat
The barricades outside Ekdalia Evergreen, Bagbazar Sarbojonin, Ballygunge Cultural Association pandals were all teeming with people though the roads leading to them were not as crowded as pre-pandemic times. Despite signboards and appeals over loudspeakers to wear masks, many ignored the appeals.
The entry of revellers inside the pandal has been prohibited by an order of the Calcutta High Court, and the crowding has now shifted to the barricades placed outside the pandals.
Organisers of some of the most visited puja pandals said that despite all efforts by them and the police, people tend to gather at the point beyond which no one is being allowed to enter.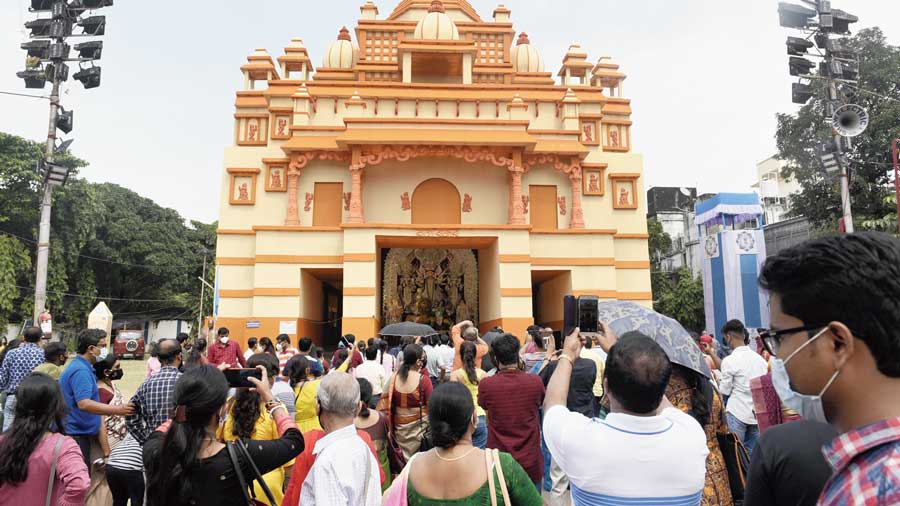 Visitors to Baghbazar Sarbojanin
Bishwarup Dutta
"Most people are waiting for a few seconds to take pictures on their mobile phones. By then people behind them reach the spot. This leads to crowding. Some people are even requesting us to let them inside the pandal. Some even get into altercations with volunteers after being denied entry inside pandals," said Anjan Ukil, secretary of the Ballygunge Cultural Association Durga Puja.
Volunteers deployed by the Puja committees as well as police personnel were continually requesting people to keep moving so that there's no crowding.
A senior police officer said that it was practically impossible to prevent crowding at the barricades.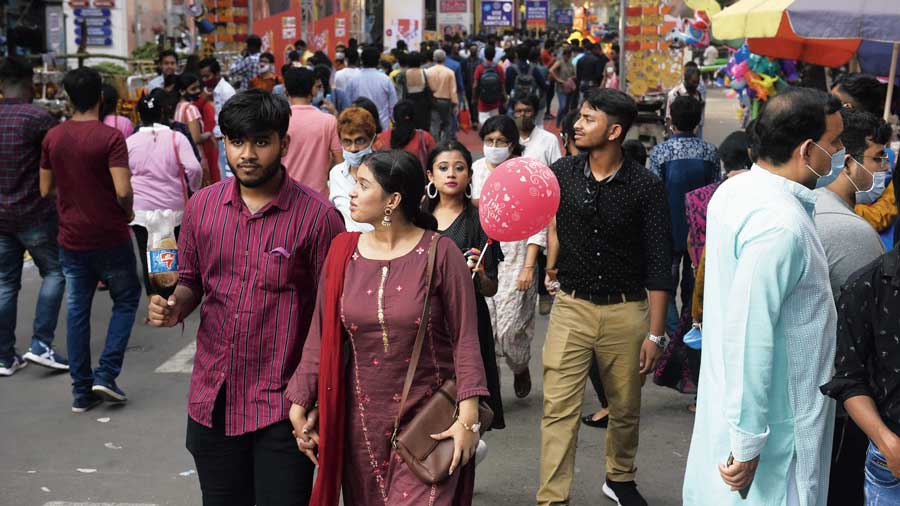 A stream of pandal hoppers at Tridhara Sammilani
Bishwarup Dutta
"We request visitors to keep moving and not spend time in front of the barricades. We are also trying to to ensure that no one is without a mask. Our personnel are strongly asking anyone without a mask to wear one," said the officer.
Anirban Dalui, another public health expert and an assistant professor of community medicine at the RG Kar Medical College and Hospital, said that police and the administration cannot enforce everything unless people showed concern about safety.
"We cannot expect that everyone will sit at home during a festival. But we can always wear a mask and never take it off in a public place. Avoid a pandal that is already crowded. Visit less-crowded pandals," advised Dalui.