Queues from 2.30am, multiple trips to the hospital to get jabbed before the doses ran out, arguments so nasty the police had to break them up… these were commonplace during vaccination camps last year. But in 2022, people have been in no hurry to get their precautionary third dose. It's very recently that demand for vaccines has picked up somewhat, although it is still not a patch on the rush before the first and second doses.
 "Two months ago no more than five to 10 people were coming for jabs a day. Now it has increased to between 50 and 60 but it's still no comparison to the hundreds who would line up for the first two doses," said Biplab Chandra, doctor of internal medicine at Calcutta Heart Clinic and Hospital Society.  
Sourav Ghosh, physician and medical director, Techno India Dama Hospital, says the same thing. "Everyone took the first two doses but now a complacency has set in. Unlike last year, corporates and housing complexes are not showing interest in organising camps either," said Ghosh. Three weeks ago they were getting just 20 people for vaccines a day, although it has now risen to about 100. "We suspect this increase in demand is due to the rising number of Covid cases and also the fact that the Centre has reduced the gap between the second and third dose from nine to six months, thereby making more people suddenly eligible." 
Bidhannagar Subdivisional Hospital is administering Covishield daily except Sunday, Covaxin on Wednesday and Friday, and Corbevax (for 12-14 years) on Tuesday and Thursday. "Despite the spike in Covid cases,we are not seeing any rise in demand for vaccines," said superintendant Partha Pratim Guha. "The vaccination figure remains between 50 and 70 daily." The hospital is having to refuse people as a vial would go waste if a certain number of people cannot take the vaccine within a specific span of time once it is opened. "The problem is the biggest for Corbevax as it requires 20 recipients to a vial."
Covid tests have increased over the past couple of weeks, though without any significant rise in the positivity rate, he said.AMRI Hospitals is not keen on holding camps any more. "The price of vaccines has been pegged at Rs 380 and this makes it difficult to meet costs of transportation and staff salaries at outdoor camps. So we are holding few camps and preferring people to come over to the hospital. We are also relying on the Cowin app to check registrations so we don't waste any vials upon opening them," said an official. 
The Salt Lake branch of ILS Hospitals used to have a prominent shamiana at its entrance announcing vaccination camps. "That was before, when demand was high. The rush to get vaccinated died after the teenagers got their shots earlier this year. This month Covid cases are rising but neither are people scared nor are they taking precautions as the symptoms aren't severe. Even those getting admitted are getting released much faster than in the first two waves," said group vice president Debashis Dhar.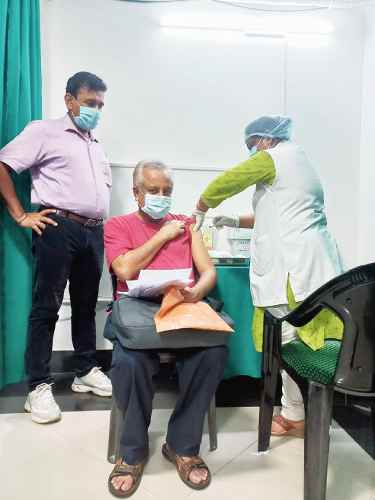 Vaccine centres are also being run by the civic body at places like Matri Sadan in EE Block, where there has been a renewed interest among eligible people. "Till May, we barely had anyone coming but for the past two weeks we have been getting a footfall of at least 60 to 70 people a day," said a health worker there.
While it's true that the reduction of the nine-month gap to six has made more people eligible, Chandra of the Heart Clinic doesn't think it amounts to much. "Few people know and even less care. A Covid fatigue has set in and people are knowingly turning a blind eye to the risks. Why, the other day I was travelling by local train and feeling foolish for being the only one in the compartment to wear a mask! Will such people care to get jabbed?" he asked.
 In New Town, the NKDA undertook a mop-up drive by making calls to those awaiting vaccine. "Our database showed a total of 1,099 people had not completed their vaccination but mostly they were awaiting the second dose," said NKDA chairman Debashis Sen. A handful could be persuaded to visit a vaccination centre and take the shot, though many said they had taken the jab elsewhere.
Rise in cases
 Perhaps because of this vaccine apathy, Salt Lake on an average, is registering more than 50-60 fresh Covid cases a day. The figure in New Town is only a shade lower. If the added areas like Duttabad, Baguiati, Kestopur and parts of Rajarhat are taken into account, the daily figures hover around 120-130.
Till Wednesday the total number of active cases across all 41 wards of the Bidhannagar Municipal Corporation stood at 1,259. On Tuesday, the number was 1,089. On Wednesday the number of fresh cases was 230. "Till last month the number of active cases were hovering around the 150-165 mark," a health official of the corporation said. "There has been a steep rise over the past couple of weeks. It was also in June that the first Covid death was recorded since March."
 New Town had new cases in single digits till the first couple of weeks of June. The cases have been rising since then, according to sources, with the active caseload crossing 200 last week. 
Going door to door
 In order to combat the spread, the civic body has arranged for health workers to conduct door-door visits to identify people who have yet to take their first and second doses.
"Till Wednesday, our teams had covered in excess of 10,000 households across all 41 wards. We have found out that many, especially senior citizens, are yet to take their second doses. From next week, our teams will also enquire if there are any yet to receive their booster shots as now we are likely to start giving booster doses for free to those younger than 60, following the Centre's changed directive," said the official. NKDA too is giving jabs at home on request from the elderly and the infirm.
On Wednesday, the central health ministry announced that people aged between 18-50 would be eligible for free booster shots at government-run vaccine centres. That, health officials hope, will provide the much-needed impetus to the vaccination drive to face up to the fourth wave of infection.
Camps afresh
 The health official said that in Salt Lake alone there were more than 50,000 residents yet to take their precautionary dose, 30,000 yet taken their second dose and 10,000 who have not taken their first dose.
Faced with such figures, the civic body has re-launched its vaccination camps. Thus far the free camps have been providing third jabs for senior citizens and first and second doses for those under the age of 60.
"Apart from our regular vaccine centres, we are organising camps at various blocks. The response has been quite encouraging and to date we have administered more than 1,000 vaccines to various age groups including children," said Banibrata Banerjee, the mayoral council member in charge of health. 
But at one such camp above BJ Market on Tuesday, residents were just about trickling in, more so to tick a box than to urgently protect themselves from coronavirus. Some of them were careless about masks. 
"People in Salt Lake still have the means to approach private clinics and pay for the booster dose. But when we hold camps in added areas, we realised that those under 60 there are unlikely to pay for their jabs. So a huge chunk of the population is left out," said Pinki Das, a corporation health worker at the BJ Block camp. This group should benefit from the free scheme announced by the Centre on Wednesday. 
No hurry to get jabbed
 Rita Choudhury, 60, a BJ Block resident, has been eligible for her third dose since April but took her shot only on Tuesday at Matri Sadan. "I had thought the pandemic was over but then decided to get jabbed since cases are rising again," she said.
Arati Basu was taken to the BJ Block camp by her son for her third dose, although the son himself was yet to get his. "My wife and I are both eligible but we aren't getting time. I know we're being negligent and will get it soon," said Arnab Basu of BJ Block.
Nandita Majumdar got her third dose on Tuesday, some two months after becoming eligible for it. "I had a cataract operation in the middle and then kept putting the vaccine off," said the BK Block resident. Her son and daughter-in-law have been receiving reminders on the Cowin app to get their third dose too but have not managed to yet. 
There was also Subho Acharya, a college student from AK Block, getting his first dose. "I got Covid twice so the vaccination kept getting pushed back. I finally became eligible in May but since the Covid count was low I got complacent. But better late than never," he said. 
Then there are anti-vaxxers, who have neither got nor will get a single dose. "The entire Covid circus has been the creation of pharmaceutical companies. It's tragic that people have died — I myself have lost loved ones — but vaccines will not protect us. Fear psychosis reduces immunity and that's what is killing people," said a 20-something man from Sector I. His entire family of four has decided not to get jabbed. "There should be a choice about vaccines and we are confident about exercising ours." 
(Additional reporting by Sudeshna Banerjee)
Have you kept your vaccine jab waiting despite being eligible?Write to The Telegraph Salt Lake, 6 Prafulla Sarkar Street, Calcutta 700001 or email to saltlake@abp.in