Art, craft and compassion were all in the spotlight as the winners of the Durga Puja contests from Anandabazar.com, Shera Sorbojonin and Abasan-e Singhashan-e, were unveiled. 
In the Shera Sorbojonin competition, 10 of the very best Durga Pujas of Kolkata were crowned. And the honour roll reads….
Winner: Barisha Club
First Runner-up: Rajdanga Naba Uday Sangha
Second Runner-up: Chakraberia Sarbojanin Durgotsab
Social Work: Manicktalla Chaltabagan Lohapatty Durga Puja Committee
Best Idol: Suruchi Sangha
Best Small Budget Puja: Sovabazar Burtolla Sarbojanin Durgotsav Samity
Most Eco-Friendly Puja: North Tridhara Sorbojanin Durgotsab
Best Overall Security of the Pandal: Kankurgachi Yubak Brinda
Special Jury Award: Dum Dum Park Tarun Sangha
Most Digitally Popular Puja: Masterda Smriti Sangha
The results were declared on Ashtami evening. The jury included members of The Bengal -- June Maliah, Arindam Sil and Aniruddha Roy Chowdhury. Anandabazar.com editor Anindya Jana was also part of the jury.
Shera Sorbojonin was supported from the start by The Bengal, a Kolkata-based NGO that brings together eminent citizens, thought leaders and achievers to promote socio-cultural and welfare activities. They carry out various cultural activities aimed at preserving and promoting India's rich cultural heritage. One of its projects, Pronam, which is run in collaboration with Kolkata Police, is an outreach programme dedicated to the welfare of elderly citizens, with more than 20,000 members.
Sundeep Bhutoria, honorary secretary general of The Bengal, said: "The last two years have been quite a trying time for all of us. Durga Puja celebrations have not been like they used to be before. This year, with the initiative of Shera Sorbojonin by Anandabazar.com, we from The Bengal wanted to let everyone know about the various pujas and their uniqueness. The judging was done virtually and the selection was also done with precision. We are happy that we could highlight the unique aspects of each puja and also award the best pujas."
Abasan-e Singhasan-e
The winners of the Abasan-e Singhashan-e, the 10 best pujas in Kolkata housing societies, are….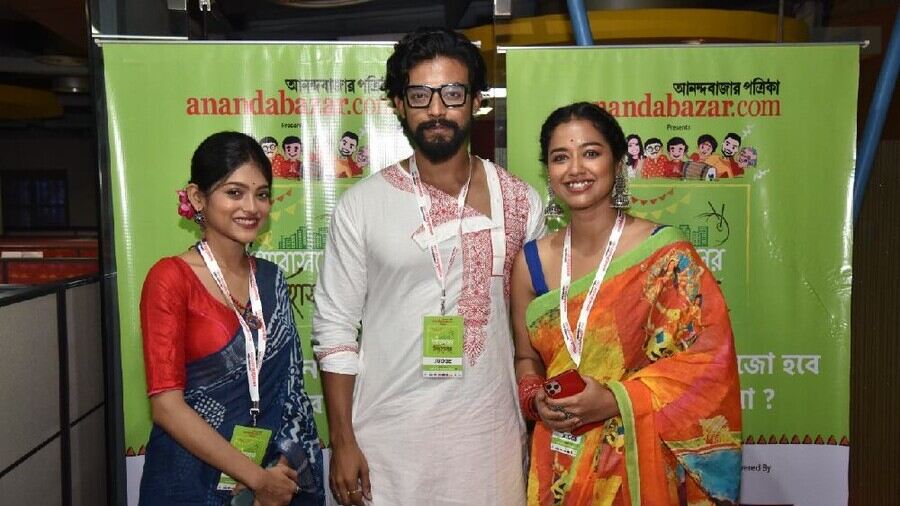 Abasan-e Singhashan-e contest jury members (left to right) Anusha Viswanathan, Ranojoy Bishnu and Sohini Sarkar
Anandabazar.com
Winner: Uniworld City Cultural Association
First Runner-up: Tolly Gardens Abasik Kalyan Samiti
Second Runner-up: Aster Gardens Complex
Best Idol: Tirupati Paradise
Safest Puja: Silver Oak Estate
Best CSR: Siddha Happyville
Most Eco-Friendly: Diamond City South
Best Low Budget Puja: Magnolia Sky View
Special Jury Award: South City Garden
Most Digitally Popular Puja: Devalok Decasa
A total of 250 pujas from the city participated in the competition. Abasan-e Singhashan-e was powered by Apollo Multispeciality Hospital, co-powered by Bazaar Kolkata, style partner Turtle, footwear partner Sreeleathers, jewellery partner Senco Gold, comfort partner Macho Hint, food partner Nanighar, shopping partner Spencer's Online, realty partner Magnolia and home decor partner Berger Paints.
The jury included Sohini Sarkar, Ranojoy Bishnu, Anusha Viswanathan and Anandabazar.com editor Anindya Jana.