The monsoon has advanced into Kolkata and the Met office has said there is a possibility of heavy rain after four or five days.
Every year parts of Kolkata remain flooded for days following heavy rain. The Telegraph spoke to current and former Kolkata Municipal Corporation (KMC) engineers and found out that the preparations for the monsoon are far from satisfactory.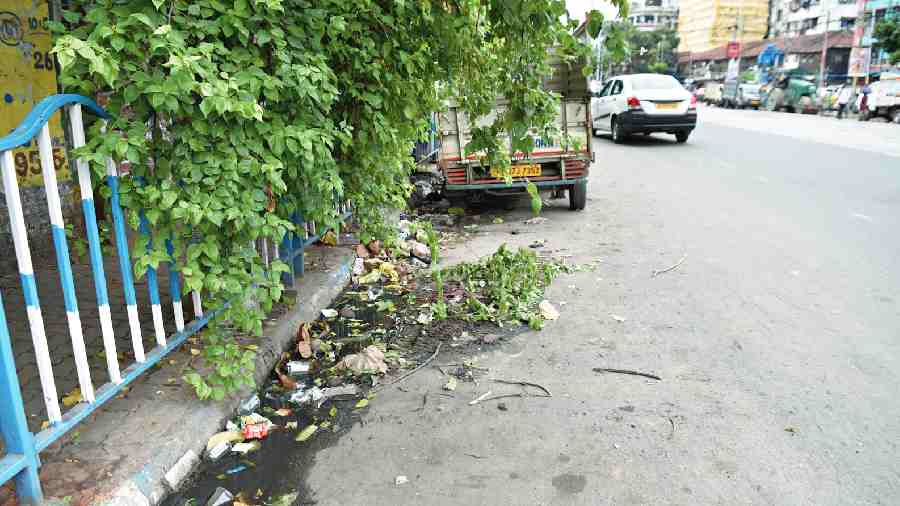 Clogged mouths of gully pits along AJC Bose Road.
Gautam Bose
Silted canals
The rainwater in Kolkata is drained out through a network of over 25 canals. The capacity of many of the canals has reduced over the time because of siltation.
The state irrigation department has started desilting the canals but only 30 per cent work has been completed so far, said West Bengal irrigation minister Saumen Mahapatra.
"We will complete the desilting work before next year's monsoon. The 30 per cent work we have already done will alleviate people's sufferings during this monsoon," Mahapatra said.
Silted drainage lines
Underground drainage pipelines, too, are heavily silted and are partly responsible for waterlogging. The rainwater from the roads goes into the canals through underground drainage lines.
"The drainage lines are heavily silted at many points," said a KMC engineer.
A crucial stretch that is heavily silted is between Moulali and Palmer Bazar drainage pumping station. Rainwater from north and central Kolkata drains into the canal network through the drainage pumping station.
"If the capacity of such a crucial pipeline is reduced, it will delay the flow of water and result in waterlogging," the engineer said.
The civic body laid over 200km of drainage pipes in Jadavpur, Behala and Garden Reach about a decade ago. Even these conduits, too, could be blocked as they have not been cleared even once.
Old pumps
Many pumps in drainage pumping stations are old and do not function at their optimum capacity.
"Some of the pumps have been in operation for decades. On paper they can drain out 50 cubic foot water per second, but their capacity has been reduced by half because of age. These need to be urgently replaced," said a civic engineer.
A former KMC engineer said there was no mechanism in Kolkata to measure the efficiency of the pumps regularly and replacing all old pumps together was not possible. "Old pumps are replaced in phases," he said.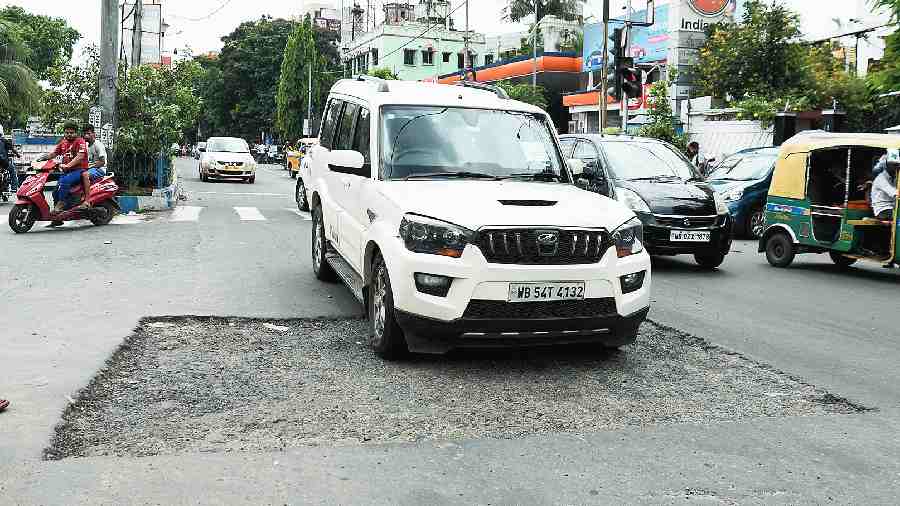 A battered stretch of the Rashbehari Avenue connector, near Bosepukur.
Gautam Bose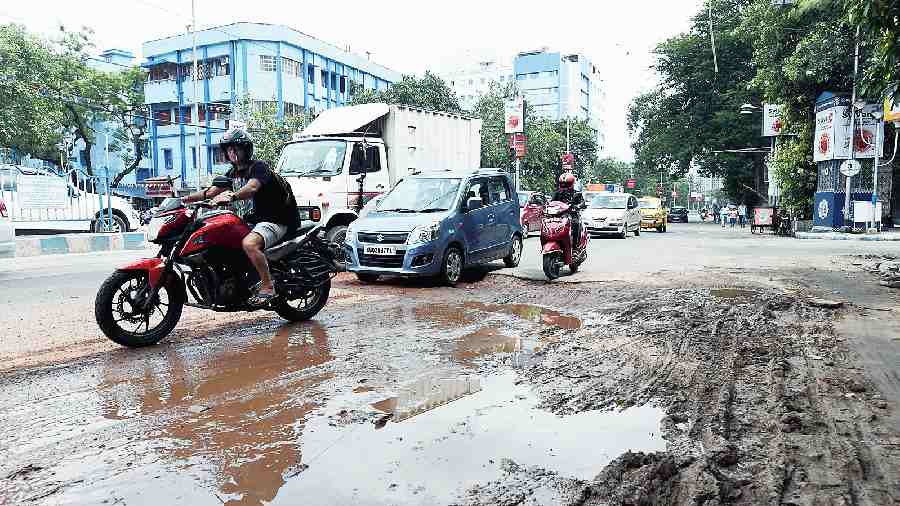 The bitumen layer has worn off a stretch of Deshapran Sashmal Road, near Tollygunge Club, exposing the soil underneath.
Gautam Bose
Broken roads
Many roads are yet to be repaired though the monsoon has arrived. In Tollygunge, for instance, Radha Gobinda Nath Sarani was dug up for utility repairs. The soil has been dumped on the dug-up pit but the road is yet to be levelled. It's risky to walk on the road, which turns slushy and slippery after a spell of heavy rain.
The bitumen has worn off a stretch of Deshapran Sashmal Road, near Tollygunge Club, exposing the soil underneath. A portion of the Rashbehari Avenue connector, near Bosepukur, too, has not been repaired. Police have barricaded the stretch.