A play commemorating the 500th year of the conversion of St Ignatius of Loyola, the founder of the Jesuit order, was held at St Xavier's Collegiate School on Friday.
The play, The Cannonball Moment, was presented by St Xavier's Collegiate School & Alumnorum Societas in collaboration with The Ignatian Spirituality Commission of the Calcutta Jesuit Province. May 20, 2021, marked the 500th anniversary of St Ignatius's conversion — when Ignatius the soldier, struck by a cannonball, began his transformation into Ignatius the pilgrim, then to St Ignatius and finally the founder of the Society of Jesus.
"It was during convalescence that he read two books that gave him new direction and the spiritual journey began for him and eventually the starting point of the Jesuit order," said Father M. Thamacin Arulappan, principal of St Xavier's Collegiate School.
Friday's programme marked the concluding ceremony of the year-long celebration in the school in commemoration of 500 years. The occasion also featured the release of the Ignatian Year magazine and a CD of songs sung and recorded by students, teachers and former students.
Among those present was archbishop of Kolkata, Thomas D'Souza, and Father Felix Raj, vice-chancellor of St Xavier's University.
Kolkata celebrates 250th birth anniversary of Raja Rammohun Roy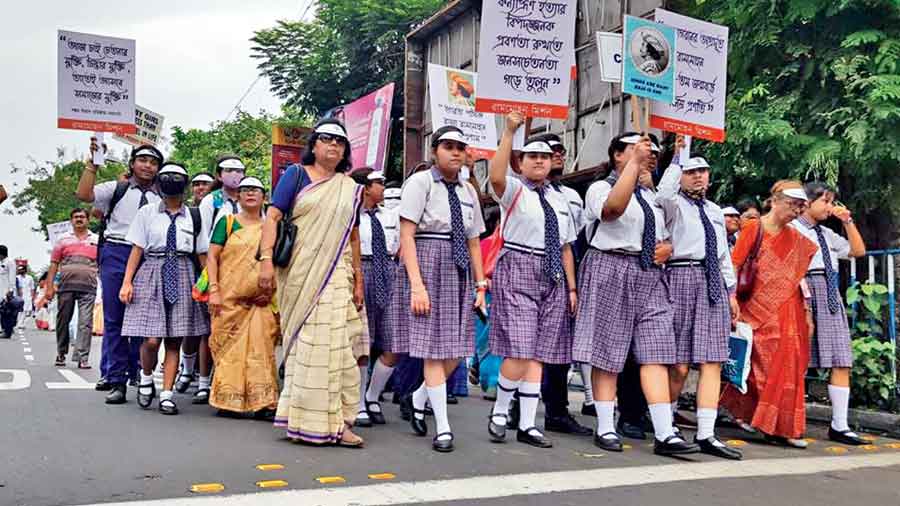 Students of Rammohan Mission High School take part in a walk from Prince Anwar Shah Road in south Kolkata to Madhusudan Mancha to celebrate the 250th birth anniversary of Raja Rammohan Roy on Sunday.
The students and teachers of the school extensively celebrated the special occasion over two days on May 21 and 22. A cultural programme was organised at Science City auditorium on May 21