Police took an octogenarian woman, who lives in an apartment on Syed Amir Ali Avenue in south Kolkata, to hospital after an alert from her daughter-in-law in Hyderabad that she was not answering their calls on the Bengali New Year (April 15).
The woman was unconscious, running a 104 degree temperature and her phone lay broken on the floor when the police reached her.
She was taken to a private hospital near her home where doctors said she had suffered a heat stroke.
"The patient was running a high fever when she was brought to us. She was unable to speak. Such was her condition that she would have collapsed had there been any further delay in taking her to hospital," said Bidisha Barat, CEO of Repose Clinic and Research Centre.
The woman stayed in the hospital for almost a week and was discharged on Thursday.
The police said the woman, a former teacher at a city school, lives alone in the south Kolkata flat. Her son and daughter-in-law stay in Hyderabad.
"Last Saturday, a woman called us around 6.45pm saying her 83-year-old mother-in-law, who lives on the first floor of a building on Syed Amir Ali Avenue, had not been answering their calls since 4pm," said an officer of Karaya police station.
A team went to the address and found the flat locked from the inside. There was no response to the calling bell.
The door was broken open and the elderly woman was found lying unconscious on a sofa in the living room. "Her phone was on the floor, broken. It appeared that the phone had slipped off her palm and she did not have the strength to pick it up," said an officer.
She was immediately shifted to the nearby Repose Clinic.
The police said they later learnt that a food delivery person, who had gone to the flat to deliver lunch, alerted the woman's family in Hyderabad as she did not answer the door.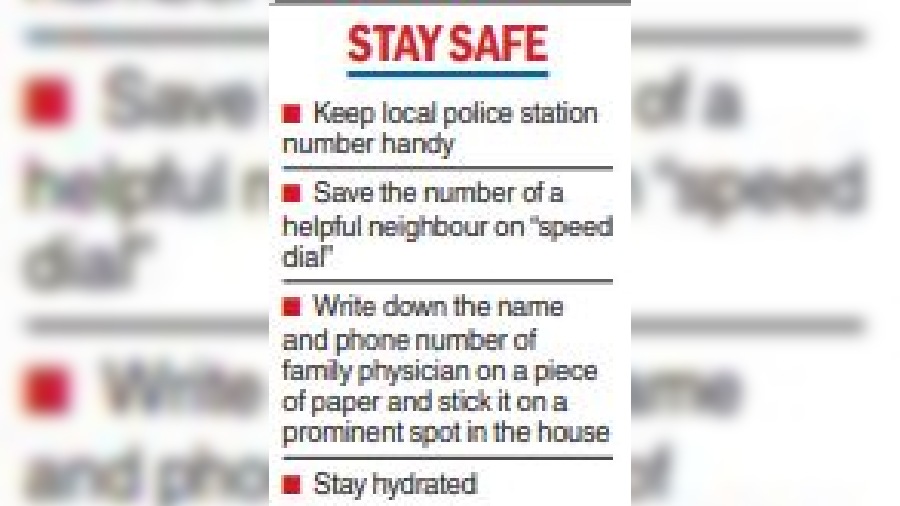 In a city where many elderly people stay alone as their children leave the state to pursue a career of their choice, it is not uncommon for the aged to keep their windows and doors closed at all times.
"All the windows of the flat were closed and the woman did not appear to be in a condition to open the windows for ventilation," said the officer.
Officers said it's usually "too late" by the time they get information about an elderly person living alone and not responding to the door or not answering calls. In this case, they reached the spot in the nick of time.
"We were happy to have been able to take her to hospital on time. We do not see too many such cases with a happy ending," said an officer at Karaya police station.