A study anchored by IIT Delhi has found that teenagers in Kolkata are most vulnerable to upper respiratory symptoms triggered by air pollution while people above 50 years mostly are affected by lower respiratory symptoms.
"URS (upper respiratory symptoms) were most prevalent in young people (31%) within the age of 20 years (while) persons aged 50+ years displayed the highest prevalence of LRS (lower respiratory symptoms) both in rural and urban areas," states the report released here on Saturday.
"Both long and short-term exposures were associated with respiratory and cardiovascular health impacts in Kolkata and surrounding regions," said Aarti Khosla, director of Climate Trends, an environmental outfit that conducted the study along with IIT Delhi.
The study suggests that rural areas of the state also stand significantly affected by pollution from ultrafine particulate, PM 2.5, and health data also vindicates the trend.
"No clean air target can be achieved by Bengal or any other state in the Indo-Gangetic plain, without inter-state coordination and air shed management," said Sagnik Dey of IIT Delhi who presented the study results.
Manas Ranjan Ray, former executive director of the Chittaranjan National Cancer Institute and one of the project leads, said the findings were arrived at based on field survey over close to 1,150 people across Kolkata, Howrah, Asansol, Haldia, Barrackpore, Bardhaman and Barasat.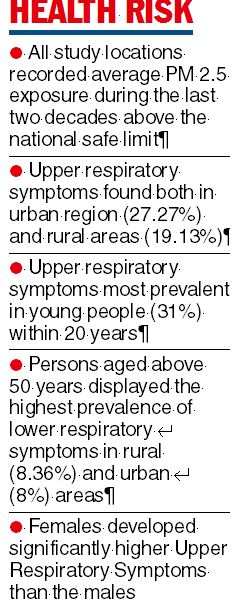 State transport minister and mayor of Kolkata Firhad Hakim spoke of the need to link air pollution control and countering climate change.
"I consider that good air pollution practice and good climate practice go hand-in-hand and we have been working in that direction."
Hakim said innumerable waste dumps created across Kolkata and other urban areas of the city would "be cleared within two years"; which is likely to reduce air pollution.
Abhijeet Chatterjee, a scientist at Bose Institute pointed out the significant role of waste burning in pushing up the city's air pollution.
"The civic body has created 35km of green spread in road medians, setting up urban forestry. It is planning to add at least 25,000 trees to city's green coverage," said Debashis Kumar, mayor in council in charge of city's park and gardens.
Kalyan Rudra, chairman of the state pollution control board, said Bengal had the "most intensive air pollution measuring network in the country." .