Birla High School
It was a week of hectic and fun activities for Nursery to Class V students of Birla High School. Each class took part in carefully curated online activities that aimed at developing their confidence, leadership and organisational skills.
A virtual fancy dress event was organised for the Nursery students to encourage creativity. The children dressed up as fruits, vegetables, cartoon characters, superheroes and mythological characters. A virtual pet show was organised for the Kindergarten children to sensitise them towards animals and help them co-exist. Children also learnt to recycle and reuse food waste to create art.
Class I students took part in an activity on grid art to hone their analytical skills. Swati Sarawagi, the founder-director of Swarnim International School conducted a storytelling session for the students of Class I.
The students of classes II and III got to learn wordtoon, a special cartoon doodling art form from Subhendu Sarkar. He taught students simple artistic tricks to convert the letters of the alphabets into beautiful illustrations.
The children also enjoyed a fun-filled food art activity that helped them learn about the nutritional value of the various fruits. Storyteller-puppeteer Bharti Mohan enthralled the students of classes III and IV with her wonderful stories.
Environment and Sustainability changemaker Odette Katrak conducted a virtual session for the students of classes IV and V to sensitise them about the evils of spitting. The children were made part of the "Stop India Spitting" campaign. They were told how harmful spitting in the public can be. Reyanka Deb, a chef from IIHM, taught children some non-fire cooking.
"End-of-term events are organised to cater to various groups and facilitate learning through fun-filled activities. Every activity is conducted by an expert. It aims at a holistic development of our students. They get hands-on learning experience on subjects relevant to these times," said headmistress Farida Singh.
Modi Public School, Siliguri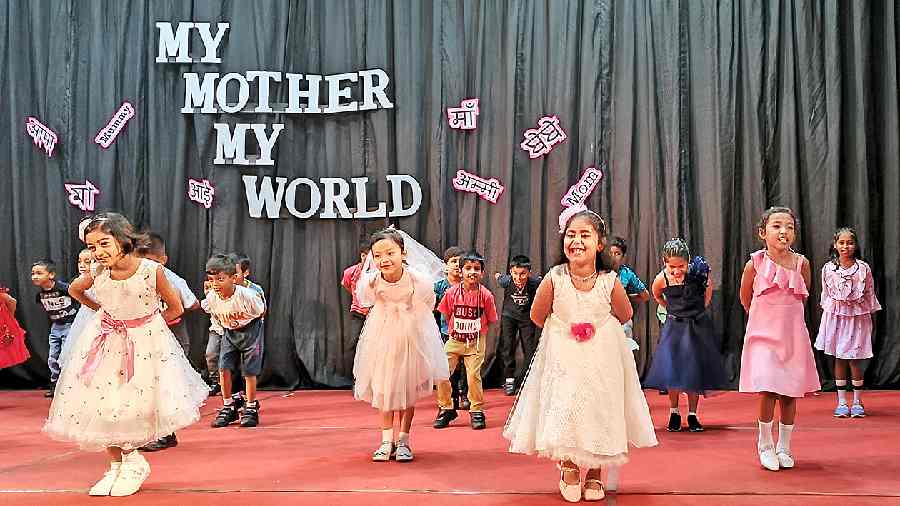 Students of Modi Public School, Siliguri, celebrated Mother's Day on May 28 to say thank you to the most important people in their lives. The event began with students welcoming their mothers with hand-made flowers.
Performances by the primary section followed. Some students of Kindergarten and Class IV presented an instrumental performance. Next in line was a dance performance to Mummy I love you. The students also recited poems in Hindi, Bengali and Nepali on motherhood. Finally, classes II and IV danced to Ye to sach hain ke Bhagwan hain to end the programme that left many mothers teary eyed. Principal Jayanta Pal paid a tribute to all mothers in the audience for their "boundless sacrifice and selflessness". "Mothers play a vital role in a child's life. Her support is the anchor that motivates young ones throughout their lives," he said.
Sushila Birla Girls' School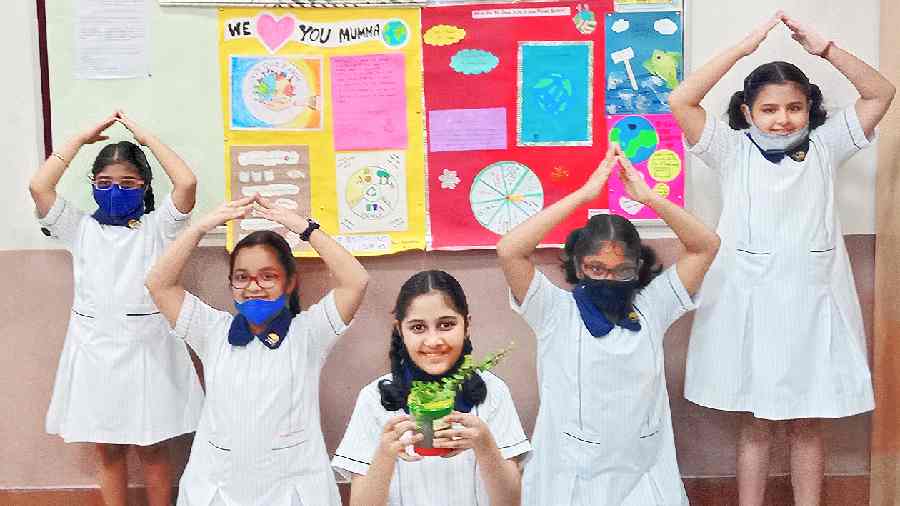 The primary section of Sushila Birla Girls' School took part in a range of activities to celebrate Earth Day on April 22.  The theme for this year was - Invest in Our Planet. The aim was to  raise awareness about various environmental issues. The Nursery and Kindergarten students were taken around the school grounds to observe the greenery around.  They watered the plants and painted colourful pictures of the planet using their fingerprints.
Students of Class V used PowerPoint presentations and charts to educate Classes I and II  on how to reduce wastage of water and encouraged them to make their version of the green earth using play dough.
Class III girls had potted some indoor plants. Taking care of these and seeing them grow on their classroom window sills made them proud. Class IV made posters to spread awareness about plastic pollution and its harmful effects on the environment. Age-appropriate videos were shown to various classes to sensitise them about the conservation of natural resources and the need for a greener earth.  All the students pledged to keep their environment clean. The celebrations rekindled among them a love for the planet and the wish to protect it.
"Every year we celebrate Earth Day to raise awareness about various environmental issues affecting the planet. Our green warriors celebrated the day through many fun activities. Students were sensitised about the conservation of natural resources and the need for a greener earth. They will be our legacy and the caretakers of the planet in years to come," headmistress Vidisha Panja said.
St John's Diocesan Girls' Higher Secondary School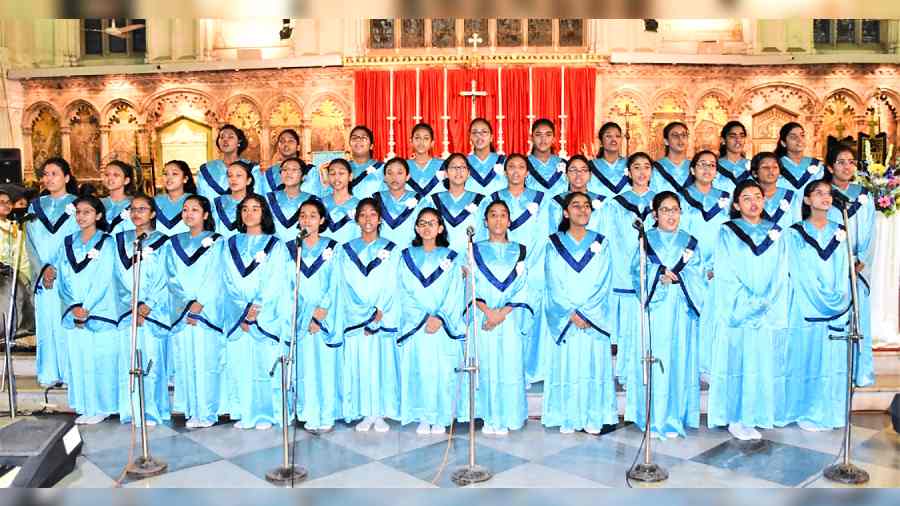 The frescoed interiors of St Paul's Cathedral came alive on June 24, as students of St John's Diocesan Girls' Higher Secondary School took part in a service to celebrate Patronal Day or the feast of their patron, St John the Baptist. For the last two years, the event was held online because of the pandemic.
This year, the participating students and teachers sang songs and reminisced about the school's journey at a service. "We practised both online during summer vacations and then offline for this event. We were very excited," said school vice-captain Sneha Paul who along with captain Sourima Sur and other office-bearers led a formal procession down the aisle at the start of the programme. The guests included Reverend Paritosh Canning, the bishop of the Calcutta diocese of the Church of North India, parents, former students and head of institutions, among others.
A book on the school's 128-year-old journey in empowering and educating girls — Dio-logue — was released on the occasion. The book has been written by school alumnus Hiya Chatterjee. The service began with an opening prayer by Reverend Abir Adhikari, the presbyter-in-charge of St Paul's Cathedral. It was followed by a prayer by Carolyn Lionel, honorary secretary of the school's managing committee. Students right from the Pre-primary department to the senior choir took turns to sing hymns. The teachers also presented a Bengali song.
"For over 125 years, the church has been trying to release girls from societal bondage and educate them. The school has given its students a strong foundation that has helped them fly high in life," said Bishop Canning in his speech.
"St John's Diocesan Girls' HS School celebrated its 128th Patronal Day. The school stands firm on the vision of its founders of imparting holistic education to the girl child. The book, Dio-logue: A Journey of  Empowerment from Believing to Becoming, was released on the occasion. It records the golden heritage of our institution as it empowered women down the ages," said principal Snigdha Gain.