Rowing in the Rabindra Sarobar, followed by a hearty breakfast of radhaballavi and alur dom — it was a day well spent for Commonwealth gold medallist Achinta Sheuli on his visit to Calcutta Rowing Club (CRC) on Independence Day morning.
Sheuli, who won gold in weightlifting at the Commonwealth Games 2022, was felicitated by CRC, one of the oldest rowing clubs in Asia. The West Bengal State Weightlifting Association (WBSWA) also presented Sheuli with a cheque of Rs 51,000.
"The kind of sports we are into needs proper financial, dietary and infrastructure support. I am really happy that the association has come forward to help me," Sheuli said.
The athlete from Howrah was accompanied by his brother Aloke Sheuli on his visit to Kolkata.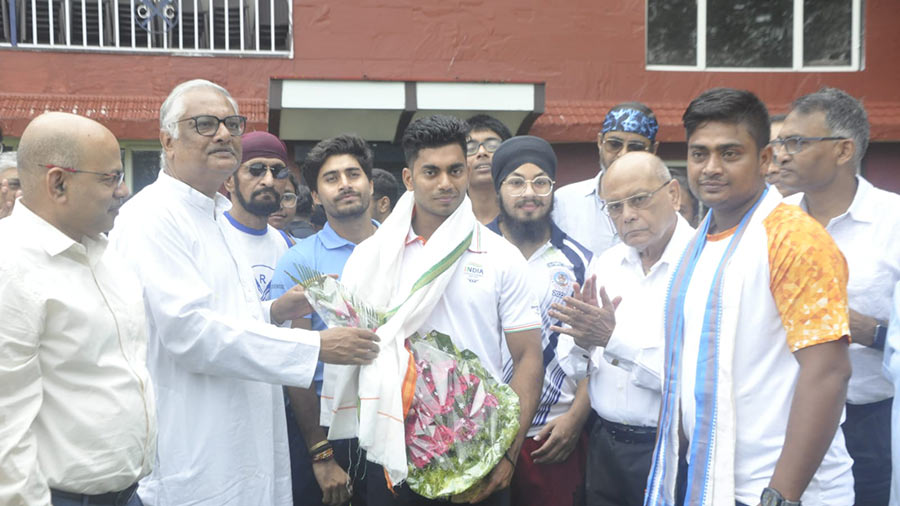 Achinta Sheuli being felicitated at the event
Photograph: Calcutta Rowing Club
Chandan Roychowdhury, the president of WBSWA and the secretary of Calcutta Rowing Club, said the association is in talks with several corporate houses for sponsorship for Sheuli. "Two of the houses have shown interest in this matter. We will be able to disclose more once the time is right," he added.
Sheuli had a few words of advice for the students of CRC who have not been able to row for months after an accident in May. "Dedication and patience are two major ingredients of becoming a sportsman. I have been patient with my sports and received the result," he told them.
Following the felicitation ceremony, Sheuli was seen trying his hand at rowing, guided by senior members and instructors of CRC.