A patient waits for more than a day to get admitted to SSKM Hospital.
A son waits for four hours for a trolley to take his ailing mother to a ward at the NRS Medical College and Hospital.
Accessing healthcare remains as difficult as it was in at least two government medical colleges two days after a 24-year-old man suffering from a pain in the groin died after being taken to four state-run facilities in one night.
Meghnath Chanda, 24, died at NRS on Tuesday morning while family members were completing admission formalities. Relatives had said the staff at NRS initially paid no attention to Chanda while he lay on a trolley writhing in pain and gasping for breath.   
The Tollygunge resident was first taken to MR Bangur hospital after he complained of a severe pain in the groin. He was given a painkiller and sent home.
As the pain did not subside, the family took him to SSKM, where the staff did an X-ray and ultrasound test and referred him to National Medical College for further tests. At National Medical, he was referred to NRS.   
The Telegraph visited SSKM and NRS on Thursday and here is what it saw
SSKM Hospital
Sagir Ansari and brother Mohammad Raja had been knocking on the door of various departments since Wednesday morning to get their mother, Samta Khatun, 59, treated. The woman had suddenly collapsed at her house in Rishra, Hooghly, on Sunday. 
The family took her to Walsh Super-speciality Hospital in Serampore late in the afternoon. Doctors detected a neurological disorder and admitted her.    
"But they said SSKM is best equipped to treat such critical patients," Sagir said. "That statement prompted us to consider moving her to SSKM." The brothers hired an ambulance and brought their mother to the Emergency ward of SSKM around 8am on Wednesday. 
"Doctors at the Emergency first referred her to the neurosurgery department. After waiting patiently for our turn, we were told by doctors in the neurosurgery department to visit the medicine department," said Sagir. 
Doctors in the medicine department asked the brothers to visit the "NCB department" for some formalities. By the time they returned to the medicine department, the outdoor unit had closed for the day. The family then left for Rishra. 
"We were drained out. An acquaintance contacted a person at the hospital, who assured us of a bed," said Sagir. 
On Thursday, doctors in the Emergency department "advised admission" after diagnosing Samta Khatun's condition as a case of  "acute cerebellar haemorrhage" and referred her to "neurosurgery OPD."
The "patient card" issued by the hospital had a stamp saying "Regret no bed vacancy". But the brothers were not worried.
A man in slippers and wearing a blue jacket and track pants accompanied them as Samta was being wheeled out of the Emergency department. He assured the brothers that their mother had been admitted.
"Doctors called up Ramrik hospital (Ramrikdas Haralalka Hospital, an annexe of SSKM) and told them about the patient. You need to take her there and she will be admitted," the man told Sagir and Raja.
When The Telegraph asked him about his identity, the man covered his face with the "patient card" and then melted in the crowd. Samta finally got a bed at Ramrikdas hospital.
"We have been visiting this place for two days. No one could assure my mother's admission. At least the man has ensured that. So why not pay him?" said Sagir.
Officialspeak: "Despite our best efforts, touts cannot be completely removed. That is most unfortunate. We have alerted police and will ask the family to lodge a complaint," said SSKM superintendent Pijush Kumar Roy.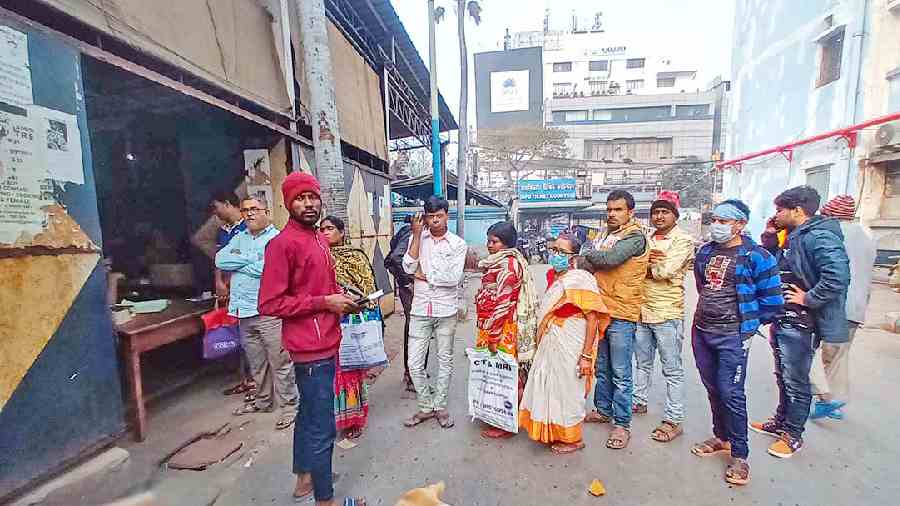 A queue for trolleys at the NRS Medical College and Hospital on Thursday
NRS
Outside the Emergency ward of the NRS Medical College and Hospital, Srikanta Ruidas waited for four hours for a trolley so he could take his mother, Purnima, 55, to the ward where she will be admitted.
The queue for a trolley continued to grow and the man from Kotolpur in Bankura remained on the edge.
"I've been waiting since noon. The ambulance driver helped us with his trolley and we carried her to a ward and made her lie down on the floor," Srikanta said around 4pm on Thursday, waiting for a trolley of the hospital to shift her from that ward to the neurosurgery ward, where she will be admitted.
The woman suffered a head injury after being hit by a two-wheeler near their house on Tuesday. She was taken to a nursing home nearby. The next day she was shifted to Burdwan Medical College.
"Doctors at Burdwan Medical College referred her to NRS saying the best treatment would be available in Kolkata. We left Bankura early this morning and reached NRS around 11am," Srikanta said. "Doctors here advised admission. But there aren't any trolleys to take my mother to the neurosurgery ward."
It was after 4pm that the family could get a trolley and Purnima could be shifted to the neurosurgery ward.
Officialspeak: "We have around 150 trolleys for close to 2,000 patients. Around 76 of them are in the wards. Some are out for repair. So there is a shortage. We somehow manage to meet the demand," said Indira Dey, superintendent of the hospital.
"Often, when there is a rush of patients, we have to admit patients on trolleys. That means even fewer trolleys to carry patients to wards."