Kolkata is a laggard in air traffic, figures provided by the Airports Authority of India (AAI) reveal.
Among the seven busiest airports in the country, Kolkata stands fifth in terms of the number of planes flying in and out.
The city comes after Delhi, Mumbai, Bangalore and Hyderabad and is ahead of Chennai and Ahmedabad, according to the AAI data that the civil aviation minis-try has provided to Jawhar Sircar, Rajya Sabha member (Trinamul Congress) and former CEO of Prasar Bharati.
Sircar had sought to know from the ministry the annual number of air travellers in the last four fiscals and the estimate for the current fiscal, the number of flights operating per year for the last five years and the estimate for the current year, the estimate of air passengers and flights per year for the next three years and the airports that are the busiest in terms of flights and passengers.
In reply, the ministry has said that in 2020-21, Delhi had handled 2.13 lakh aircraft, Mumbai 1.15 lakh, Bangalore 1.13 lakh and Hyderabad 86,015 aircraft.
Kolkata had handled 72,170 aircraft, compared with 64,590 by Chennai and 40,209 by Ahmedabad, in 2020-21.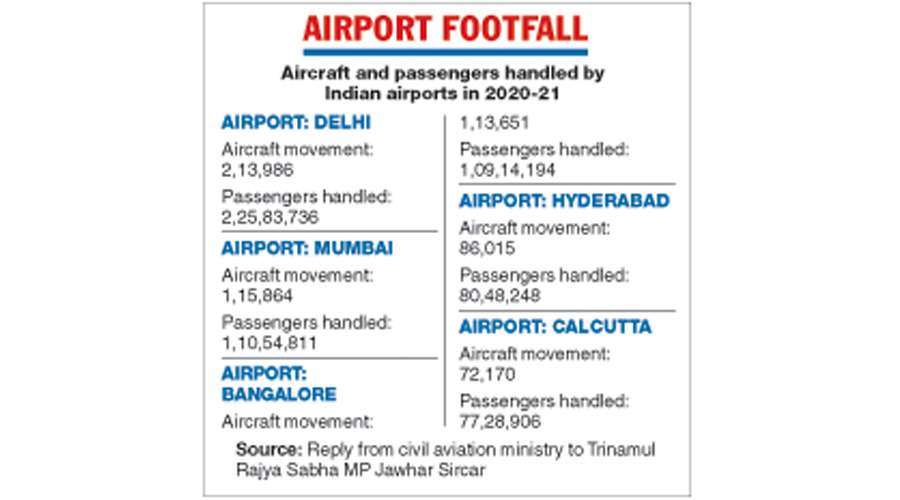 In terms of passengers, too, Kolkata, with 77.28 lakh fliers during the period, is behind the four airports.
"In 2019-20, Kolkata was ahead of Hyderabad in terms of the number of flights and passengers handled. However, Hyderabad overtook Kolkata during the pandemic," said an AAI official.
"One main reason why Kolkata is behind other busy airports is that there are very few international flights from the city," the official said.
The Telegraph reported on Monday that only a dozen international flights landed in Kolkata on the first day of resumption of regular international flights, after two years of Covid curbs.
Airport officials said no new international airline was approaching the authorities for slots from Kolkata.
Despite resumption of regular flights after a gap of two years, the city does not have direct connectivity to Europe or the US.
"Kolkata has connections to destinations in West Asia such as Dubai and Doha. But airports like Mumbai and Delhi have much more connectivity to West Asia than Kolkata," an official at the city airport said.
In the domestic sector, too, officials of several airlines said they operated more flights out of Mumbai, Delhi and Bangalore than Kolkata.
AAI sources said IndiGo operated more than 100 flights every day from Kolkata now. Delhi and Mumbai's count is almost double.
"It's a question of viability. All airlines have commercial interests and the city that fulfills such interests gets more flights," said an official of a private airline.
Airline officials and tour operators had said earlier, too, that Kolkata still did not have enough corporate passengers who would ensure yield for a carrier.