A single painting has inspired three pujas in a year when the festival is flaunting its global identity in the wake of Unesco's inscription on the representative list of intangible cultural heritage of humanity.
Dutch post-impressionist painter Vincent van Gogh's Starry Night will be a reference point at two south Kolkata pandals and one in the north.
The most prominent interpretation that permeates the entire pandal and the idol is at Bakulbagan Sarbojanin in south Kolkata, where veteran artist Sanatan Dinda is in charge.
"Our pandal this year is truly international," said Suman Bhattacharya, secretary of the 95-year-old puja that has a tradition of utilising services of renowned artists since 1975.
The bold blue and yellow swirls in the centre of van Gogh's magnum opus run wall to wall amid the bare steel frameworks, giving a sense of swift, flowing movement.
The roof has a bunch of sunflowers, also linked to van Gogh, looking down. The goddess rises in golden yellow glory from the swirl.
"I think of the idol first and then the pandal. My job is not to copy Starry Night but to give it a sculptural interpretation," said Dinda, who had planned the project in 2019 and was waiting for a pandal with suitable space and a liberal client.
This, he said, was his bid to present a global face of Durga Puja long before Unesco came into the picture.
"I believe in minimalist pujas. Why should themes have so much detail and complication?" he added.
A large copy of the painting will be on display outside. When Dinda started work on August 4, he kept the pandal open to visitors.
"What's the need for secrecy? Let people document each stage of public art," he argued.
Raju Sarkar recalled going to check out Dinda's work when he heard he, too, was dealing with Starry Night.
The painting forms the backdrop at Hindusthan Park Sarbojanin.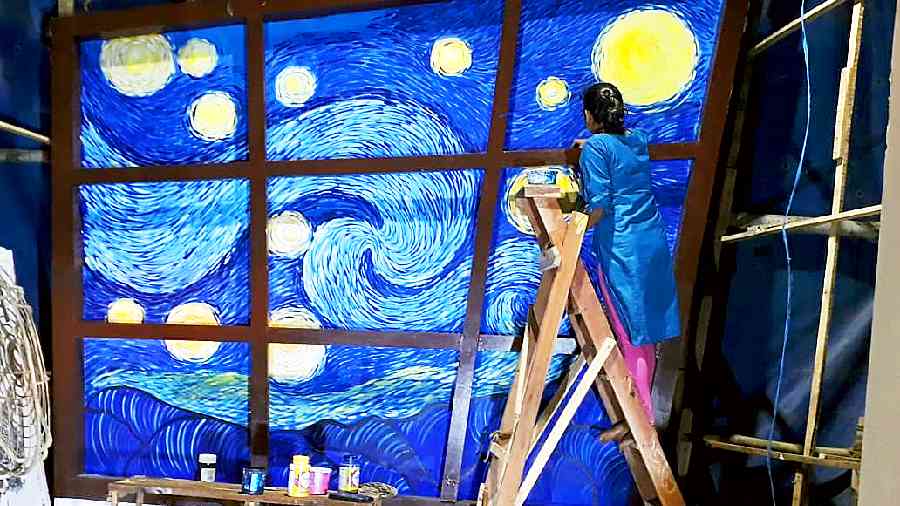 Starry Night-inspired puja of Sovabazar Burtola Sarbojanin
The theme at the south Kolkata puja centres around tailors, the dresses sewn by whom keep the Gariahat market next door abuzz.
"Yet their own homes are in semi-darkness. I find a parallel in van Gogh's life and work. He used such bright colours on his canvas which never betray the dark phases in his life," said Sarkar.
Starry Night, for instance, was painted during van Gogh's stay at a mental asylum in 1889 and was inspired by the view from his window.
In Sarkar's pandal, a tailoring hub with 14 sewing machines and numerous string reels, van Gogh's painting gets its hues not from paint but crumpled clothes of the colour which can be made out only on close inspection.
The blue, for instance, is dozens of jeans rolled into balls and stashed next to each other.
"The painting is just a visual component that is part of a separate theme, unlike at Bakulbagan. I had thought of it eight months ago," he said.
Debabrata Singha, working with Indrajit Roy at Sovabazar Burtola Sarbojanin, is showing how the internet has trapped people in a web.
They have tinkered with another van Gogh painting, The Bedroom, adding a couple lying, each busy with his or her phone, on what was a bare bed in the composition.
In the north Kolkata puja, Durga is seated for a meal at the table with the kids, also busy on their phones. And through the window in the bedroom one can see a view that is a Starry Night replica.
Sunflowers, another van Gogh favourite, spring from a vase.
"We had the theme in mind since May. Then we started looking for paintings which would match our vision," Singha said, adding that he had seen a Dinda interview on the pandal. "He seems to have used only the wave in Starry Night."
Sarkar pointed out that even if the three pandals used the same painting, it would not amount to duplication.
"In 2019, there were around 19 pandals on the theme of water conservation. But each had interpreted it differently, so each was worth the trip for the visitors. Here too, it is not a problem," he said.