About 500 Durga idols had been immersed at only three ghats along the Hooghly by 7pm on Wednesday, with pujas organised in apartment blocks and by families beginning to reach immersion ghats from around noon.
An official of Kolkata Municipal Corporation (KMC), who was supervising the immersion at one of the ghats, said the civic body expected about 1,000 idols to be immersed in the ghats along the Hooghly by Thursday morning.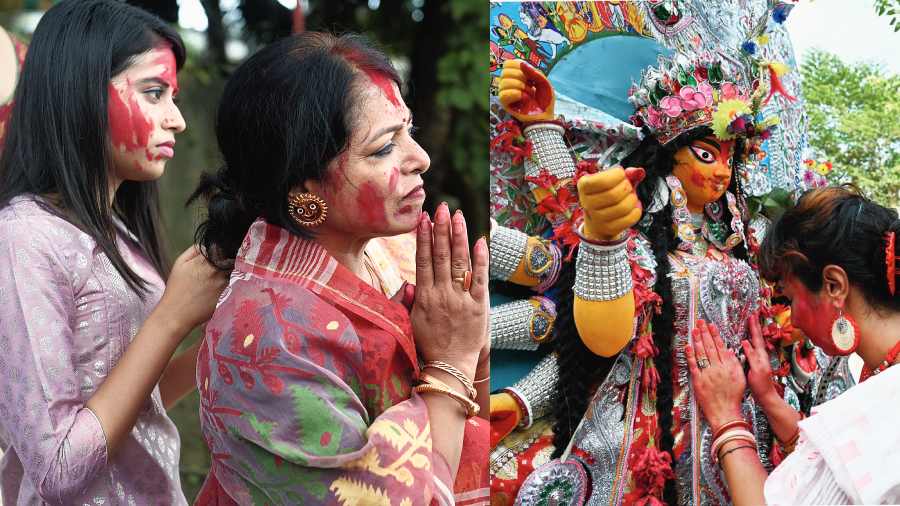 Obeisance to the goddess before immersion at Bichuli Ghat and Bagbazar Ghat on Wednesday
KMC officials have said the immersion would be fewer on Thursday as many believe it is inauspicious to immerse idols on Thursday.
Immersion will continue till Saturday, when the immersion parade will take place on Red Road. Many pujas have been invited to be part of the carnival on Red Road.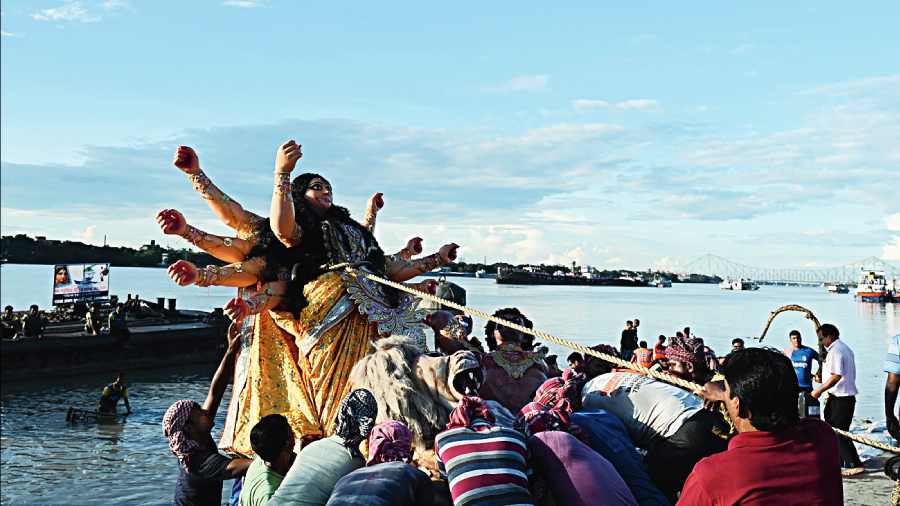 An idol being immersed at Babughat
Police officers and officials of the KMC said they had witnessed in previous years that most pujas immersed their idols in the first two days. Only a few Pujas do the immersion on the third day while the ones that are invited to the carnival on Red Road, always held on the last day of immersion, immerse their idols on the last day.
"By 7pm on Wednesday, 250 idols had been immersed at the Gwalior Ghat, 180 idols were immersed at the Baje Kadamtala Ghat and 60 idols were immersed at the Nimtala Ghat. These are three ghats where most idols are immersed," said the KMC official.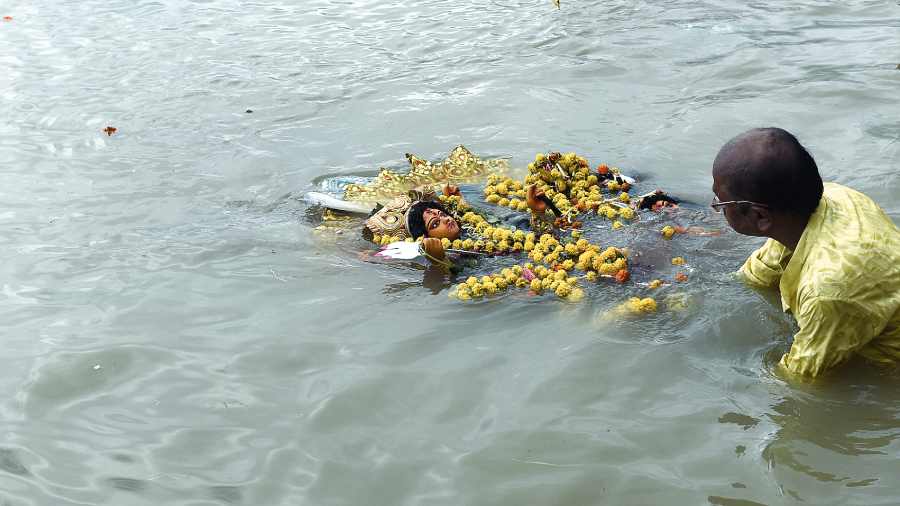 A Durga idol being immersed at Bichuli Ghat.
Usually, about 3,500 idols are immersed in the ghats along the Hooghly and a few hundred are immersed in water bodies across the Kolkata municipal area.
There are 16 ghats along the Hooghly where idol immersion is allowed. These apart, there are several water bodies where idols are immersed. These are mostly concentrated in south and southeast Kolkata.
"Puja committees that do not find it very troublesome to come to the Hooghly prefer to immerse their idols in a ghat along the river. Those who find it difficult to come to the Hooghly's ghats immerse the idols in water bodies close to their puja," said a KMC official.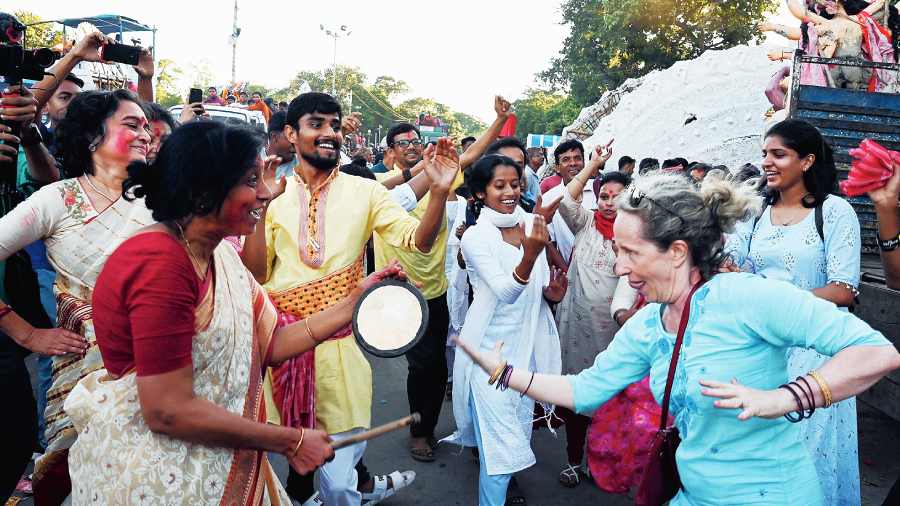 An immersion procession at Babughat
Puja organisers in housing complexes and family pujas always do the immersion on Dashami, said a KMC official. "The idol in our housing complex was taken for immersion after 5pm on Wednesday," said a resident of New Town.
Beadon Street and Nimtala Ghat Street form an immersion corridor to reach Ahiritola Ghat, Nimtala Ghat, Sovabazar Ghat and PK Tagore Ghat. A large number of pujas from north and east Kolkata take this route to head towards the immersion ghats.
For Puja committees in south Kolkatas, two of the immersion corridors are Shyama Prasad Mukherjee Road-Asutosh Mukherjee Road and Sarat Bose Road.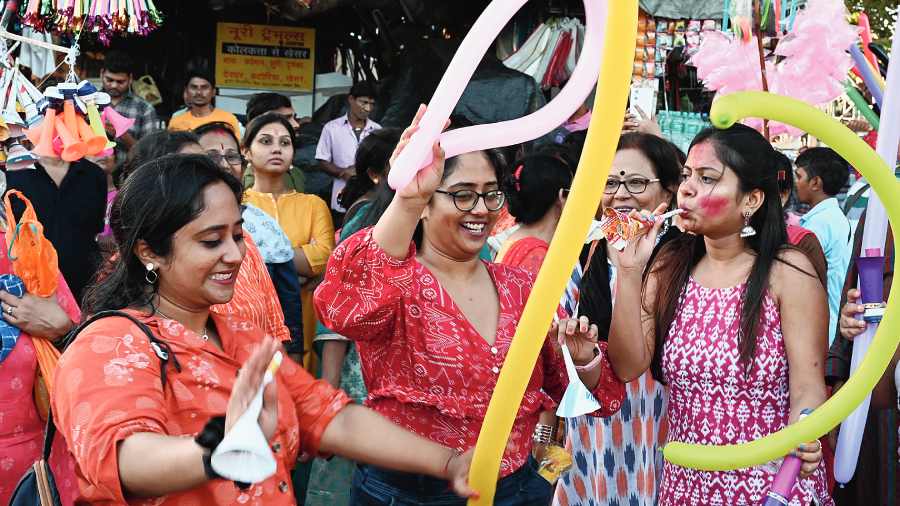 Revellers at the ghat.
"On reaching AJC Bose Road, they can head towards Hastings to take Strand Road and reach the Hooghly ghats. They can also take Hospital Road, Red Road and Kingsway to reach the immersion ghats," said a police officer.
Loud music and DJ are not allowed in the procession. Beating of the dhak is allowed.
No flowers or decoration items are allowed to be immersed in the Hooghly, KMC officials said, a restriction that has been in place for a few years to prevent pollution of the river. Those items have to be deposited in an enclosure set up at all immersion ghats.
Pictures by Pradip Sanyal and Bishwarup Dutta