Thirty-one ring-necked parakeets were rescued from a pet shop off Prince Anwar Shah Road in south Kolkata and also from the house of the shop owner by a team of officers from the Wildlife Crime Control Bureau and the state forest department on Saturday.
The owner of the pet shop was arrested after he failed to produce any documents about the origin of the birds, which are not indigenous to India.
Birds that are not indigenous to India need to have valid documents to prove that they have been imported through proper channels and not smuggled into the country, the officer said.
A forest department official said they had got information that the pet shop was selling a variety of exotic birds for the past few months.
Durga Puja thanksgiving to Unesco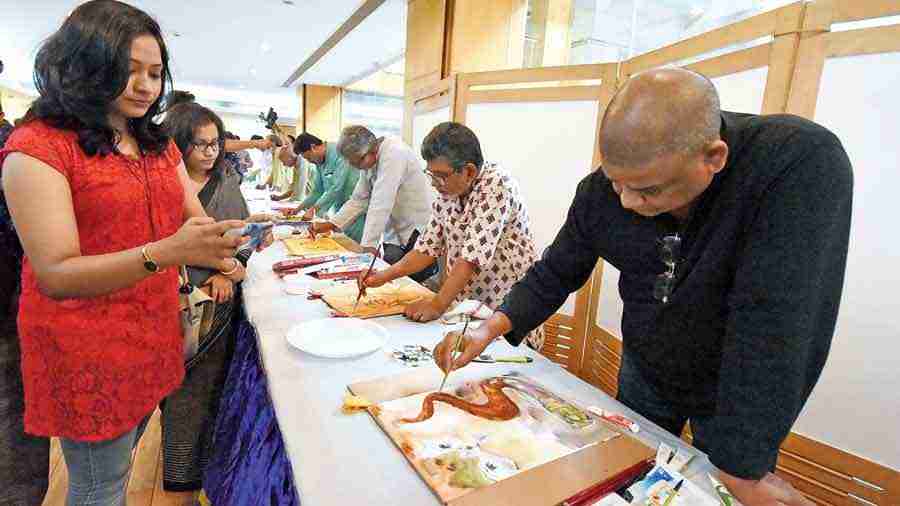 The artists at work on Sunday.
Picture by Gautam Bose
Over 50 puja theme-makers drew on various aspects of Durga Puja at a programme on Sunday. It was an act of thanksgiving to the Unesco for inscribing Durga Puja in Kolkata on its Representative List of Intangible Cultural Heritage of Humanity. The canvases will be compiled in an album and sent to the Unesco's Delhi office.
"We had planned this in January but had to delay it because of the Covid third wave. The theme of the show is Kathamo theke Carnival," said Partha Ghosh of Shibmandir, a founder member of the Forum for Durgotsab, an umbrella body of Puja organisers, which had organised the event at ICCR.
Artists like Susanta Pal, Gauranga Kuilya, Subrata Gangopadhyay and Bimal Kundu, who are behind some of the biggest pujas in the city, put brush to canvas.
"Durga Puja has already reached an international level at many pandals as expressions of art. We are happy that the Unesco has recognised that," said Pal, who will be in charge of three pujas this autumn.