1992: A handful of highrises, a small airport, few roads and more view of the desert. 2022: Skyline dotted with tall towers, a mammoth airport, city criss-crossed with wide roads and Metro network, and the desert pushed back further.
A Bengali engineer who had visited Qatar 30 years ago for work is now back in the country to watch the football World Cup. He arrived in Qatar on November 23.
Arup Sen, now 74, felt a whole range of emotions seeing how Doha, the capital, has transformed. As he arrived at Hamad International Airport, the memories rushed back.
"I used to stay at the Sheraton Grand Doha hotel on Al Corniche Street. Then, that used to be the only highrise in the area. This time, my brother and I were walking along the Persian Gulf and found several higrises there," Sen said on Saturday.
An IIT Kharagpur engineering graduate from the 1969 batch, Sen worked in Oman's Muscat for a company that specialises in ATM technology. He would frequently visit Qatar to set up technology backups for the front and back offices of two banks, Doha Bank and Qatar National Bank.
Now, he is retired and stays in Salt Lake.
Sen arrived in Qatar on Thursday with his brother Atanu, a retired SBI Life managing director.
Sen described to The Telegraph how different the city has become.
Football
Sen, who is there to see three matches — Brazil against Serbia, France playing Denmark and Portugal's match against Uruguay — remembers how Qatar used to be fanatic about football in the old days, too.
"I remember once watching Copa America matches live at my hotel in Doha. I had asked how it was possible and the hotel staff had told me the then Crown Prince, who is now the Emir, wanted to see the matches live and so it was being broadcast," said Sen.
There were a lot of small football grounds across Doha.
The passion for football is still the same and has been boosted by technology.
"Because of the World Cup, they have built eight giant stadiums. Stadium 974, Ras Abu Aboud, where France will play Denmark, is built with 974 recycled shipping containers, which I have heard, would be dismantled after the World Cup and taken to Africa to build houses for the poor," he said.
"This has thrilled me as a civil engineer. Such engineering marvels were unthinkable in those days."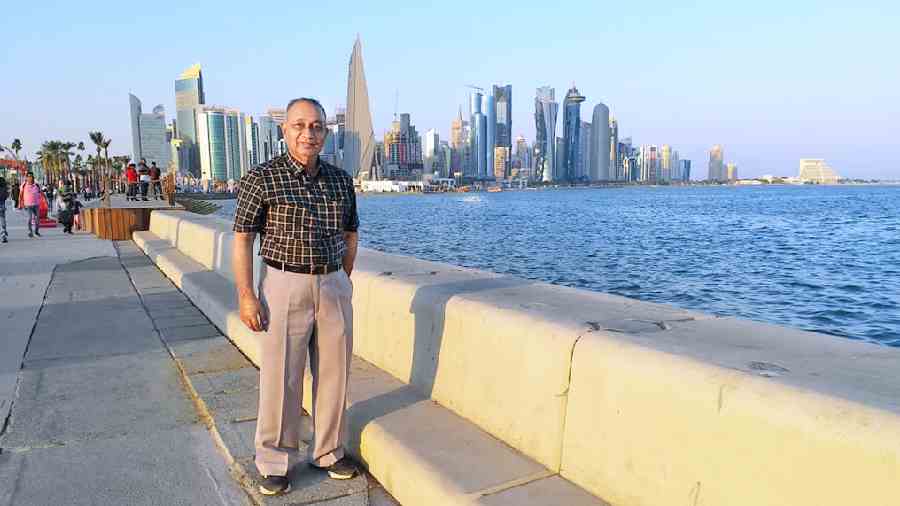 Arup Sen on Al Corniche Street. The white building on the extreme right behind him is the Sheraton Grand Doha hotel, which was the only building here in the 1990s, he said. Now, the skyline is dotted with tall towers.
Buildings and airport
The scale of everything, from buildings to the airport, was much smaller in the 1990s.
"The airport then was a small one-storey building with barely six to seven rooms. I remember it as an airport with basic facilities. There were only a few retail shops," recounted Sen.
"If I had not visited the country, I would not have believed such transformation was possible. One big factor for the change is of course the World Cup," said Sen.
His first surprise was the airport. "It is so big now with rows of stores. It is like a small city," he said.
Sen does not remember seeing any tall towers except the Sheraton Grand where he had put up during several visits to Qatar. "The two banks for whom I would be working had four to five-storey buildings," he said. "Now, there are tall buildings everywhere... towering skyscrapers."
Roads and transport
The roads were few and narrow back in the 1990s. "There used to be a few ring roads and cross-roads. I remember some of the roads had four lanes while others were even smaller," Sen recounted.
Barely a few public buses would ply and one had to have ones own vehicle to move around. "Now, most roads are 10 lane-wide highways," he said. Also, Metro has been introduced in 2019.
"There are many public buses. I am staying at a fan village from where coaches are leaving frequently to connect to the nearest Metro station. We just have to hop on," he said.
Food stalls
In the 1990s, there were few supermarkets and local food stalls. "This time, my brother and I went to have shawarma at a counter. Those days, shawarma counters were there but they looked shabby. Now, everything is dazzling. There are many big restaurants and star hotels, which seem to have come up out of nowhere," Sen said.
Desert
The capital's area seemed smaller back then. "The desert seemed to be bigger. I could see the desert from my hotel window," he said. "Now, one has to drive a little to see the desert."
Heritage preservation
Sen was thrilled by how Qatar has built the new but also preserved it's heritage.
"I would visit Souq, the market place of Qatar. To relive the old memories, I took my brother to Souq and was surprised to find how the government has turned it into a heritage site and kept it almost unchanged," he said.
The one major change was the crowd. "Earlier, it used to be crowded with locals but now it is overcrowded with people from all over the world, who I think are fans who have come to watch the World Cup," he said.