As many as 1.05 lakh out of 1,12,000 candidates who had registered for National Achievement Survey (NAS), turned up for the on-campus assessment on Friday in schools across Bengal. 
Schools took measures like staggered entry-exit time, following a single file while letting the students in, so the crowding on the campus amid the pandemic could be avoided, said heads of the institutions.
The survey, conducted by CBSE to evaluate the effectiveness of school education, was held on Friday with 1.23 lakh schools — selected randomly — participating in 733 districts across the country, including Bengal.
Altogether 3,129 schools in Bengal were selected for the survey, said an official of the school education department. Of the 3129, exams were not held in 70 schools — 56 belonging to private boards and 14 to state board.
In several schools, students were split in multiple classrooms so that a large assembly could be averted.
In some schools, students' gap was maintained between the rows of benches so that adequate distance could be maintained, said the official.
The number of candidates required for survey in each Class — III, V, VIII and X — was 30 and they were randomly selected from a pool of students by the observers nominated by the CBSE.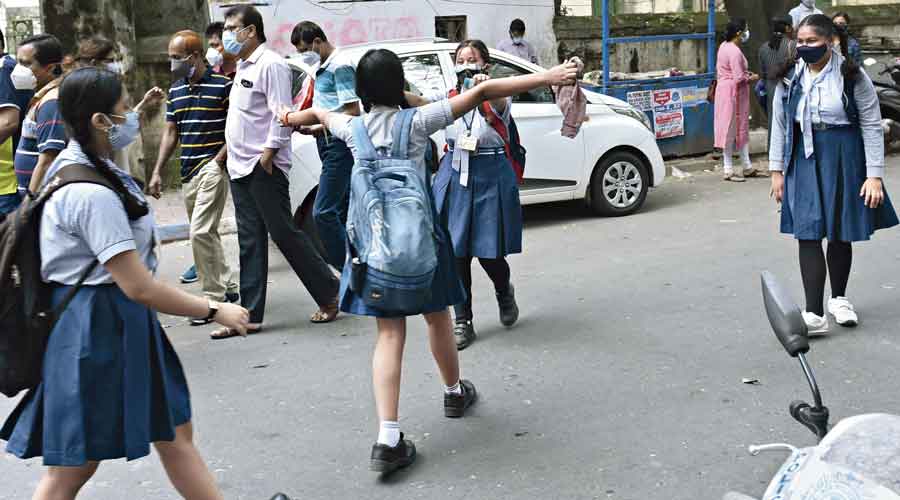 Students of Shri Shikshayatan Girls' School greet each other as they arrive for the National Achievement Survey test on Friday morning.
Bishwarup Dutta
An official of Shri Shikshayatan School said after 30 candidates were selected for each class from those who turned up, the rest left the campus by 10am.
Bratati Bhattacharyya, the secretary general of Shri Shikshayatan School, said  in Classes III and VIII, 300 students each had turned up from whom selection was made.
"In Class X, around 400 students came," she said.
In Sushila Birla Girls' School, 90 per cent of the students of Class V turned up. Unlike Shri Shikshayatan School that had three classes, it had only one class for the test.
An official of South Point School said students of Classes III and V could not be brought as parents did not consent to sending their kids because of Covid. Also, the school could not make arrangements for around 1,500 students in the junior section.
"Students of Classes VIII and X wrote their exams following all the safety protocols," the official said.
In Julien Day School Kalyani, in Class X, only 27 students — three short of the required count — wrote the test.
A state secondary education board official said health-related concerns prevented some parents from sending their wards.
The turn-up figure in 176 schools of Kolkata was satisfactory, said an official of Calcutta District Primary Council.
The results of the survey are likely to be announced within two months.