Planning your big day and trying to zero down the perfect template for a wedding portrait with your beau? Well, everyone knows how important that wedding album is, and how exhausting the search for the perfect couple shot can be. Everyone wants to look like a star on their big fat desi wedding day, so why not take inspiration from stars themselves. In the last two years, there have been a bunch of notable Bollywood weddings, and one great thing to come out of them all is gorgeous couple portraits! Making your shaadi planning easier, here are our picks of bride and groom photos of Bollywood couples to take inspiration from. #CoupleGoals and #WeddingPhotoGoals!
Kiara Advani & Sidharth Malhotra's 'permanent booking'
Look into my eyes/ you will see/ what you mean to me — Kiara and Sidharth, Bollywood's newest newlyweds shared a photo that will make you hum the timeless Bryan Adams number. The couple have given everyone a new simple but fun pose. In all their wedding finery (designed by Manish Malhotra) Kiara and Sidharth folded their hands in a namaste while looking into each other's eyes and smiling. It's a simply executed cute pose that speaks of a fun couple who are in on a joke only they know. Sound like you? While the couple went for a dialogue from their film Shershaah to caption the photos, you can pen down something sweet or funny to accompany yours.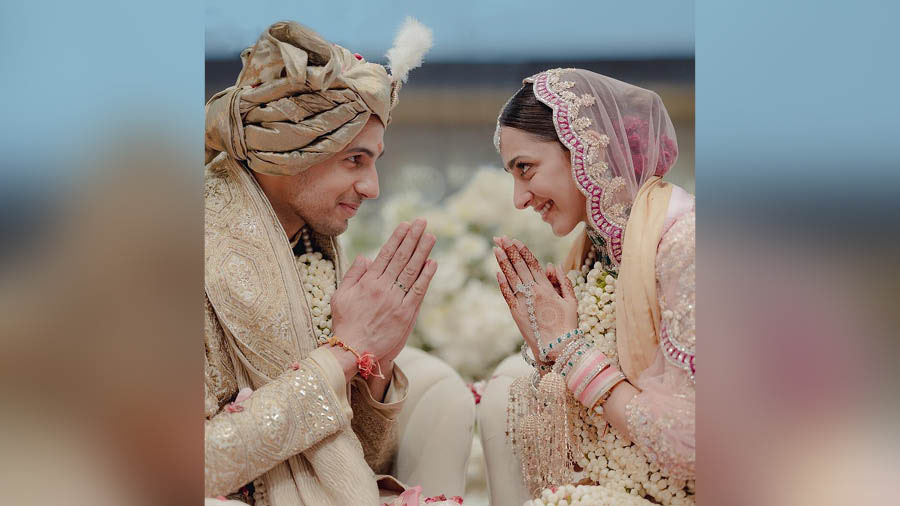 @kiaraaliaadvani/Instagram
Alia Bhatt & Ranbir Kapoor seal it with a kiss
This was another wedding that people still cannot get enough of! If you have an intimate setting like the Brahmastra stars did, their close-up shots are the perfect inspiration for you. Our pick is the photo of the newlyweds in a sweet kiss. The focus away from their faces gives the shot just the right kind of dreamy feel and shows off love, camaraderie, happiness in a beautiful expression of togetherness.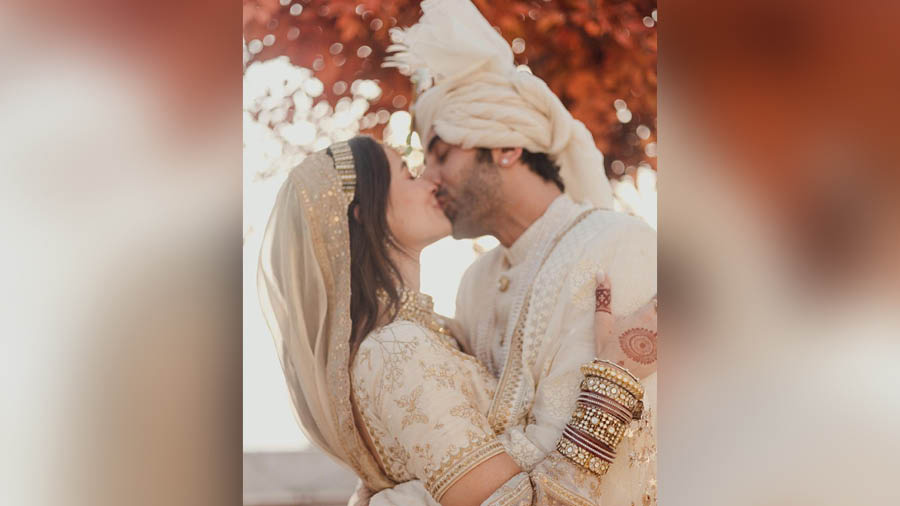 @aliaabhatt/Instagram
Katrina Kaif & Vicky Kaushal's sunset moment
If you have a day-time mahurat that will let you experience the sunset as a married couple, definitely take cues from Katrina and Vicky's beautiful dusk shot. It's intimate, it's joyful and if kissing will raise eyebrows, then this is your shot capturing a sweet moment. As Ted and Victoria said in How I Met Your Mother — "The best part of any first-kiss is the lead-up to it, the moment right before the lips touch. It's like a big drumroll…"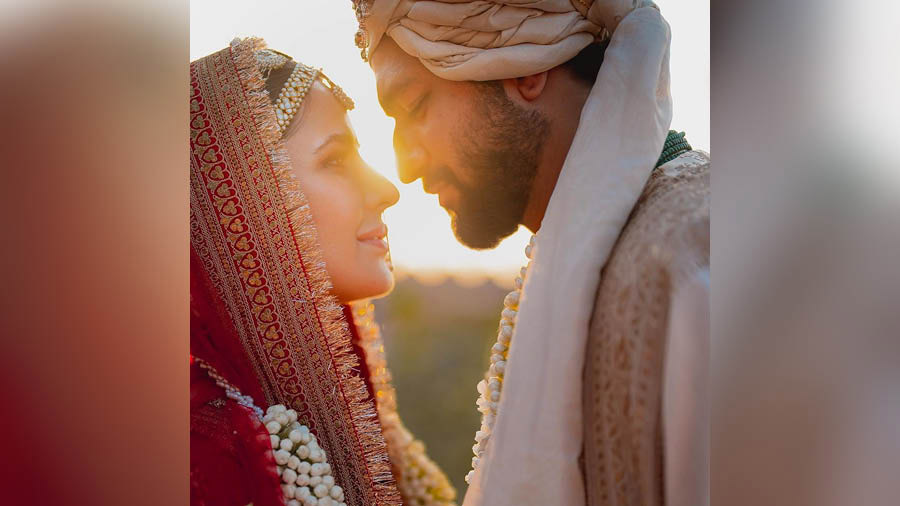 @katrinakaif/Instagram
Deepika Padukone & Ranveer Singh's sweet nothings
When talking about Bollywood weddings, how can we forget DeepVeer's regal do? In the midst of the hundred things in a wedding, it is the little shared moments that make for the best memories — perhaps you whispered an 'I love you' into the ears of your beloved in the middle of the rituals, or shared a little joke. The photo where they are having a personal exchange is a favourite from Deepika and Ranveer's wedding photos. So give your wedding photographer a heads up to keep an eye trained on you and your partner, and maybe find those little pockets of shared moments, and you too might have a gem of a shot!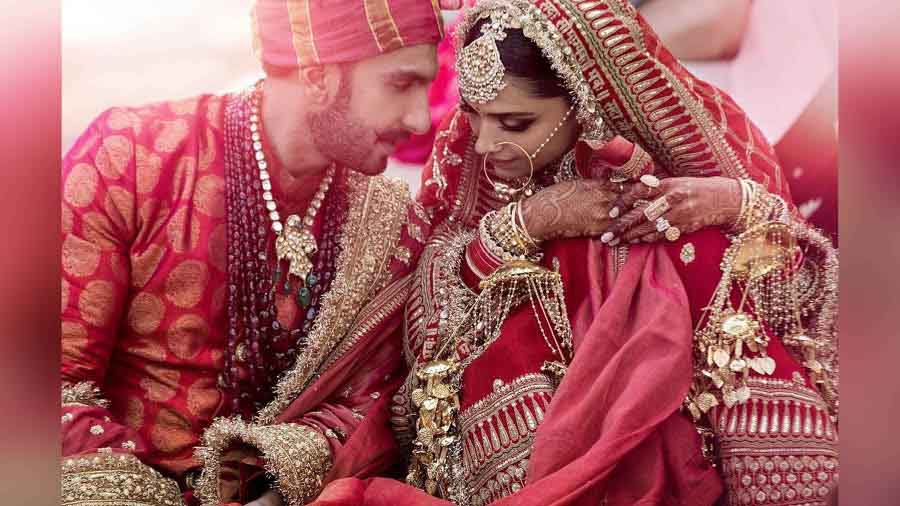 @deepikapadukone/Instagram
Anushka Sharma & Virat Kohli contagious happiness
Friends will pull your leg, a relative might drop a PJ, or both of you might just be too happy being surrounded by friends and family on your special day. Like Anushka and Virat, whose wedding photo makes one smile invariably even today, you'll have such moments too on your wedding day. Smiling already, thinking of your upcoming nuptials? Remember, candids sometimes make the best portraits, so don't be afraid to share a laugh, smile and enjoy yourselves.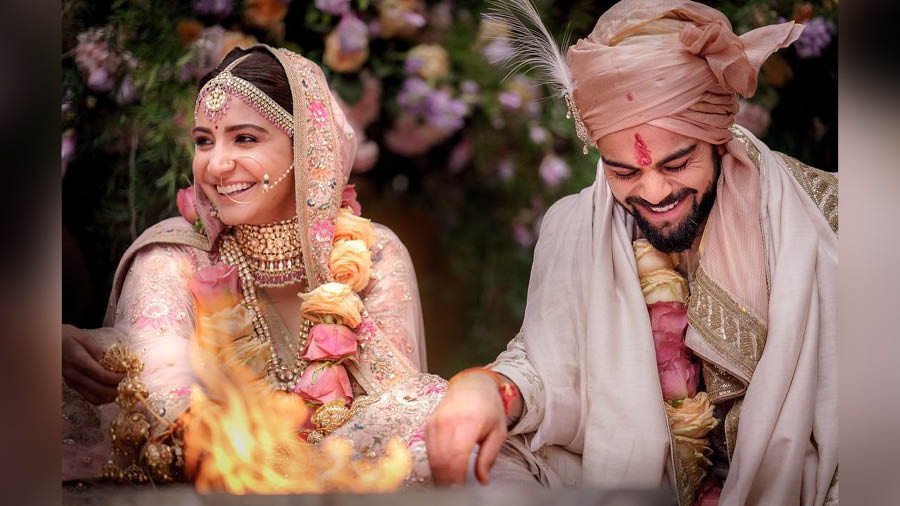 @anushkasharma/Instagram
Richa Chadha & Ali Fazal's royal vibes
If portrait shots with a royal aesthetic are your vibe, and Richa and Ali have the just the right shots for inspiration. Opt for a regal look for our outfits and pose like the kings and queens of yore — vintage, artsy, and classic. Note to photographer: make sure to take a few black and white and sepia clicks.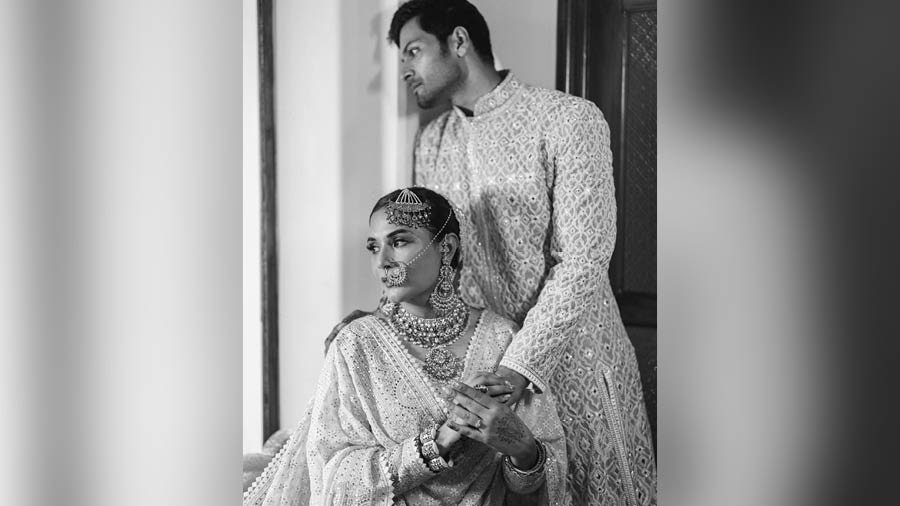 @alifazal9/Instagram
Sheetal Thakur & Vikrant Massey's cuteness
If 'cute' is a big part of what defines your personalities and your relationship, check out the wedding shots from Sheetal and Vikrant's simple yet beautiful wedding day. Have you known each other and love to tease your beau, then this one will get your right in the heart. Pulling the partner's cheeks, sticking out your tongue or making faces might sound silly but they can make for adorable wedding portraits!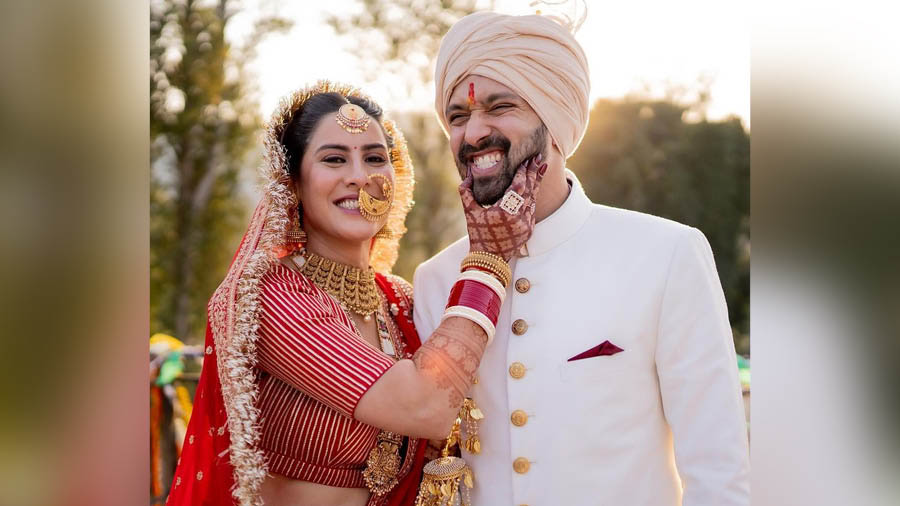 @vikrantmassey/Instagram
Shibani Dandekar & Farhan Akhtar's romantic first dance
Some proper dance shots please, dear photographer. If you're going to be sharing a first dance, take the chance to also show off that gorgeous bridal outfit that took so much head-scratching and some pain to find or make (if not during your wedding dance, then when!). Shibani's gorgeous red veil takes centre stage but doesn't take away from this romantic, light-hearted moment of her first dance with Farhan.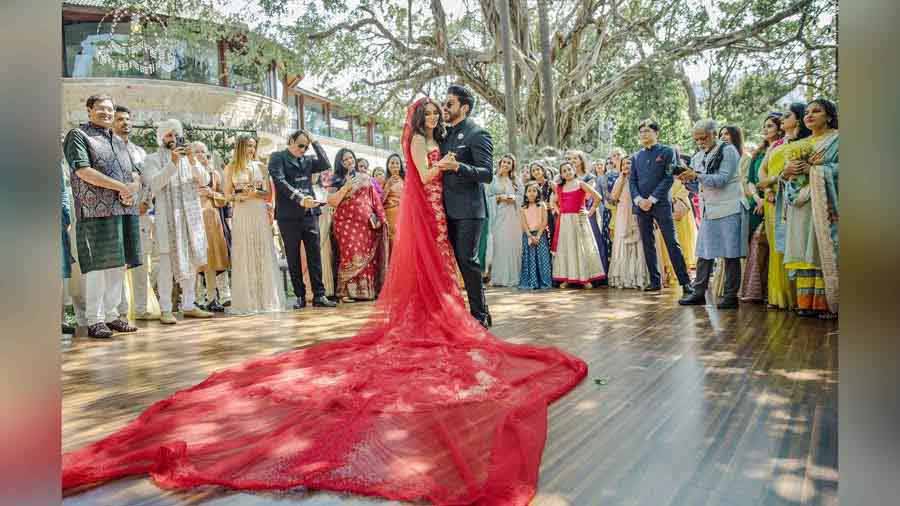 @shibanidandekarakhtar/Instagram
Athiya Shetty & KL Rahul's 'vow' moments
Taking the vows mean a lot, and so do capturing those moments of the rituals at the mandap. Photos from the pheras, the saptapadi, and the moments when you make promises while walking hand-in-hand hold deep meaning to many. Athiya and KL Rahul's wedding shots at the mandap portray just those happy, heartfelt moments and are the perfect inspiration to share with your wedding photographers before The Day.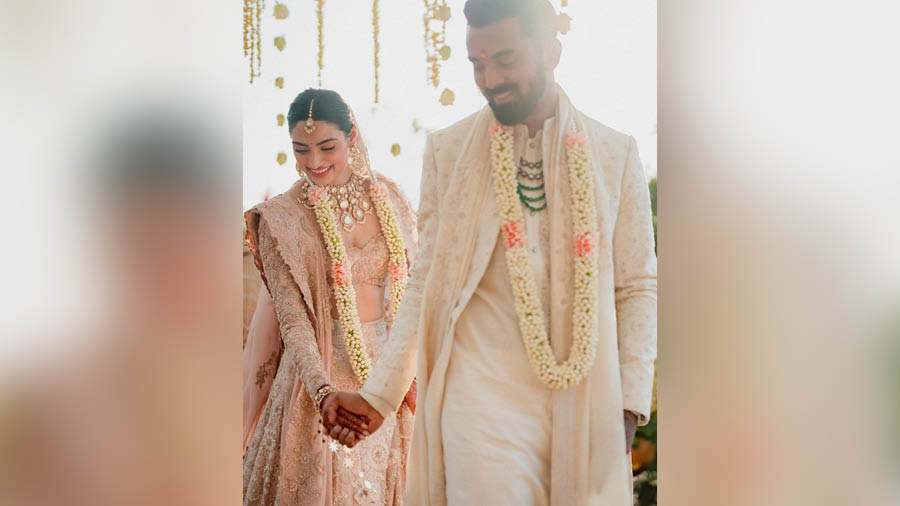 @athiyashetty/Instagram