Beloved singers from the Kolkata music scene, Ujjaini Mukherjee, Manomay Bhattacharya and Rupankar Bagchi took a different turn from their existing careers and launched a Hindi musical band titled UMR. The launch concert took place on May 15 as they took the stage for the first time at the Lake Club, playing covers of different Hindi hits along with their first original release, Jab barse sona. Some of the other songs on their playlist were Chupke chupke, Paree hoon main, Kaun hai jo and Bach ke rehna.
The three of them have a connection that not only complements each others voices but also creates a fun vibe on stage. The show was hosted by The Beats Event Management Company.
"Beats is proud to get associated with UMR. It has been a fascinating experience to host the launch of their first ever concert and present their new musical journey to the world. Today's concert proves to be the testimony that audience is pouring their love to the new initiative," said Arpita Chakrabarti, owner, The Beats Event Management Company.
Are you nervous about the launch?
Rupankar: We are very excited.
Ujjaini: I am nervous
Manomay: I am also nervous
Rupankar: I am not nervous at all. My nervous system does not work.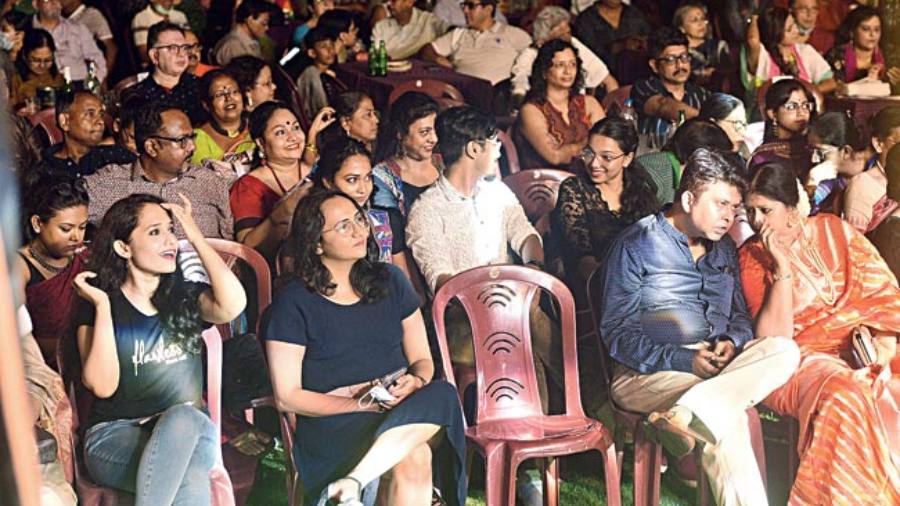 Members and their guests remained seated to watch the debut performance
How did you'll conceive UMR?
Rupankar: I had initially started it; I had called Ujjaini and Manomay. I had this interest to form something different , something I have not been doing all these days. While thinking, I thought of a Hindi musical band and collaborated with them. So we all got together, Beats (Event Management Company) got involved, then we made a song as well! Ujjaini wrote the lyrics and she' a lovely lyricist, even in Hindi. This is a plus point for us because we need Hindi lyrics and I can't write in Hindi.
Manomay is a fantastic singer and artiste and as always he's a sexy guy.
Why did you choose Hindi musicals?
Ujjaini: Hindi because it's the national language, it has a wider audience. We wanted to do Hindi because there is a lot of good stuff happening on this side of the country but the rest of the country doesn't pay attention to us (laughs). So we thought that it was time to make some noise. Let's see if it goes there.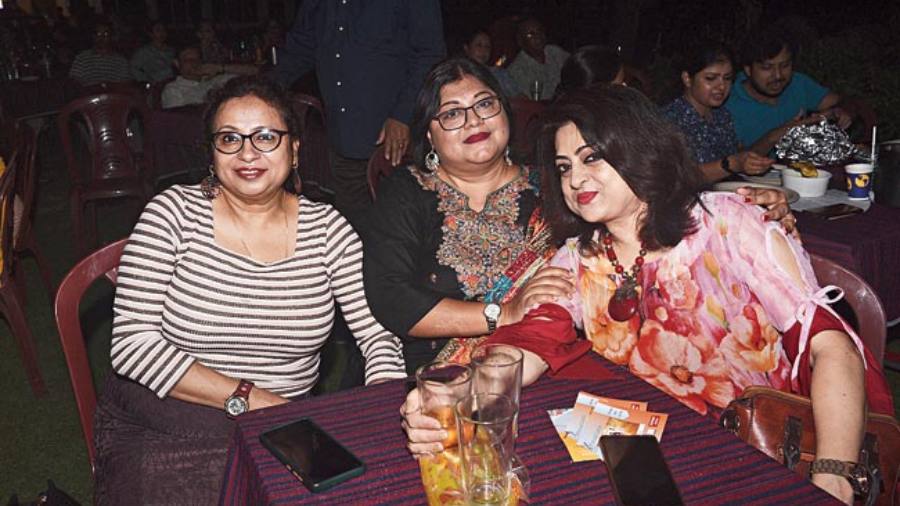 Sumita Chatterjee (extreme right) was out with her girl friends. "I like to listen to all of Manomay Bhattacharya's performances. Ujjaini has also shown herself to be a promising singer. Overall the programme was good," she said.
Jab barse sona came out recently. Can you tell us what it was like working on the song together?
Rupankar: We enjoyed a lot. Shamik Guha Roy (the music producer) did great arrangements, came up with good plans. We did the song in his studio, Muzic House. We had actually recorded the song really fast, that did not take much time. What took time was the video. The first concept we had, we shot it and later realised that we didn't like it that much. So we conceptualised again a new video. And we are grateful to the people who took out time for us. We had shot it at Mukhorochak Bagan Bari.
Ujjaini: We had to shoot twice!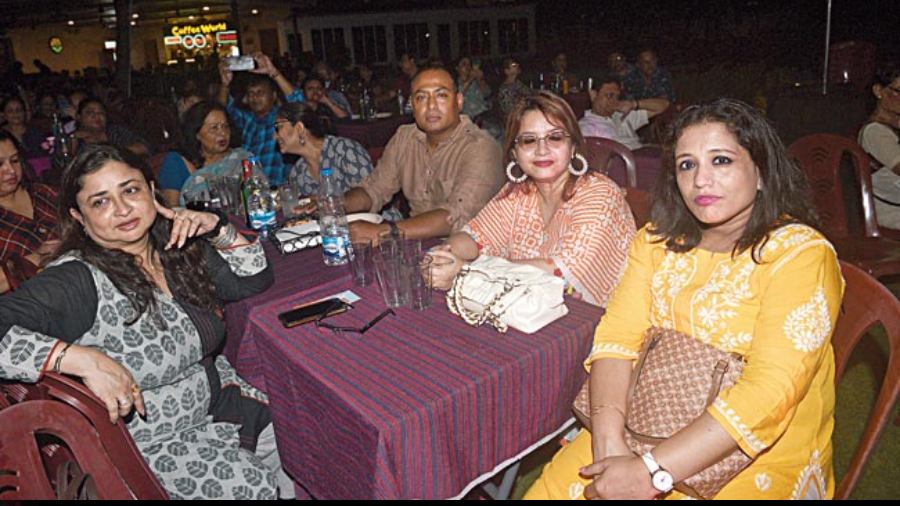 Sharmishtha Das (middle) was out with her friends. "I enjoyed a lot and it was a very refreshing experience. After a very long time I got to hear Rupankar and Manomay perform. Rupankar is one of my favourite artistes. From Bengali songs they have transformed their style to sing Hindi songs," she said.
You guys are a strict Hindi musical band or will there be other content as well?
Manomay: Most of our music is going to be originals along with covers. Think songs from the 50s, 60s... we will recreate them. This is how our journey is going to go, the three of us will come out with singles one after the other. We'll do a mix and match of our release, in the sense, if we release a cover the next release will be an original. Our concert is going to be only Hindi songs. There will be no Bengali songs and whatever personal Bengali hits we have will not be performed. People who contact with us should know that we perform only Hindi songs.
"I thought they had a great selection of music. Being a start-up band their engagement level was phenomenal," said Abhilasha Chowdhury, co-founder and director of wellness brand Oiishee.
When is the next release out?
Ujjaini: The audio is done, we are waiting for the video to get done. It is a retro mash-up and a cover so I think the audience is going to like it.
Are you stepping out of the ordinary?
Rupankar: Well yes. I am wearing a sunglass right now, but I don't usually wear sunglasses...
"They are established artistes. The ambience was right, so was the music. Although I wanted more originals. Overall we enjoyed and the songs were popular numbers. Any Kishore Kumar song is fine," said Madhusudan Dutta who was with Rini.
Or is it an amalgamation of what you do, but create something new?
Ujjaini: The moment we are creating an original we are putting in something that is quite unique to us. For example, I am writing the lyrics. I have never done it on a regular basis. I have written some original stuff. Rupankar da has always been a singer/songwriter and composer and Manomay da is doing western vocals. So we are still figuring things out. It's just one song that is out and let's just hope we figure out what we ACTUALLY want to do soon. We'll talk to you then.
Pictures: Rashbehari Das