Typically, all the focus on Valentine's Day is on making a great meal topped off by a delicious chocolate... anything. Now, instead of the same old chocolate cake, take a bold step and create desserts that keep the 'spirit' alive! Not only do these desserts use alcohol as the predominant flavour, but even better — we do not burn off the alcohol, so the essence of the selected spirit provides great depth and intensity to these indulgent creations!
Ramin Ganeshram, a Trinidadian-American chef and food historian, often uses rum in baking. The author of Sweet Hands: Island Cooking From Trinidad & Tobago is well-known for her Caribbean Black Cake, which comprises dried fruits soaked in a mixture of rum and other liquor for months. She says that before extracts were invented, spirits were regularly used to add flavour to high-quality desserts. "For your baking, use alcohol that is high enough quality to drink. If you don't like the taste in a glass, then don't put it in your desserts," she said. "It's important to remember that depending on the preparation, most of the alcohol can remain in the final dessert, so pour lightly at first, then add more slowly to your taste."
Tequila is for more than just shots!
Tequila isn't usually associated with desserts, and in my opinion, it's often underrated for use in cooking. The market is filled with plain and flavoured tequilas, so there are many options to play with. You can use berry-infused tequila, coconut tequila, jalapeno tequila, mango tequila, and so many more. You can use it to flavour granitas, ice creams, sorbets, and more — it is so versatile.
Grand Marnier lights up desserts
I love cooking with Grand Marnier. Of course, you can flavour a souffle with it, but you can also use it to create a show for your sweetheart! Cherries Jubilee, Bananas Foster, or Baked Alaska can really become the highlight of your romantic meal — showcase the dessert by carefully pouring some Grand Marnier over it, light it up, and watch your sweetheart smile!
Rum pairs with more than just Coke
In my youth, rum was my drink of choice. Although I have since moved on to scotch, I do love to use rum in desserts. While you can always make a classic rum-soaked cake, think outside the box a bit. I love making a sensual rum sauce (butter, rum, cream and... more rum!) and pouring it over sliced tropical fruits. Classic desserts like coconut flan and tres leches cake get extra oomph from rum. Rum gives desserts just the right stimulating finishing taste!
Brandy in desserts? Why, yes!
Years ago when I interviewed pastry chef Jean-François Foucher of Park Hyatt Paris-Vendôme, he told me about his love of cooking with raspberry brandy. "This spirit is very delicate. It could be combined easily with flowers and fruits. It is very gustative and feminine and is perfect to flavour a cream with daintiness," he said. He gave the following advice on spirit combinations for dessert recipes:
Raspberry brandy + chocolate
Walnut brandy + chocolate
Cognac + pear
Cognac + plum
Chartreuse + cherry
Bourbon + peach
Keep the spirit alive in your intoxicating desserts. The possibilities are endless, and a little creativity and alcohol goes a long way.
Rustling up with love…
Rum Souffle with Elaichi Milk
By Chef K.N. Vinod, executive chef and owner, Indique (Washington, DC)
For the souffle
• Butter-flavoured non-stick cooking spray or 1/2tsp butter, softened
• 2tbsp plus 1tsp jaggery or brown sugar
• 2 large eggs
• 1tbsp orange marmalade
• 1tbsp rum
• 1tbsp champagne or dry white wine
• Icing (confectioners') sugar for dusting
For the elaichi milk
• 1/2 cup evaporated milk or coconut milk
• 1tbsp sweetened condensed milk
• 1/4tsp ground cardamom
• 1 /4tsp jaggery or brown sugar
METHOD:
1 Preheat the oven to 200ºC. Spray the inside of two 100gm ramekins with non-stick spray, or coat with butter. Sprinkle 1/2tsp of the jaggery evenly in each ramekin and rotate all around. The jaggery should just adhere. Set the ramekins on a baking sheet.
2 Separate egg yolks and whites into two clean medium bowls.
3 Beat the egg whites with a hand-mixer to get between soft and hard peaks, 3 1/2 to 4 minutes. Set aside.
4 Lightly beat the egg yolks. Add the remaining 2tbsp jaggery, the orange marmalade, rum, and champagne, and beat until blended. Fold in the egg whites very gently. Gently spoon the souffle mixture into the ramekins.
5 Bake the souffles for 8 to 10 minutes, until they are puffed and no longer jiggle.
6 While the souffles are baking, make the elaichi milk: Stir together the evaporated milk, condensed milk, cardamom, and jaggery in a small saucepan over medium heat. Bring to a gentle boil, then remove from the heat and set aside to cool.
7 When the souffle is ready, dust icing sugar on top. Divide the elaichi milk between two liqueur glasses or champagne flutes and serve alongside the souffles.
Besan Burfi with Spiced Chocolate Cremeux, Puffed Black Rice & Sesame Granola and Toasted Milk & Baileys Ice-Cream
By Chef Sujan Sarkar, BAAR BAAR (NYC)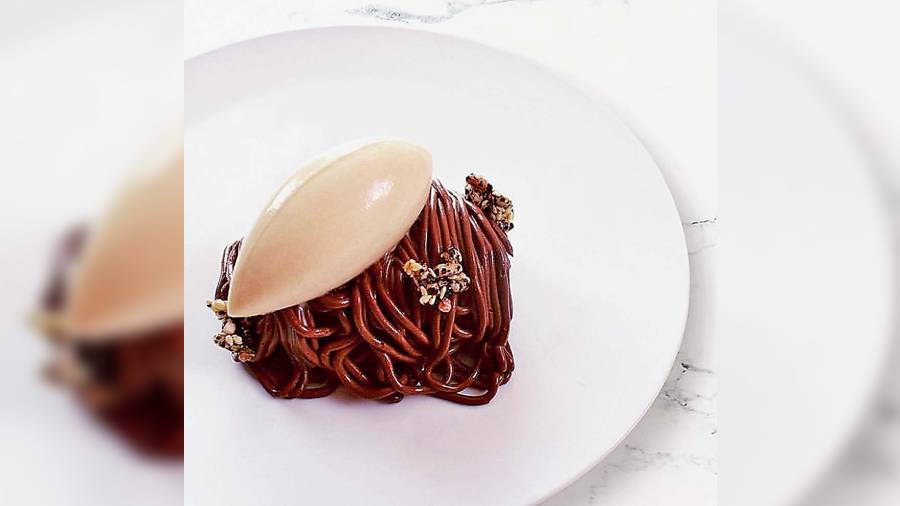 For the puffed black rice and sesame granola:
• 200g sugar
• 100g puffed black rice
• 100g toasted sesame seeds
For the toasted milk and Baileys ice cream:
• 280g egg yolks
• 340g milk
• 330g cream
• 160g glucose syrup
• 520g sugar
• 2g salt
• 250g toasted milk powder
• 250g Baileys Irish Cream
For the spiced chocolate cremeux:
• 1l milk
• 1l cream
• 2 cinnamon sticks
• 4 cardamom pods
• 500g sugar
• 500g egg yolks
• 2g salt
• 1.1kg chocolate, chopped
• 10 gelatin sheets, softened in water and squeezed dry
For the besan burfi:
• 400g besan
• 2 to 3g cardamom powder
• 400g ghee
• 1g salt
• 500g sugar
• 500g water
METHOD:
1 To make the granola: Melt the sugar in a medium saucepot over medium heat. Let the sugar cook, without stirring, until it colours lightly.
2 Mix together the puffed rice and sesame seeds and stir into the caramel. Cook until the caramel is golden.
3 Spread the granola on a Silpat (silicone baking mat). Using two spoons, start separating it into little chunks immediately, while still hot.
4 Let cool completely. Store in an air-tight container.
5 To make the ice-cream: Whisk the egg yolks in the top of a double boiler until blended. Whisk in the milk, cream, glucose, sugar and salt. Place over simmering water and cook, whisking frequently, until the ice cream base reaches 84ºC. Immediately place the pot in an ice bath and cool the base down to 50ºC, stirring frequently.
6 Add the toasted milk powder and blitz using a hand-blender until emulsified. Let the base cool down completely.
7 Stir in the Baileys Irish Cream. Strain into a container and refrigerate overnight to mature.
8 Churn in an ice-cream machine according to the manufacturer's instruction. Store in the freezer compartment until needed.
9 To make the cremeux: Combine the milk, cream, cinnamon, and cardamom in a saucepot and bring to a simmer over low heat. Remove from the heat and let cool to room temperature.
10 Whisk the sugar, egg yolks and salt in the top of a double boiler until blended. Strain in the spiced milk and whisk to combine. Place over simmering water and cook, whisking frequently, until it reaches 84ºC. Immediately pour the mixture over the chocolate in a metal bowl. Add the gelatin and blitz using a hand-blender until emulsified.
11 Place the bowl in an ice bath and cool the cremeux down to 4ºC, stirring frequently.
12 Strain into a container and refrigerate overnight to crystallize and set.
13 To make the besan burfi: Cook the besan and cardamom in the ghee in a saucepot, stirring occasionally, until nutty and golden brown. Transfer to a metal bowl and let cool completely.
14 Mix the sugar and water in a medium saucepot. Cook until the syrup reaches 113ºC. Pour immediately into the besan mixture.
15 Stir until the mixture turns thick and doesn't stick to the sides of the bowl. Pour into a tray and level out using a spatula. Let set until solid and cooled to room temperature.
16 To assemble: Cut the burfi into rectangles. Fill a pastry or piping bag fitted with a spaghetti tip with the cremeux.
17 Place a piece of burfi on each plate. Scatter granola pieces around and on top of the burfi. Pipe chocolate cremeux onto the granola. Place a quenelle of ice cream on top and serve.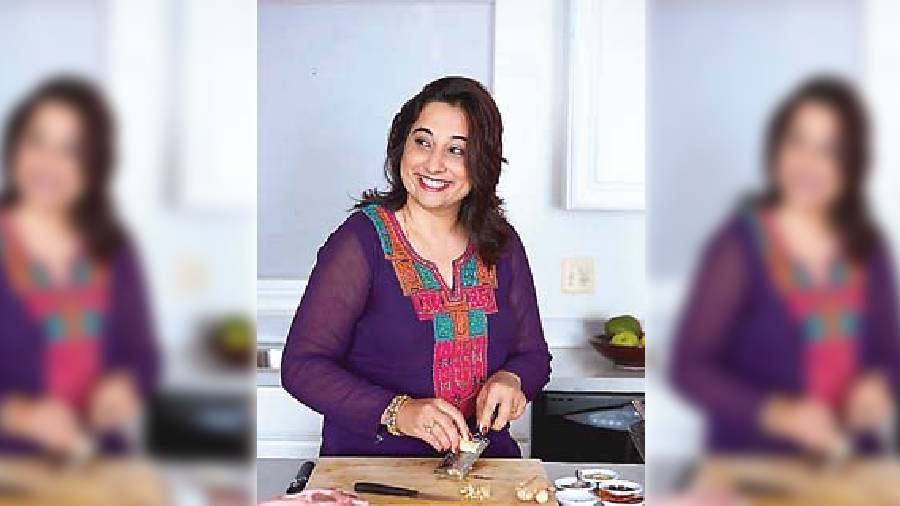 Monica Bhide is an award-winning writer of 11 books. Her latest book The Soul Catcher was published by Bodes Well Publishing