Young Leaders Forum, the youth wing of the Indian Chamber of Commerce, had some starry visitors recently. Actor Taapsee Pannu, who was in Kolkata to promote her film Shabaash Mithu teamed up with the film's director Srijit Mukherji and former Indian cricketer Mithali Raj — on whom Shabaash Mithu is based — for a meet and greet with the members of the forum.
Speaking of the "upgradation" that she has received ever since she started working on Taapsee, dressed in a blue sweatshirt and joggers, spoke about the challenges of becoming Mithali Raj on screen. "It is a once-in-a-lifetime opportunity to do a film like this. It might probably be the last time I am playing such a character or Mithali is having her life play out on screen. It might not even happen again for the Indian screen because the first is always special. We have seen so many male cricketers on screen but this is a first for a woman. So the stakes of such a film become really high. It is pressurising in a good way because it pushes you to do better in portraying someone who is considered to be a legend in her field," she said. "Ever since I started to understand what my career is about, where I am about to go, I have always wanted the audience to believe that the film that I have worked on, will be worth their time. So, that is what I have been working on while being in the film industry for the past decade," added Taapsee who has fast acquired a reputation of being both a versatile and a dependable performer.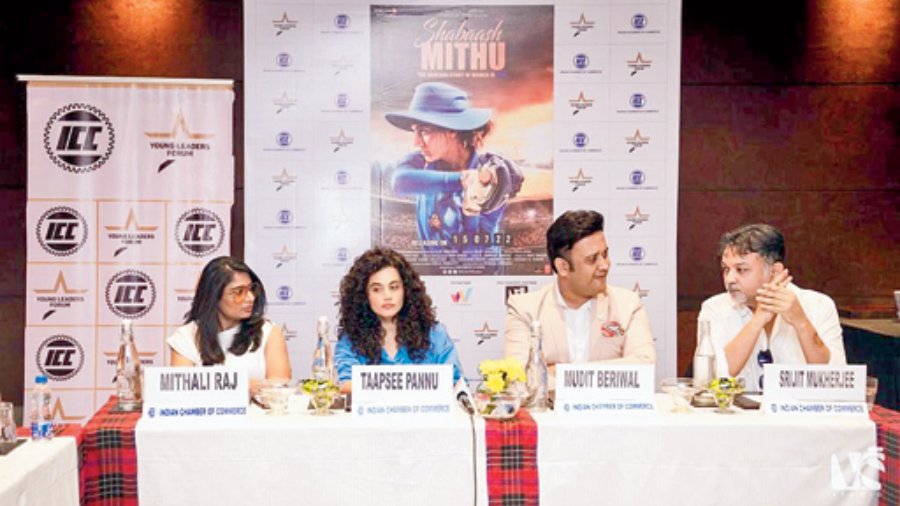 "It's not just my story. (It's also about) many more girls who played with me, as teammates, as friends. Many girls will relate to the story as well. Young girls will be inspired and it might also help to change perceptions among parents," said Mithali Raj on her expectations from the film.
Director Srijit Mukherji spoke about the rise of streaming platforms and their impact on theatrical releases. "The two years of the pandemic has increased the thirst of the audience to watch movies on the big screen. There will be a distinct divide where one can watch a trailer and determine whether that will be better on a big screen or it is fine for a smaller screen."
"Shabaash Mithu is based on reality. To portray someone who is a legend in their own field is difficult. So we wanted to hear from the team about the movie. We are really happy to have hosted them. All the committee members were eagerly looking forward to this discussion," said Mudit Beriwal, chairman, Young Leaders Forum, who also moderated the conversation.