If 2020 marked 25 years of Tarun Tahiliani's journey in the fashion industry, it also bore testimony to how he gracefully took to the virtual world that the pandemic unceremoniously thrust upon us. So it was only poetic for him to also mark the return of fashion to the runway when he opened the FDCI X Lakme Fashion Week in October 2021. And this is where the breadth of his experience holds the veteran Indian designer in good stead as he continues to effortlessly evolve, this time, in the form of Tasva — a diffusion of the ubiquitous TT sensibilities presented in a more accessible format of premium menswear, in conjunction with Aditya Birla Fashion & Retail Ltd (ABFRL).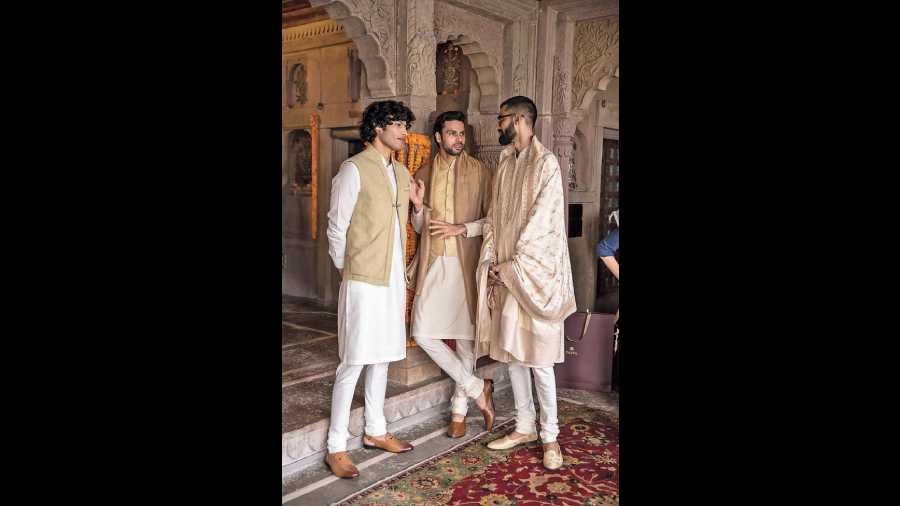 Launched recently in inimitable TT style over a whirlwind, albeit fashionable, trip to the ancient ghats of Benaras in December, the choice of location was not merely ornamental — it represented a sort of return to the roots as he brought to fore the place that symbolises Tasva's nomenclature as well as the ideology of being Indian at heart.
So what does Tasva mean? The word, in Sanskrit, roughly translates to "all that is me, all that is mine" and for Tarun, that essentially symbolises the vast heritage of the Indian subcontinent, which the designer now wants to make more accessible with able aid from ABFRL.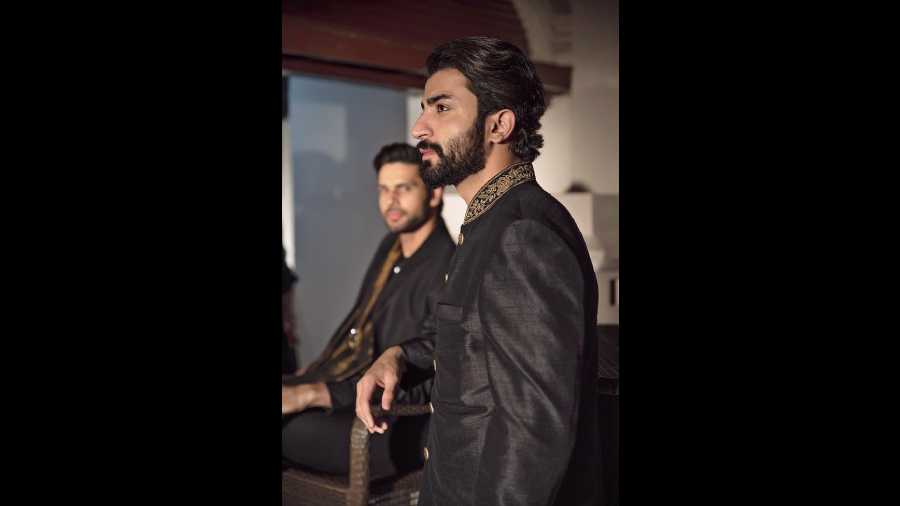 So how does one of India's leading couturiers acclimatise to the corporate workings of a pret label? "They really put me through a rigorous immersion to understand what this market entailed because they said, 'you are totally clueless' and I was! They showed me what every other brand was doing, what price points, fabrics and samples and I kept saying that I couldn't use 100 per cent polyester. I said that the clothes had to be beautifully made — as beautiful as TT. We had 7,000 swatches of fabric and I didn't like any of them because they were 100 per cent polyester and that's how we ended up back in Benaras and found the staple. I found out about this only last year and once you start sourcing the fabric, it opens doors to newer things and other factories who were doing this," said Tarun.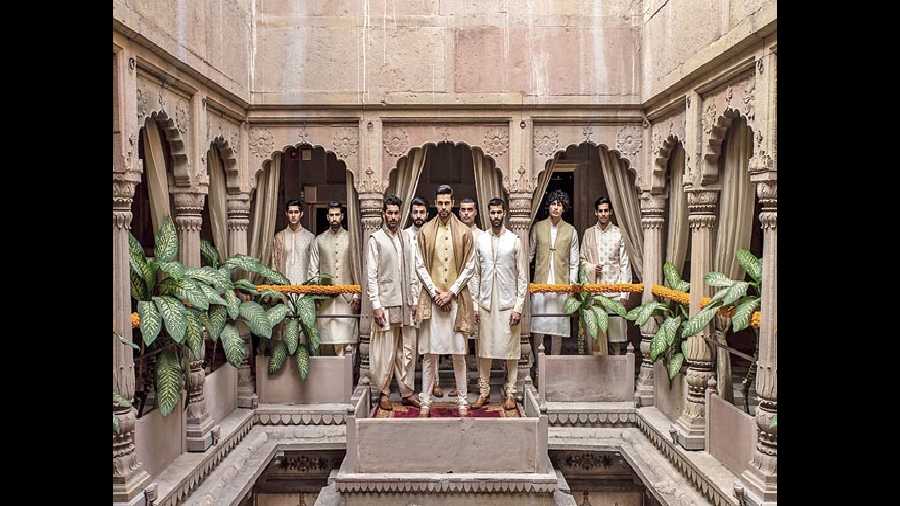 The attention to detail is evident in the clothes that we got to see at the famed Brijrama Palace, where the clothes were divided into five categories ranging from ethereal ivories, sensual pastels, rich jewel tones, whites and golds and later, the blacks. But since it's TT, he made sure that the clothes are not just seen but also touched and felt, as models sashayed around us through the course of the day even as we enjoyed light local refreshments on arrival, watched the grand evening aarti at Dashashwamedh Ghat from atop a barge, regaled to live music and indulged in a hearty local dinner, followed by dessert.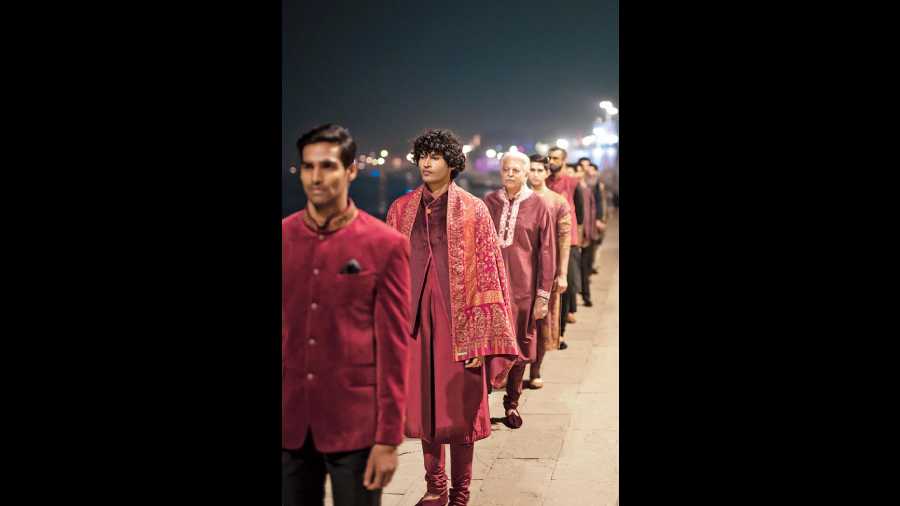 And if you thought Tasva was just your ordinary pret label making one-size-fits-most clothes, then this is what Tarun had to say: "We wanted to give clothes that were beautifully cut, beautifully made and fit beautifully. Even the perception amongst the rich is that Indian clothes are uncomfortable and this needed to change.
Aditya Birla sent their master fitters who took our sizes from a 38 to our 44 and every size has a slim and a regular fit and then we called random people from all over the factory to try every garment in every size. So we tweaked the fitting and worked with more factories to get it right. So there's a lot of technology and years of hard work that you will not see on the garment that has gone into making this possible."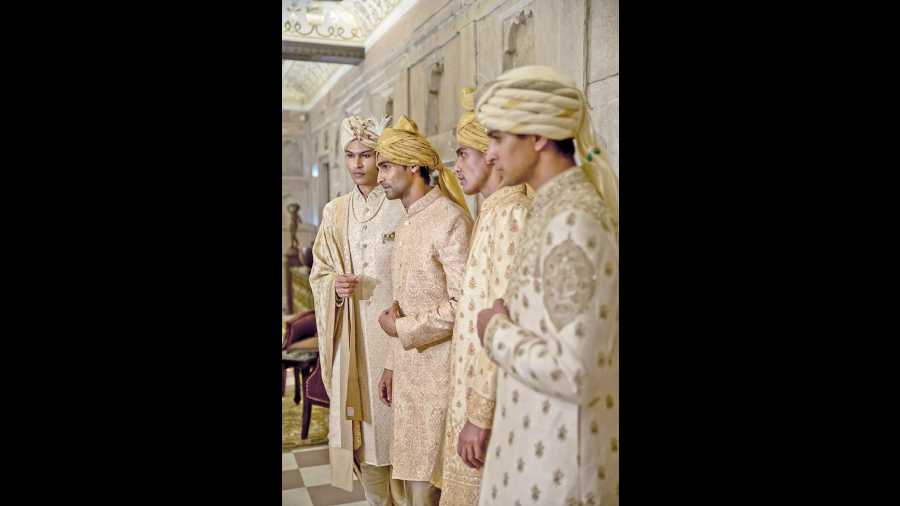 Achkans, bandhgalas, Jodhpuris, sherwanis, stoles and shawls, embellished by bootis, florals and vines are all part of Tasva that can be worn by a modern Indian groom and his friends at the same time.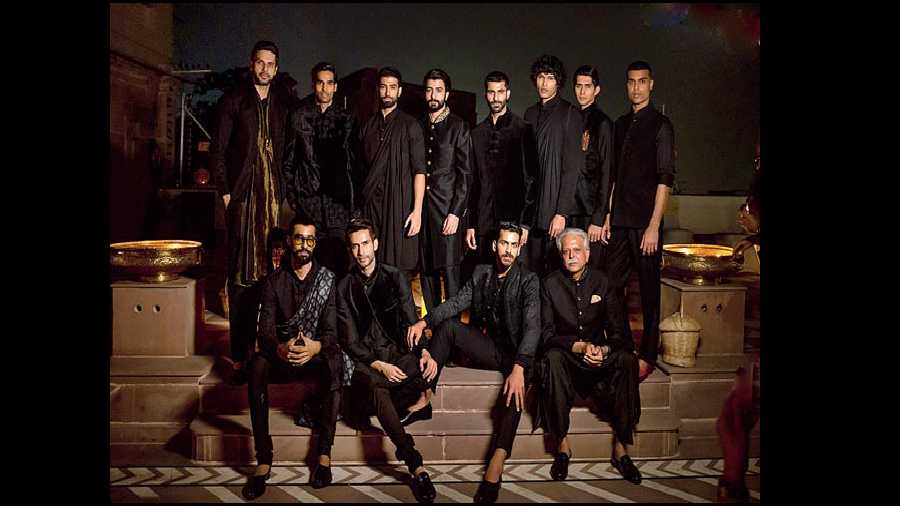 In fact, the designer behind the 'India Modern' scheme of things has made sure that this label also has the versatility of wear that a modern Indian man would want — from a shaadi to a cocktail party.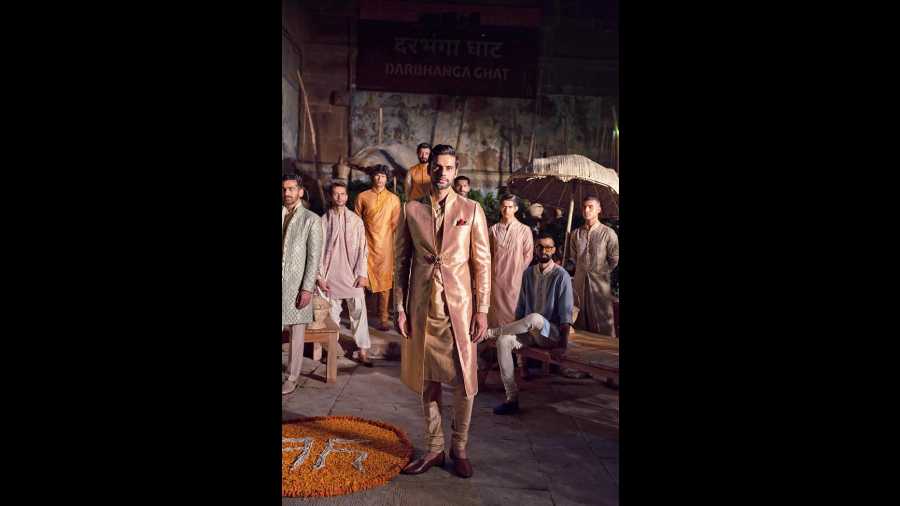 Tasva is indeed a neat little package of the master draper's sharp aesthetics, wrapped tight with ABFRL's corporate production abilities at very accessible price points. And how accessible are these price points? The kurtas start at Rs 1,599 as per the label's website.
While 2021 saw a number of Indian designers walk the corporate route, ABFRL has a well thought-out strategy for Tasva. "We believe that ethnicwear is going to be an important category, as confident Indians rediscover their culture and heritage. Tarun Tahiliani has been a pioneer of the Indian design industry and 'Tasva' gives the emerging Indian consumer a new range of celebration wear reflecting the unmatched and exquisite design excellence. This partnership is in line with our stated strategy to craft a portfolio of brands that address the entire gamut of ethnic-wear segments such as value, premium and luxury," said Ashish Dikshit, managing director, ABFRL, who also announced during our dinner, their plans of opening 70 stores across the country.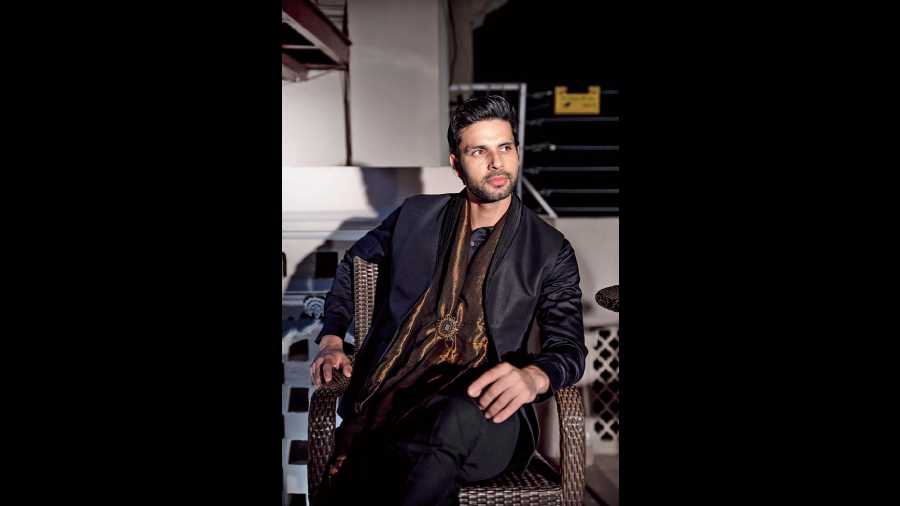 What is also interesting is that amidst the business of dressing Indians in the best of India, the idea of honouring Indian heritage with a nod to tradition and a commitment to modernism also comes in with the use of khadi, viscose, slub cotton, wool blends, viscose blends and more as 70 per cent of the fabric has been sourced from Benaras, where a visit to handlooms and mechanised looms functioning alongside each other the next day, seemed to be representative of the ethos behind the brand.
"We wanted to eventually open factories to train women in hand embroidery and give them steady jobs too so it works on many different levels, especially with a group like Aditya Birla. And I was mentored through this process by Mr (Kumar Mangalam) Birla himself and when he saw the samples, he said, 'We need to start dressing India like this' — because they really believe in this product. And I said: 'You deliver the quality and I will keep delivering the design from my side'," said Tarun.
So while Tasva and Tarun prep for their next big festive launch in July (after their spring/summer capsule drop), it also begs the question of whether Tasva will veer off towards the more complicated terrain of womenswear. "Well, womenswear is only a discussion right now — if wishes were horses and I could be a model!" was Tarun's cheeky answer.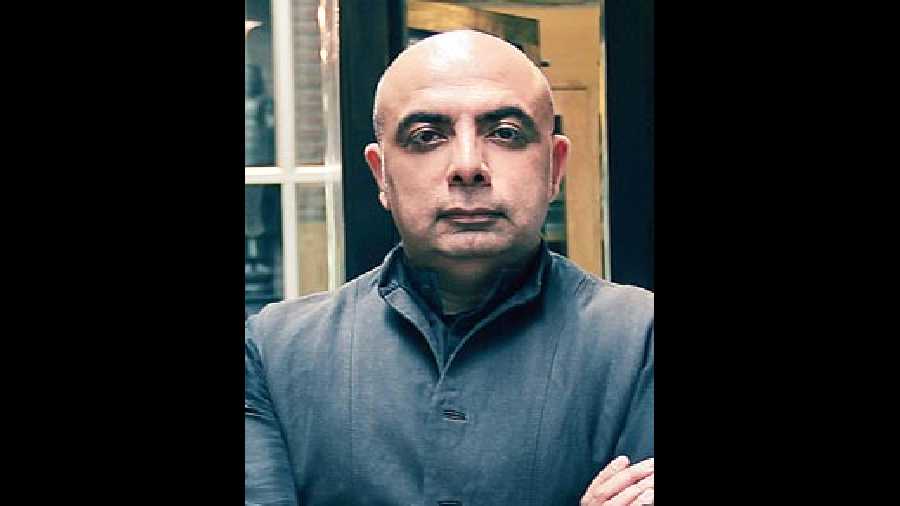 Tarun Tahiliani.
We wanted to give clothes that were beautifully cut, beautifully made and fit beautifully. Even the perception amongst the rich is that Indian clothes are uncomfortable and this needed to change. Aditya Birla sent their master fitters who took our sizes from a 38 to our 44 and every size has a slim and a regular fit and then we called random people from all over the factory to try every garment in every size. So we tweaked the fitting and worked with more factories to get it right. So a lot of technology and years of hard work that you will not see on the garment that has gone into making this possible
— Tarun Tahiliani