Dating is hard enough in 2022 without having to answer pesky social media queries about your new flame. So, for the times when you feel good about a bae, but don't want your high school teacher or your distant cousin DMing you about them, we bring you — the soft launch.
Shiva Baby star Rachel Sennott is credited with coining the term last summer before she soft launched her own boyfriend. "I was quarantined at home with my family and my sisters, and I noticed how on Instagram all the girls who had locked down with a quarantine boyfriend were starting to subtly post them. We were joking about how people were posting their boyfriends the same way companies tease a product like a sneak peek, but not the whole thing," she said in an interview recently.
Celebrities are all for this smart, Instagram-friendly dating hack that lets them navigate a relationship at their own pace until they're ready to DTR (define the relationship). It's not exactly about hiding your new partner, but about leaving subtle cues online that you may not be single — mind you, these breadcrumbs won't lead everyone to the same place. So, your co-workers won't exactly know what your closest friends know.
It could be a birthday polaroid or a mirror glimpse from a date night or a snapshot of one of their gifts or their pets or even Instagram comments and re-tweets (Hrithik Roshan's comments on his girlfriend Saba Azad's Instagram are a good example). Two of the most popular features people use to soft launch relationships are Instagram stories and photo dumps.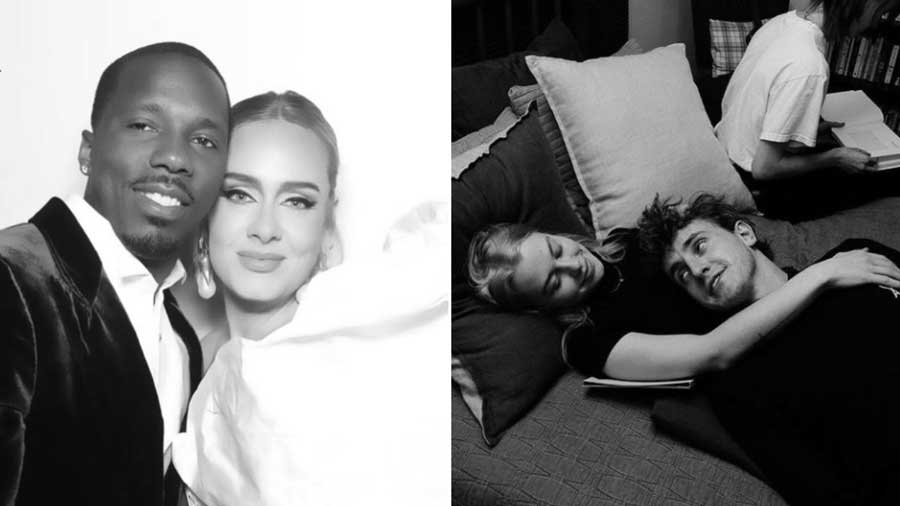 Adele and Rich Paul debuted their romance at a friend's birthday (left) Phoebe Bridgers first spoke about her boyfriend Paul Mescal in a funny tweet where she just referred to him as Paul
Bella Hadid, for instance, debuted her romance with creative director Marc Kalman with a photo dump featuring shots of her in Paris. "Time of my life.. healthy, Working and Loved," she captioned the gallery, which ended with a pretty picture of Bella and Marc embracing on a balcony. Adele and her current boyfriend Rich Paul first appeared together on a polaroid clicked on a friend's birthday. Indie sensation Phoebe Bridgers first spoke about her famous boyfriend, Normal People star Paul Mescal in a grocery-related tweet (cute!).
The no tagging rule is a pretty key one when it comes to soft launching. Of course, you can name check them if you want to, but a soft launch can offer both members of a couple some plausible deniability. So if a relationship ends pretty early, they never really made it to your grid in any real way. You can even lie to your parents and tell them he was just some random friend who moved away!
When you know, you know…
According to a Pew Research Center survey conducted in 2019, only 48% of users under 30 share their relationship status on social media. Young people don't like flaunting their weeks-old fling for the same reason why certain celebrities don't always want people to know who they're with. Too many questions and too many opinions!
A soft launch gives people a chance to document their relationship and at least let their closest friends know about it.
Can you imagine how difficult it must have been for Vicky Kaushal and Katrina Kaif to keep their friends updated about their relationship when they could never post any pictures? (although debuting your romance with your wedding pictures isn't really soft launching. So we aren't sure what Vicky and Kat did there).
Soft launch offers a middle ground between keeping your partner entirely hidden away and doing it the Kardashian way with PDA or couple shoots. This move can also help queer couples if they want a certain level of privacy at the beginning of their relationship. Kristen Stewart's fiance Dylan Meyer soft launched their relationship in 2019 with a polaroid while Selling Sunset star Chrishell Stause debuted her new relationship with Australian singer G Flip with a music video (fancy!).
Tread lightly
Soft launching is a lot easier if your significant other maintains a low profile on social media. However, if you both have a thriving social presence, you may have to go the Bennifer way and simply take your time before you go Insta-official.
Checking with them before you tag them on your posts is always a smart move. Supporting their projects or promoting the same events is a great soft launch vehicle. Olivia Wilde recently shared a snippet of her boyfriend Harry Styles' new song, Music for a Sushi Restaurant, on her Instagram Story and fans obviously noticed.
Needless to say, Twitter is obviously obsessed with this dating trend: