FTO ENCOURAGE FITNESS AND A HEALTHY LIFESTYLE  icci Flo Kolkata, the women's wing of the Federation of Indian Chamber of Commerce & Industry (FICCI), has been running a series of health and fitness workshops since last month, which will lead up to its mega event on January 29 — a ladies Duathlon Relay. Around 500 women are expected to take part in the event comprising a 5km run and a 10km cycling route, both around the Maidan area. The proceeds of the event will go towards renovating and reviving Nari Shiksha Niketan with modern facilities, a 138-yearold girls' school with a heritage building and a proud history, located in north Calcutta. Affiliated under the West Bengal Board of education, less than 100 girl children attend the school every day. 
The workshops and talk series for the FICCI women, spanning six weeks ahead of the event, have a list of experts interacting with the members. The series started on December 20 with Abhay Nene's talk FIT@40. Apart from being an eminent spine surgeon from Mumbai and chairperson of AOSpine, AP, one of the world's leading academic organisations, Abhay Nene is a half marathon runner, trekker and avid cyclist.
Collaborating with medical management company Healync Technologies, FICCI Flo has arranged talk sessions and workshops with medical experts for holistic health and fitness learning for the members. On December 20, Dr Nene discussed spine, joint health, prehab, rehab, fitness and goals. He offered his perspective to members on spine surgery, muscle strength, bones weakening postmenopause and the keys to having a tough mind. On December 21, Dr Nene joined the ladies on their first 5km run of the programme, held at RCGC Maidan. The day concluded with a photo opportunity in front of Victoria Memorial with Dr Nene, followed by the fitness group Rush taking over to train the ladies for the final sports day.
Dr Sunny Shah, a certified medical practitioner, a sports physician certified by the International Olympic Committee and a nutrition and weight management expert, spoke about the circadian rhythm and nutrition at the event. Dr Shah's tips included syncing the daily routine with the timing of the sun, restricting the eating window to eight to nine hours, balancing the sleep cycle, including protein in a regular diet, eating carbs and natural protein supplements.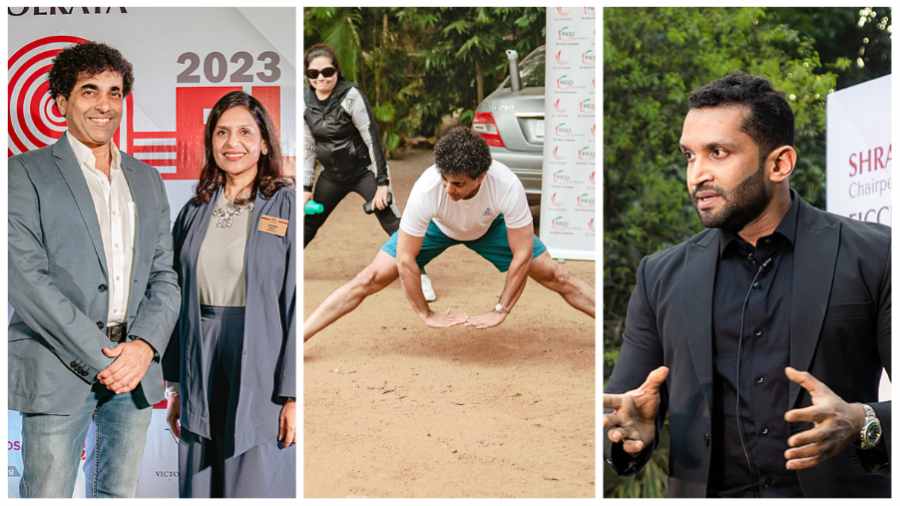 (L-R) Abhay Nene with FICCI Flo Kolkata chairperson, Shradha Saraf, at FIT@FLo; Abhay Nene leading the warm-up session for the FICCI ladies; Sunny Shah at the goal-oriented nutrition and fitness event
The series progressed towards a panel discussion hosted on 'Styling a Healthy Life'. FICCI Flo hosted the workshop at the Kanoria House in Alipore, attended by 60 Flo members. The panelists for this talk were Rajeev Agarwal, a renowned gynaecologist, Sanaya Mehta Vyas, an athlete and entrepreneur, and Ritesh Bawri, an entrepreneur turned lifestyle mentor. Dr Rajeev Agarwal shared his knowledge of the medical aspects of menopause and how it affects our overall health and well-being. Ritesh Bawri followed the discussion with how proper nutrition and exercise can help manage unwanted stress and anxieties during this transition and guided the members on how to maintain their fitness and vitality during this time of life. Sanaya spoke about what goes into transitioning into an inspiring figure of elegance by following a very committed healthy lifestyle. The session ended with a Q&A with the audience.
After a penultimate talk session on January 28, the women of FICCI Flo will gear up for the Duathlon Relay on January 29. "As the chairperson of FLO Kolkata, I conceptualised this six-week-long fitness workshop, FIT@FLO, with eminent doctors and speakers, health enthusiasts from all over the country, with a dual vision of health and fitness for women and education for girls. This entire event has been based on these two main aspects. The workshop started with a 'fit in your 40s' talk session followed by a fitness workshop. We had more such talks by experts in the medical industry and we also started fitness activities like cycling and yoga workshops from last month. We are loving the energy of the members who are actively training and engaging with the mentors. One cannot have a better platform to start their journey in taking up an activity or building a healthy lifestyle. This would encourage more people to join us in our endeavour to be healthy and socially responsible," said Shradha Saraf, chairperson, FICCI Flo, Kolkata.
Pictures: FICCI Flo Kolkata