Bullseye: Team CC&FC 'A' — Kaushik Padhi, Jacqueline Khanna, Sneha Kariwala, Bhavna Jhingan, Davinder Singh, Clinton Khanna, Ranji Saha, Saubhadra Dasgupta, Daniel Ghaznavi, Andrew Hooper, Saran Casyab, Raja Chakraborty, Vivek Bhasin, Nikhil Chokhani and Saugata Nandi — were the winners of the 3rd Inter-Club Darts Tournament 2021 held at the Gurusaday Road address from November 20 to December 5. They beat The Kolkata Swimming Club. CC&FC 'A', CC&FC 'B', Tollygunge Club, RCGC, The Kolkata Swimming Club, The Saturday Club, Dalhousie Institute, The Bengal Rowing Club and Calcutta Punjab Club were the participants.
While BRC were the Silver winners, RCGC went home with the runners-up trophy. The MVP award (male) went to Mrinal (CSC) and Abhudyay (RCGC) and to Jacqueline (CC&FC) in the female category.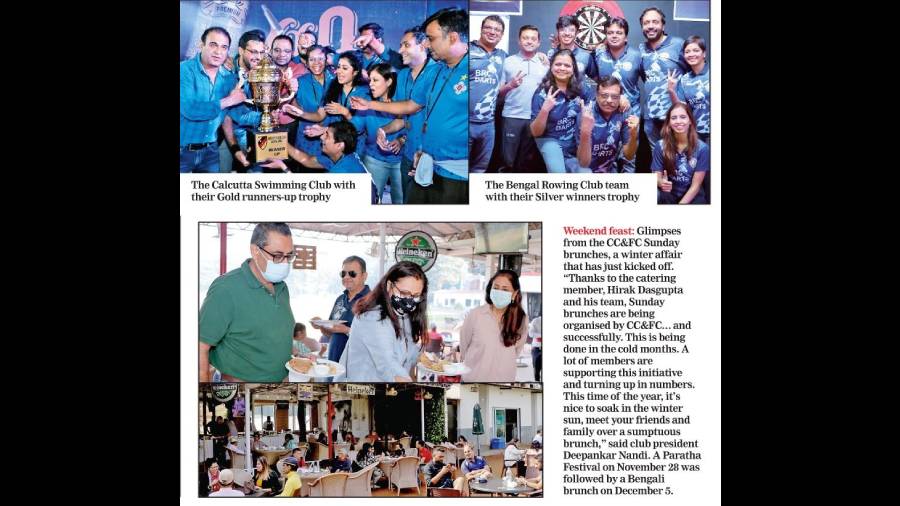 "This was an extremely competitive tournament and there were many close matches, which were enjoyed by all. Congratulations to Vivek Bhasin (committee member in charge) and Kaushik Padhi (darts captain) for the successful tournament. We would like to thank the darts section, sponsors and the various committee members involved in organising such a successful tournament. Darts has become extremely popular in all the clubs and the tournaments are always competitive. I am happy that CC&FC won the tournament after a fortnight of serious darting. It was our pleasure to host all the clubs," said Deepankar Nandi, president, CC&FC.