Bengalis share an intimate relationship with detective fiction. So much so that this genre has grown to be a part of the community's cultural identity. Stories of the astute private eye have lent themselves to numerous screen adaptations already. Popular Bengali sleuths are hero-worshipped and their behavioural quirks are habitually imitated. Beyond the handful of detectives that almost every Bengali reader is familiar with, a treasure trove of detective stories is yet to be explored. To bring to light the riches of one of Bengali detective fiction's early initiators – Hemendra Kumar Roy – Kolkata-based author Jashodhara Chakraborti has translated Jawkher Dhawn into English as The Treasure of the Khasi Hills.
Published by Talking Cub, an imprint of Speaking Tiger Books, The Treasure of the Khasi Hills is a gripping adventure tale that bleeds into a mystery novel and takes the readers by surprise as they inch close to the truth. Set in the 1930s Bengal when the colonisers indoctrinated the Indians into believing they were primitives and cowards, the rifle-wielding adventurer duo, Bimal and Kumar, forayed into the unknown Khasi hills to thread their way to the end of a cryptic cipher on a skull.
A supernatural force protecting a treasure that no living being around it knows about, the duo ambushed by a bloodthirsty villain repeatedly, find themselves at the jaws of death when trapped in a mysterious tunnel. The Treasure of the Khasi Hills bears testament to the creative power of the author to keep readers riveted and the translator to recreate this mystifying world with utmost fidelity. The frightening turn of events is complemented by delightful descriptions of the topography of the Khasi hills — all of this brings to life a particular kind of adventure cum detective fiction that is bound to appeal to readers' modern sensibilities.
My Kolkata spoke to the translator, better known by her nom de plume Jash Sen, to discuss her interest in Hemen Roy, her translation journey, and a lot more.
My Kolkata: You have been translating Tagore for a while now. Is this your first translation of Hemendra Kumar Roy?
Jashodhara Chakraborti: The Treasure of the Khasi Hills was actually my first foray into translation — it took a bit of time to find a home because we couldn't get a copyright for it. I had done it as a trial project and once I was satisfied, I knew translation was something I could do with some competence. My work with Tagore happened later as a response to grief; I found him immensely healing and romantic, and wanted to share the translations with others. Immensely grateful for the fact that many people have reached out to me saying they love the translations as well.
My Tagore translations are available on jashodharac.stck.me; some are available on my social media as well.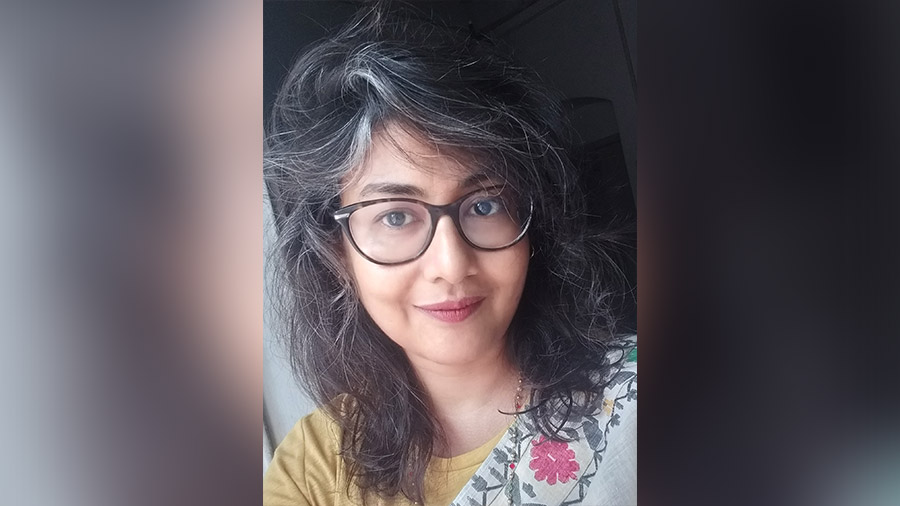 'It is an indescribable feeling to be the translator of my favourite adventure story,' says Jashodhara Chakraborti in the introduction to the book
Jashodhara Chakraborti
Walk us through your journey — what about this book fascinated you to undertake this translation project?
Hemendra Kumar Roy wrote adventure stories for the young-at-heart which brought many of us great joy. This was the first adventure story that I read and is obviously extremely special to me. Jawkher Dhawn (the original) is a children's classic and is as good as a Treasure Island or a Westward Ho! Hemen Roy made me want to read Treasure Island, it was not the other way round.
When I re-read it as an adult, the time and the milieu, the way our city was a century ago, really struck me as interesting. We all want a glimpse of how people lived in the past– but the genres are usually literary. This was fun. I loved his descriptions of Nature — our books sorely lack that kind of connect with nature in today's urban stories for children. All in all, I thought it was a marvellous book and deserved a national audience.
Hemen Roy can be considered one of the initiators of detective fiction in Bengali. But Bengali detective fiction is mostly associated with certain names. How familiar are today's readers with Hemen Roy? Do you think he has received his due recognition?
No, and I am going to amend that, provided publishers are willing. Some of the stories are a little dated. but there are many absolute gems out there.
Jawkher Dhawn has been adapted for the screen multiple times. Did those cinematic adaptations facilitate your translation in any way?
Not really. The contemporised versions in my view took away some of the magic – the dark, desolate Kolkata night when the boys break into the villain's home; the train from Kolkata through what is now Bangladesh into the North-East and the beauty of the hills and forest along with his description. That world looks entirely different now. As I said, it is a fascinating glimpse into how we lived then — and I hope middle school teachers of social studies encourage their students to read the book and cross reference with what was happening in history at that time. It will make for an extremely enjoyable lesson.
A translation is also an act of transcreation. Did you take any artistic licence while translating this book?
There was a term for a mentally ill person, which was perfectly innocuous then, but in this day and age would be deemed pejorative. I was torn as a translator between keeping the word as-is and going with today's sensibilities. After speaking to two people working with mental health and my editor, we all decided to replace the word. Other than that, this book needed nothing.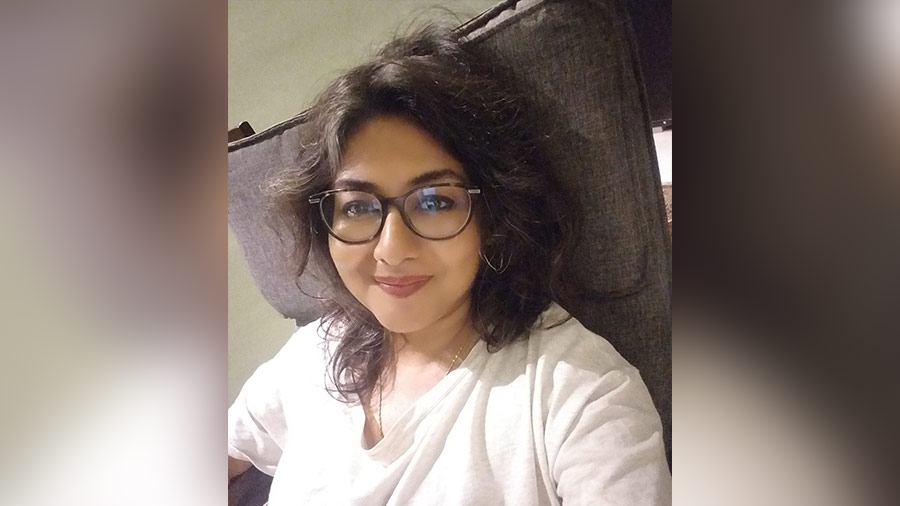 Jashodhara Chakraborti was introduced to 'Jawkher Dhawn' while she was recovering from a bout of measles in 1978, and the book opened a world of adventure, mystery, paranormal and a lot more for her
Jashodhara Chakraborti
Apart from the linguistic aspect of a translation, it is also about cultures — many facets of which do not translate well into a different language. Jawkher Dhawn has become Yaksha's treasure in your book. Do you believe the gap between these can be bridged through language alone?
My way of dealing with this was via footnotes and some context setting for today's reader. Just to clarify, I have done this translation for Indian children and am not looking at making it more accessible to a global audience as such. We read more and more in English and therefore a deliberate permeation of our local culture, our ghost and monsters and myths – is an absolute necessity. I broadened the appeal a bit by calling the Jawkh by its Sanskrit moniker, Yaksha, but that was the only concession.
I love Hemen Roy precisely because he was clearly so very Western in his plots and his genres, but his milieu was all Bengali. We need more Indian authors like this – rooted in our society, but with fresh, contemporary stories to tell.
Translations are a way to share the joy and wealth of diversity in storytelling. The only curse is an incurious mind
— Jashodhara Chakraborti
Do you consider translations an act of salvaging regional literatures from the curse of oblivion?
Translations are a way to share the joy and wealth of diversity in storytelling. The only curse is an incurious mind. Thankfully, more of us are curious than not.
Despite knowing to read and write in regional languages, many young adults prefer to read English translations these days. How do you think we can kindle young readers' interest in the originals?
I am planning to write for children in Bangla as well — other than translating children's books into Bangla. For children to read in any language, interesting books have to be written and published. Parents need to love Indian languages and not equate reading with just top marks and getting jobs. And schools need to encourage the reading or performance of contemporary Bangla works. Most of all, we need to collectively love Indian languages more — our mother tongues, our State and National languages — and not scoff at imperfect speakers or readers. As I mentioned, show our languages a bit of love!
Fantasy, mythology, adventure, mild doses of horror characterise your oeuvre. When did you develop an interest in these?
I am a big bheetu and love to be slightly scared, but not scared to death, and intrigued, but not worried. I think these stories are a family addiction percolating down from my grandparents' reading tastes onwards. Growing up, our house was full of golden-age detective stories and ghost stories of various flavours in both English and Bangla, and of course, everyone knew that my great-grandfather haunted the dining room.
My ideal old age is Miss Marple style, with a tiny glass of sherry (a very sweet non-alcoholic cordial will do as well!) by my nightstand and a crime thriller in my hands, a pair of comfy pyjamas and a dog curled at my feet. Perhaps a cookie or two. Or ten.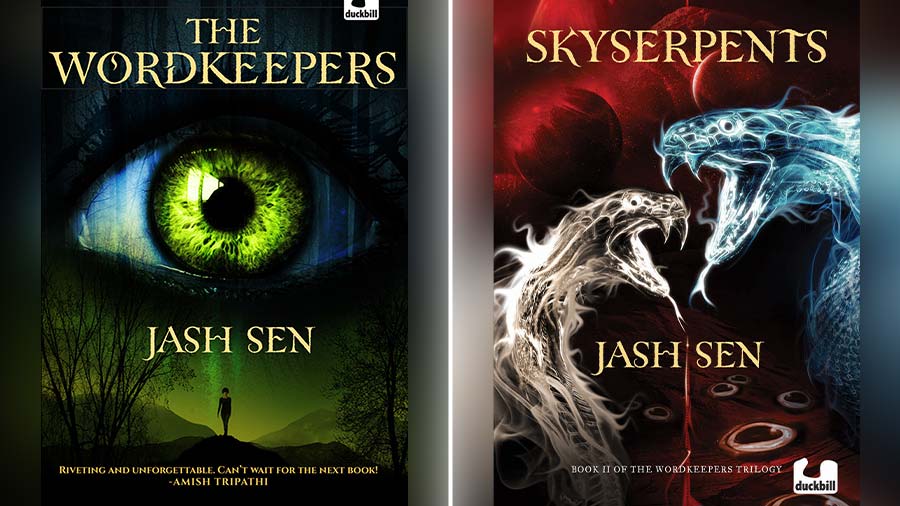 'The Wordkeepers' and 'Skyserpents' are Jashodhara Chakraborti's books in The Wordkeepers Trilogy
Amazon
The Wordkeepers and Skyserpents, with gods, demi-gods and avatars, are entrenched in different Hindu myths and cultural practices. Do you think young adults of this century can connect with these traditions?
They do. I must mention here that young adult books are read by people of all ages, by the way. It's a state of mind to me, more than an age guideline. Many of my readers are adults and elders.
In the future, do you see yourself translating more books in this genre for young adults?
Absolutely, yes. As you astutely pointed out, I do love the genre. And we must all do what we love.