Aparajita by Sanmarg
Aparajita clocks a decade
Snapshots from celebrations of the Sanmarg event
By
Urvashi Bhattacharya
| Published 05.01.22, 03:03 AM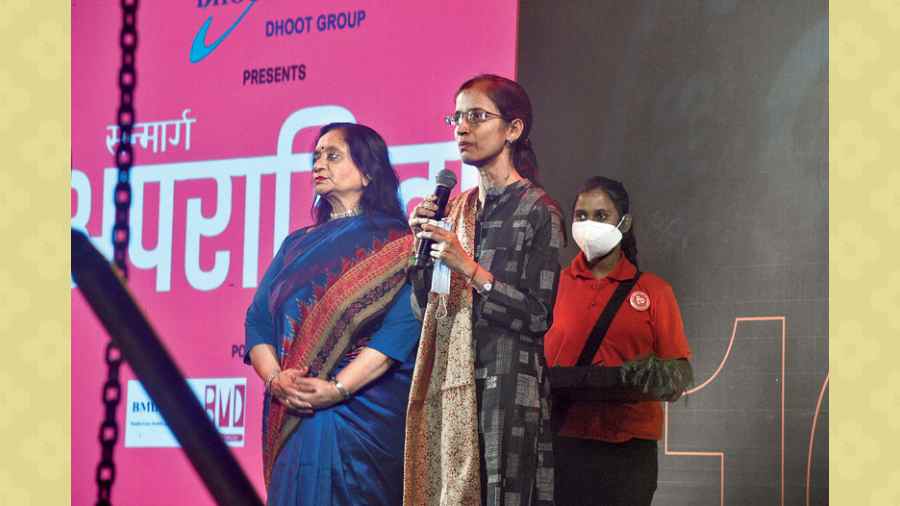 Jury member and past Aparajita winner Nayantara Palchoudhuri felicitated Neena Gupta (right). Gupta recently became the fourth Indian mathematician and third woman to win the Ramanujan Prize for young mathematicians from developing countries. She won this award for her work in Algebraic Geometry and Communicative Algebra. She was Aparajita in 2018. "I am really happy to be here among so many past winners and nominees. Coming from a family with an older brother there was no distinction. In the sense, why should I consider myself a little less than a man? I was brought up equally and now if you get an opportunity make sure you excel in it," she said. Nayantara Palchoudhuri said "self inspiration" was most important. We need to inspire ourselves and feel better and set ourselves new challenges to achieve," she said.
Sanmarg's Aparajita had double the reason to celebrate on December 18. The awards not only completed 10 years but also introduced us to a fresh bunch of achievers at the curtain-raiser held at ITC Sonar. Past Aparajita winners and other sheroes from different walks of life were felicitated in Education and Academia, Creative Arts, Enterprise, CSR and Social Work, Health and Wellness and Performing Arts categories. The current nominees were also present.
Stand-up comedian Aditi Mittal hosted the show, her signature wit adding to the evening. Girls from New Light, a non-profit organisation that helps the children of sex workers, founded by Urmi Basu, lent a helping hand.
Glimpses: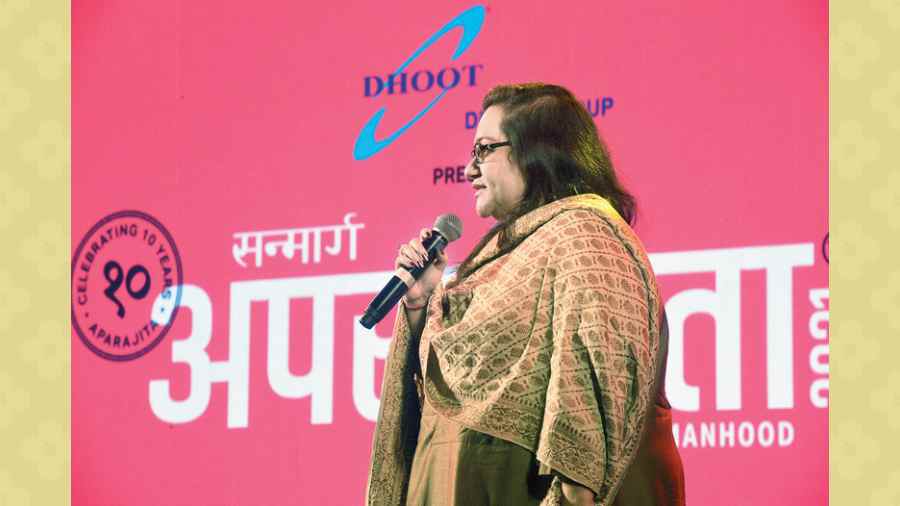 Hemal Kapadia was felicitated under Creative Arts. "There are different things that inspire different people. Knowledge, personality, the atmosphere... but the most important thing is the almighty. Spirituality is very important to me because I identify myself as how I need to be for others. So that is something one should celebrate and creativity will flow in," she said.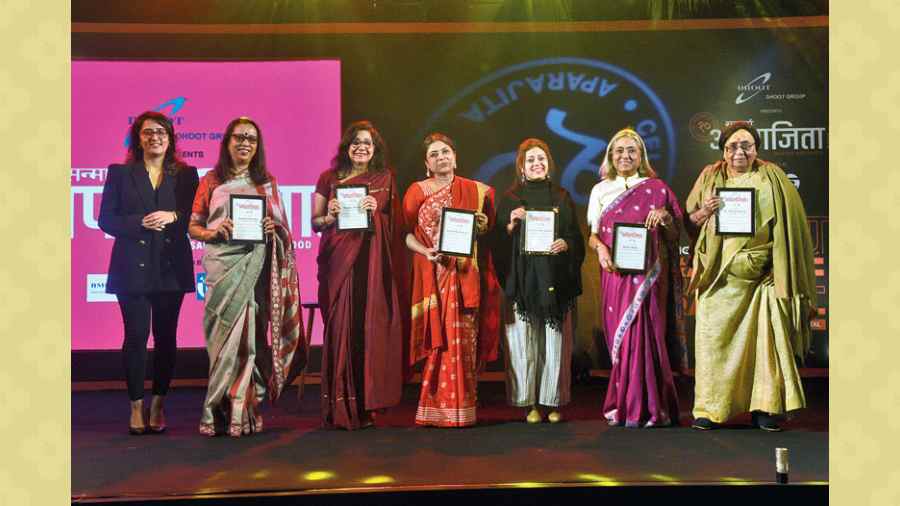 Some of the present nominees also were felicitated. The frame includes (L-R) Sarbani Das Roy (co-founder and director, Iswar Sankalp), Kavneet Khullar (trustee and principal, Akshar School), Bratati Bhattacharya (secretary general and CEO of Shri Shikshayatan Foundation), Sharmistha Chatterjee (archaeologist and assistant professor, Institute of Social Sciences, Amity University, Roopa Mehta (co-founder and CEO, Sasha Fair Trade) and Neerja Rateria (ophthalmologist).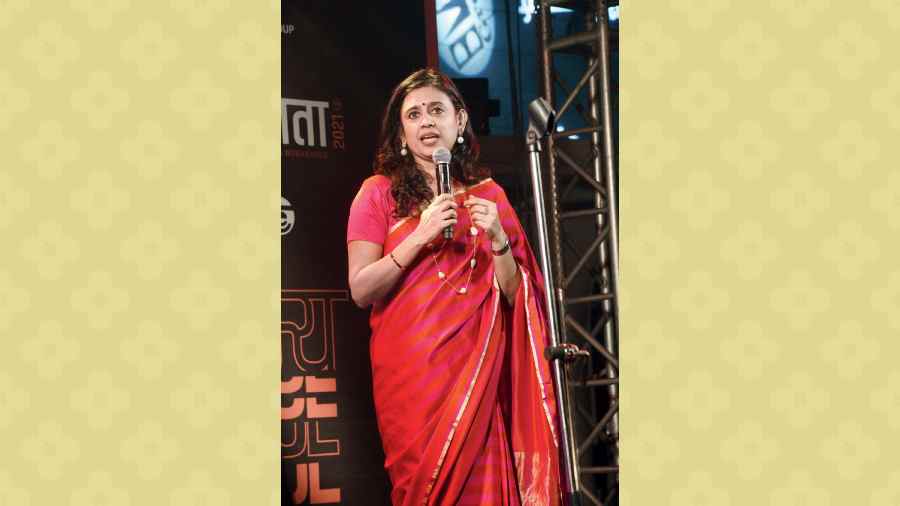 Global Advisory Board of Harvard Business School, and past Aparajita winner Vinita Bajoria was felicitated under the Enterprise category. "I got married at the age of 18 and then of course I completed my college and did MBA on correspondence. Then at the age of 40 when my daughter when to study in the US, I suddenly thought about studying in Harvard Business School. I had thought I would be a failure because I had never been out of Calcutta for studies. When I went I was intimidated being in a class of CEOs and others, and discussing cases. When I was able to manage it, the experience gave me a boost and was empowering. And then I was asked to join the Global Advisory Board of Harvard Business School," she said.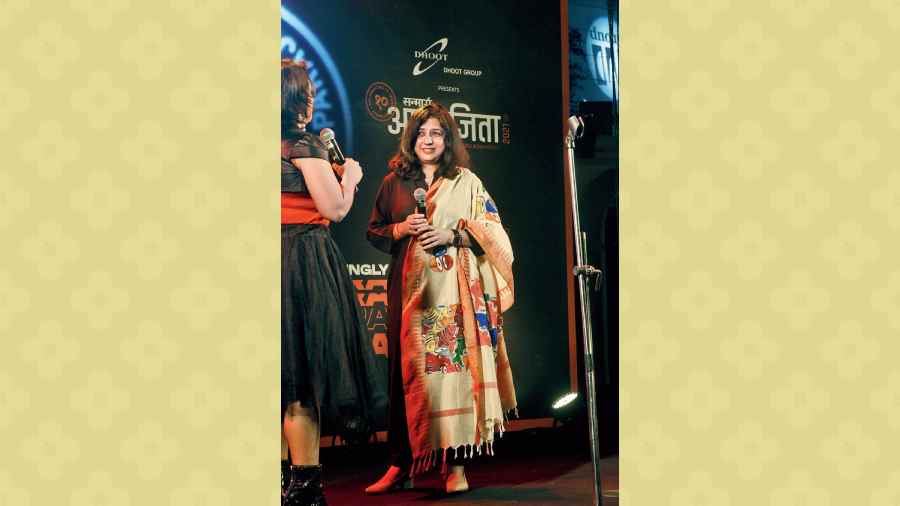 Shabnam Agarwal was felicitated under the Health and Wellness category. "If tenacity was an animal... man is a social animal, so is a woman. So a women is the most tenacious animal... from childhood to adulthood and then motherhood, the tenacity of a woman to work and persevere and work for another human being with selfless love is lovely. They are willing to do anything for her child and family," she said.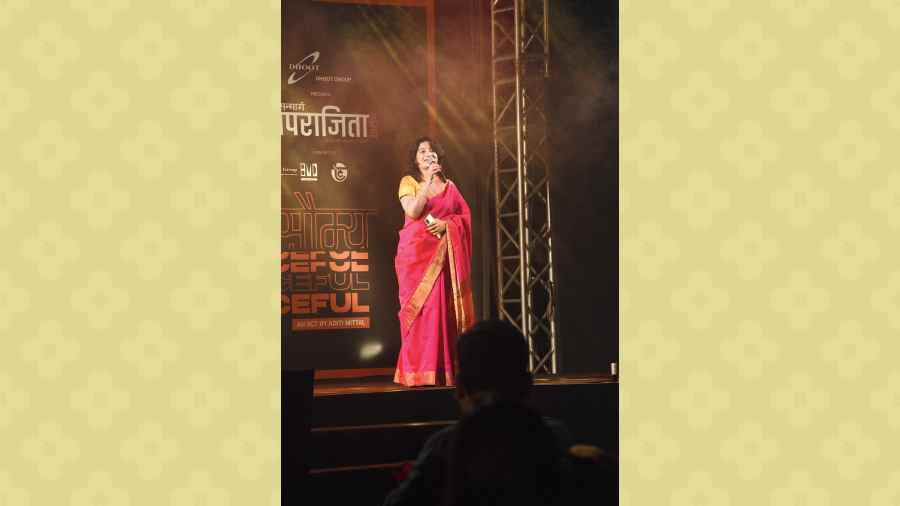 Maruti Mohta was felicitated under the Performing Arts category. When she was asked about what she thought of the term "grace" she said: "Grace is in all of us, in me, you and everyone. How would I represent grace in song?" She then went on to sing Aaj main upar.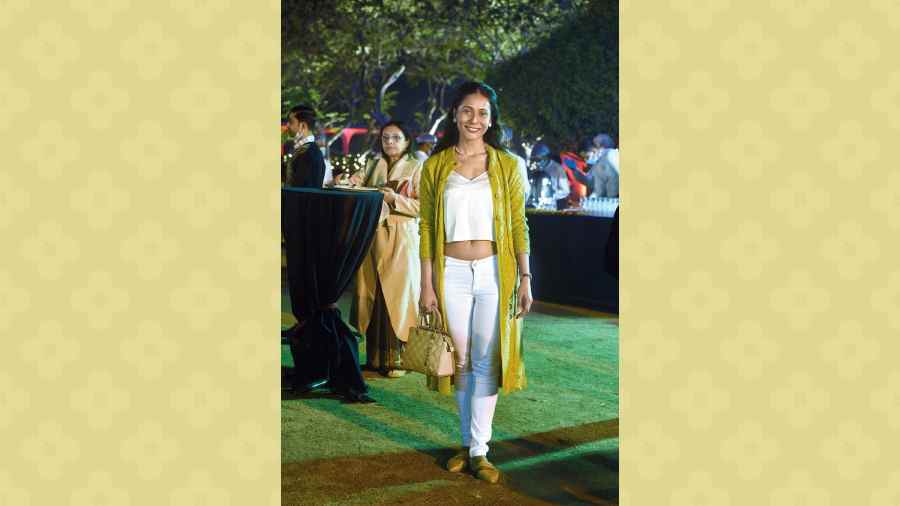 Ushoshi Sengupta who had trained the girls from New Light, for the event said: "I am glad to be associated with such a concept and feel that similar initiatives should be taken up to create an example for inclusion."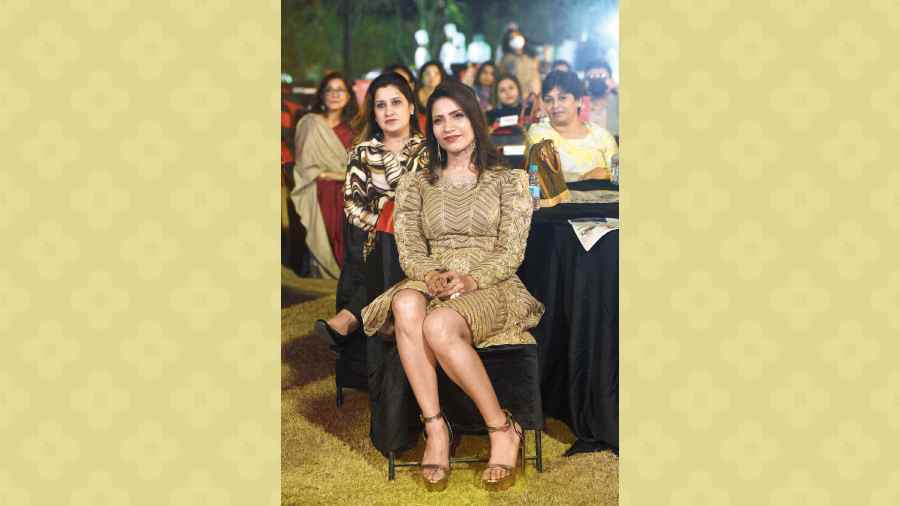 Richa Sharma was present to support all the Aparajitas. "I salute Ruchika and her team who have brought Aparajita on the level it is today at and for bringing out the talent of these women on a wider platform. It feels good to be in a community surrounded by women who work hard in their choice of field and change the dynamics," she said.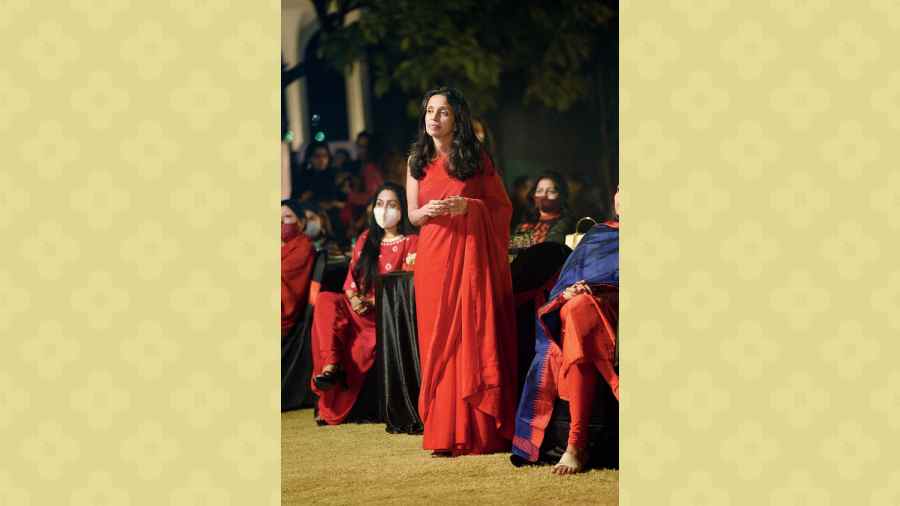 "It has been 10 long years and there's so much of joy and gratitude. What started just as a thought today has transformed into a sketch. What goes behind every Aparajita is a thought, emotion and hard work. We as women always put ourselves last. Why not wake up in the morning and say, 'Aparajita hu mein?'" said Ruchika Gupta, founder, Aparajita.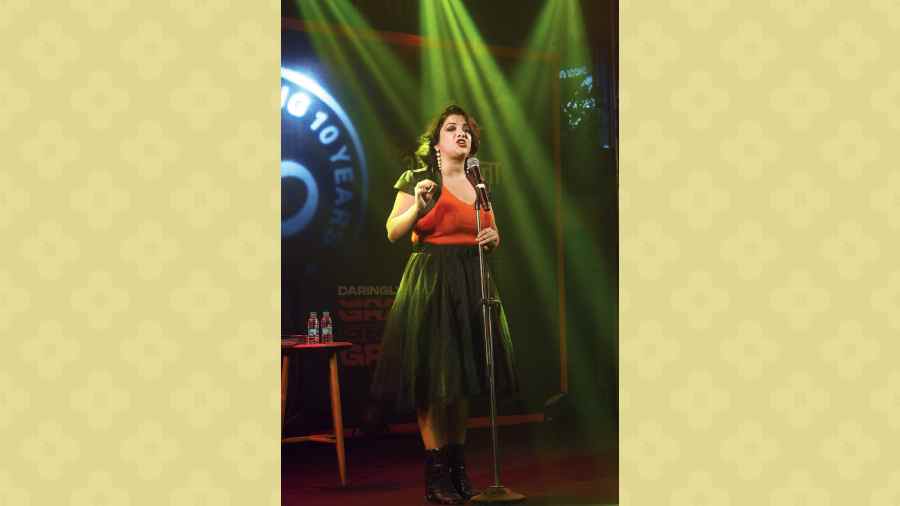 Aditi Mittal was the host of the night. "It was really cool to host because it is something I tried for the first time and frankly it is always an honour to be standing in front of women who realise their true power and it's a rare thing," she said.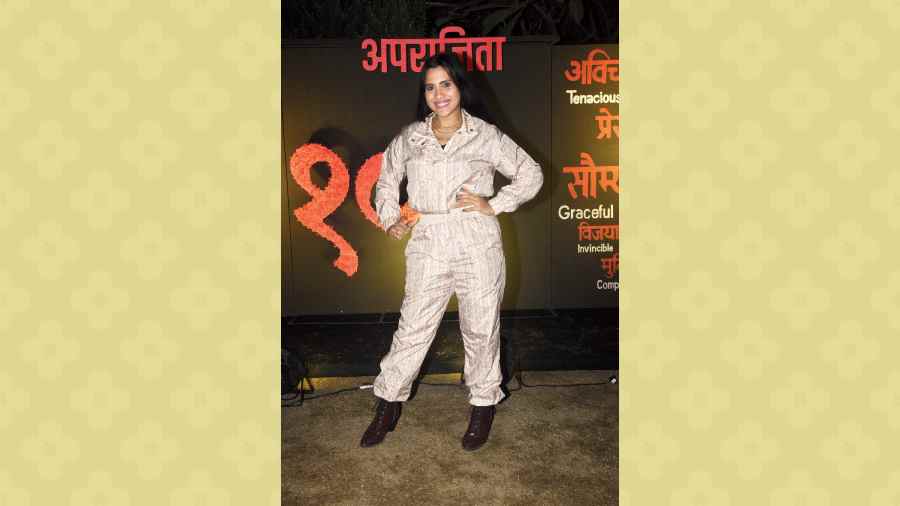 Nikhita Gandhi dropped by.