At age 13, Sanjana Sanghi was thrust into the Bolly spotlight in Imtiaz Ali's Rockstar, where she played sister to Nargis Fakhri's character, the leading lady of the film. The gorgeous actor made her big debut with Dil Bechara two years ago, leaving a mark as a cancer-stricken teenager in this Bolly adaptation of The Fault In Our Stars, but all eyes were on her leading man Sushant Singh Rajput, who had tragically died a few months before the film's release.
This Friday, Sanjana, 25, will be seen in an action-packed role in Rashtra Kavach Om (titled 'Om' till a few days ago) opposite Aditya Roy Kapur. Right after the film's trailer launch in Mumbai recently, The Telegraph met Sanjana in her vanity van in Film City where she was getting her hair and make-up done before shooting for the film's final song. Here's what we spoke about...
What were the deciding factors to do Rashtra Kavach Om?
My first question to Ahmed sir (Khan, the film's producer) was how could he even imagine someone so petite as me in an action avatar! (Laughs) I have been a child actor, I did theatre back home in Delhi, and when I entered Hindi films, I always thought I would do dramatic parts and high-on-emotion roles. But that I would get to do action so early in my career is something I hadn't ever thought of. I am happy that I have been able to discover a completely new side to myself through this film. It's very liberating.
What were the challenges of doing so much large-scale action?
The challenges were entirely physical. For 14 hours every day I would be suspended on a harness from a crane. It takes a lot of core strength to even go through such a day. And along with that, you have to act. It was a very physically gruelling experience. So building up to that, to be able to shoot the film took a lot of discipline.
We were literally put in a boot camp during prep. There was no other way to do this. But honestly, learning the action was a blast. Learning mixed martial arts was amazing. I have always been a nerd (smiles), so I like picking up new skills.
Since I am a dancer — I have been dancing since I was five — it was a little easy for me because my body has an inherent flexibility and agility. So it became easier for Parvez bhai (Parvez Shaikh, action director). But for two months I had to really go through the grind.
Your father is a black belt in karate. What's been his reaction to seeing you kick ass in this film?
He's beyond ecstatic! (Laughs) He really tried to get me into karate, but I was so much into dance that my body physically couldn't take so much. I was a kathak and a jazz dancer and I couldn't add a third, which is karate, to the mix. So seeing me doing all the action in the film, my dad feels happy. When I would shoot action sequences, I would make my team FaceTime him because he wanted to know how we were shooting it.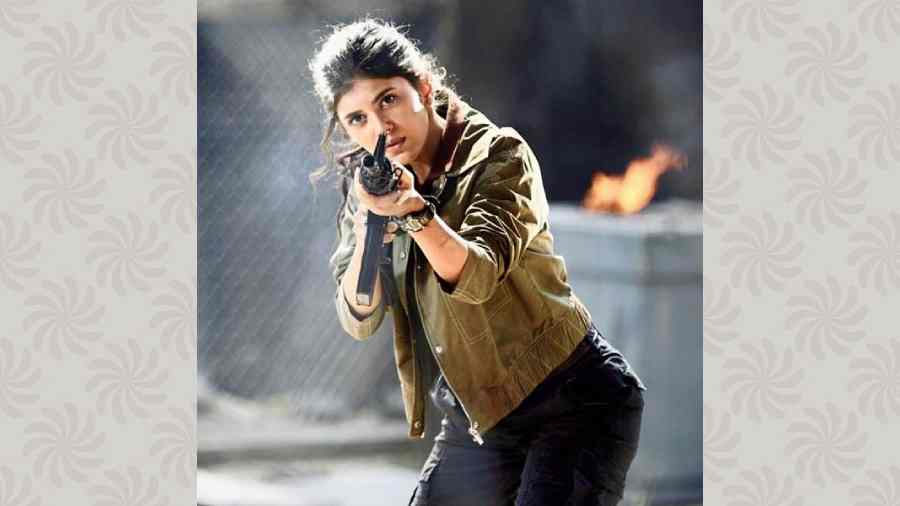 Playing Kavya in 'Rashtra Kavach Om' and learning some very skilled action has made me very self-confident and independent as a girl. Kavya doesn't need anyone to take care of her. She can kick ass for herself and for Om (Aditya Roy Kapur). She can protect him as well
What other genres are you really keen on working in at this time?
Before this film, I used to think that I will only like to do films that I like to watch. As an audience, I love relationship dramas — whether it's love stories or family dramas. I also love dark comedies. But after doing Om, I have realised that I also like doing action. I haven't grown up watching action films like Aditya (Roy Kapur) has. My brother and dad would watch them, but I wouldn't. Now I feel that the pandora's box has opened... I can now do anything, and this film has given me that confidence.
I like to believe that I am a witty person, and so my family always says that they are waiting for me to do a comedy. I have this dark, sarcastic sense of humour which I don't hold back. Honestly, I don't think we make those pure comedies anymore. I was obsessed with films like Welcome and No Entry, those would be my favourite films. I hope we start making them again.
You just said that you like acquiring new skills. Have you applied any skills learnt beyond your films?
Yes. Playing Kavya in this film and learning some very skilled action has made me very self-confident and independent as a girl. Kavya doesn't need anyone to take care of her. She can kick ass for herself and for Om. She can protect him as well.
Now I am doing a film called Dhak Dhak (co-starring Ratna Pathak Shah, Dia Mirza and Fatima Sana Shaikh) where I am riding a 250kg Royal Enfield from Delhi to Khardungla. If I hadn't done Om and Dhak Dhak had come to me, I would have had second thoughts about doing it. But now, I have the confidence that a 50kg girl can ride a 250kg bike right up the Himalayas. These skills are priceless, I feel. I just hope that I don't get obsessed with riding a bike because I know how dangerous that is. I need to watch out! (Laughs)
Rockstar released when you were 13. Do you remember seeing yourself on screen for the first time?
Oh ya... like it was yesterday! I remember that we had done Rockstar's music launch at the Nizamuddin Dargah (in Delhi) in 2011, and for that Ranbir (Kapoor) and Imtiaz (Ali, director) had come to Delhi. We had a premiere too in Delhi and that's when Mandy (Sanjana's character) and Jordan (played by Ranbir) walked in together to a PVR multiplex in Connaught Place. That memory is etched in my blood! (Laughs) It was something else.
It's very early days yet in your career, but would you say that you are living the dream?
I will be honest with you. I did not grow up dreaming to be a mainstream Bollywood leading actor. I was a highly academic, very studious girl who used to dance in order to get a break from studying. And then when Rockstar happened, the bug bit me and I realised how much I love performing. I just felt that, 'Ab yeh karna hain'. But I had no idea how to go about it. I also never believed that I could be a film actor. So I am living a dream that I honestly didn't have the guts to dream.
Are you still in touch with your Dil Bechara co-stars Swastika Mukherjee and Saswata Chatterjee, who played your parents in the film?
Yes, absolutely! I am definitely in touch with Swastika. Saswatada, as you know, doesn't keep a mobile phone, and so the only way to reach him is by calling his wife! (Laughs) So I get to speak to him only once in a blue moon.
Yes, in this day and age, he's one of those rare people who doesn't bother with keeping a phone...
And he couldn't care less! I find that so amazing! I am also in touch with my Bangla diction coaches because I learnt the language for Dil Bechara. I was supposed to just learn my dialogues. But then it was my debut film (in a leading role) and one wants to do as much as one can... so I learnt the language (laughs). Now I have forgotten all of it.
What's the best and the worst thing about being in Bollywood?
Waiting around is a big problem, but you would rather be waiting for shots than waiting for work (smiles). The best part for me is that growing up, I was an over-curious kid who wanted to do a lot of things. I wanted to study, but also perform. I wanted to debate, I wanted to have friends, and I kept wondering how I would have a life where I could do all together. For me, films are a job where everything that I have experienced and learnt and worked on in school and college are all coming together.
My studies about culture, politics and the world helps me know and build my characters better. Also, in this business, no two days are the same. Monotony kills me... I hate it!
What I don't like is that this business makes you the most undependable daughter, friend, sister.... Personal time goes for a toss. You aren't servicing yourself... you are servicing the people you are entertaining. I remember Shah Rukh Khan saying it in interviews, and I understand it now. Like if my friend is having a bad day tomorrow, I can't fly back from Khardungla and meet her for dinner.