A community gathering and the quintessential sadya marked Onam festivities in Kolkata last weekend.
Kerala's official state festival, Onam, is rooted in the legend of Mahabali, a benevolent ruler whose reign brought prosperity without poverty, discrimination, or evil. His unwavering commitment earned the adoration of his subjects.
However, Mahabali's ambition raised cosmic concerns, prompting Lord Vishnu to assume the guise of Vamana, a humble dwarf Brahmin. With humility, Vamana sought the space his three steps would cover, a request Mahabali granted readily. This led to a cosmic spectacle, with Vamana striding across Earth and the cosmos. Mahabali, in an act of unparalleled devotion, offered his head for Vamana's third step. Vishnu humbled rather than defeated Mahabali, who became the emperor of Paatala, while Vishnu stood guard at the gates of Bali's kingdom eternally.
This legend forms the bedrock of Onam – a festival that honours unity, tradition, and devotion within the Malayali community.
In Kolkata, the Malayali Nair community celebrates Onam annually. A community gathering was organised on September 3 to mark the festival. Governor C.V. Ananda Bose attended inauguration of the programme, while members of the community in Kolkata enriched the festivities with their performances.
"During Onam celebrations, we adorn the entrance to our homes with simple rangoli made of flowers, known as pookalam. We wear new clothes and reunite with relatives and friends. Elders prepare a sumptuous vegetarian meal called sadya. Following the feast, women clad in traditional 'set mundu' attire come together to perform a dance called Kaikottikalli, forming a circle around a lamp, clapping their hands as they dance.
"In Kolkata, we are fortunate to have numerous Malayali associations hosting the grand Onam sadya on weekends after Thiruvonam (the most auspicious day of the 10-day-long festivities). These gatherings are open to people of all religions, castes and creed. It's a joyful and eagerly anticipated occasion where attendees not only relish the traditional and elaborate meal but also partake in musical and dance performances," said Deepa Menon, a community member.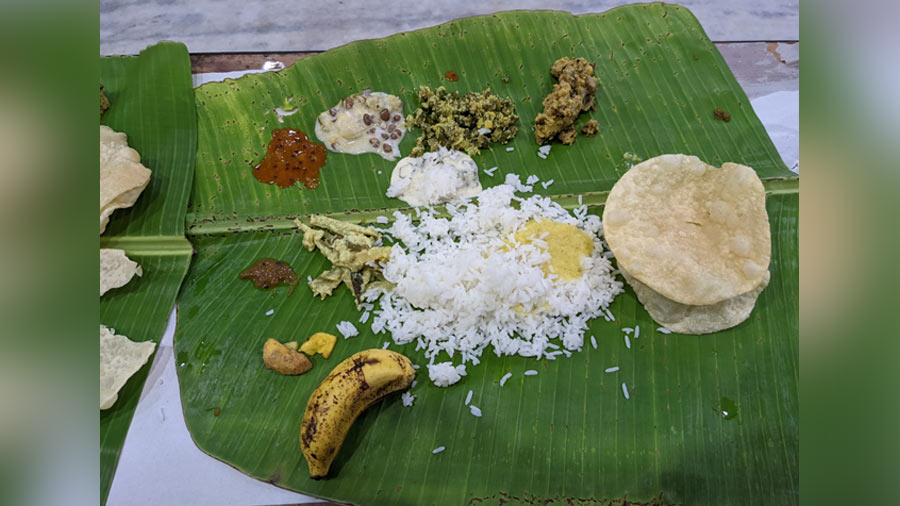 Sadya at the Calcutta Nair Service Society
Jaimin Rajani
At the heart of the festivities lies sadya, a quintessential Kerala meal comprising a variety of vegetarian food items served on a banana leaf. A typical sadya can feature anywhere from two to three dozen dishes and, on occasion, an extravagant 64!
This gastronomic delight is typically served during lunch, with each dish occupying a designated spot on the banana leaf. For instance, pickles find their place at the top left corner, while bananas grace the bottom left. As a gesture of contentment, it is customary for diners to neatly fold the banana leaf once they've finished their meal.
Sadya epitomises the use of locally sourced, seasonal ingredients cooked in coconut oil and ghee. Many dishes incorporate generous portions of coconut milk and cashews, resulting in harmoniously mild spiciness but at the same time, extremely flavourful! The appeal of the dishes lies in their careful preparation, avoiding overcooking and the excessive use of spices.
The sadya at the Calcutta Nair Service Society comprised a delectable spread, including banana chips (both sweet and salted), pickle, pappadam, puli-inji (sweet tamarind and ginger curry), small banana, okra pachchadi (ladies' finger raita), pineapple kichadi, kalan (vegetables in yoghurt gravy), olan (ash gourd and black-eyed peas in coconut milk), aviyal (mixed vegetables), sambar, beans thoran (dry preparation), kootu curry (raw banana and black chana with roasted coconut), rice, dal, ghee, rasam, and payasam in three delightful variations.
The Calcutta Nair Service Society, founded by Mannath Padmanabha Pillai, an Indian social reformer and freedom fighter from Kerala, now has Suraj Nair as vice-president. The building that houses the society's office and community hall is named 'Tharavadu', meaning ancestral home. N.S Nayar, V.S.S. Nair and T.N.G Patanair established it in 1977, with N.S. Nayar serving as the inaugural president.
The Malayali Nair community in Calcutta, consisting of around 300 active members within a larger community of 900, actively engages in cultural and philanthropic pursuits. This includes organising community events, cultural performances, education programs, medical check-ups, and blood donation camps.
"During our Onam feast, we extend warm invitations to people of all faiths to join us," stated CNSS vice-president Prabha Menon.
The society's contributions to the community and their dedication to cultural preservation, service, and tradition reflect its commitment to fostering a sense of unity as they look forward to the upcoming Ayudha Puja – a South Indian festival that traditionally involves the worship of tools and instruments. The last three days of Navaratri – Ashtami, Navami, and Vijayadashami — are set apart for the worship of goddess Saraswati – the goddess of wisdom and learning.