Where does a pork lover even start in Kolkata? The most versatile protein justifiably has a lot of loyalists who never tire of porcine pleasures. Pork's adaptability makes it a staple in a city where no one is interested to repeat a meal. Repeating a meat however is no problem if one finds ham crepes for brunch, some mid-work pulled pork and a primal cut for dinner.
If you're looking to get creative with your pork options, be it with dressy glazed ribs, some roasted belly, or something less sloppy, this list should give you a good head start.
Charcoal Grilled Bacon and Prawn Bao at Peter Hu?
At the week-old Asian address at 25B Park Street, try this bao that wraps in bacon that's almost like a thick piece of pork belly, crunchy shrimps, pickled cucumber and sesame seeds all held together by a smear of wasabi mayo, a dash of honey and crunchy lettuce.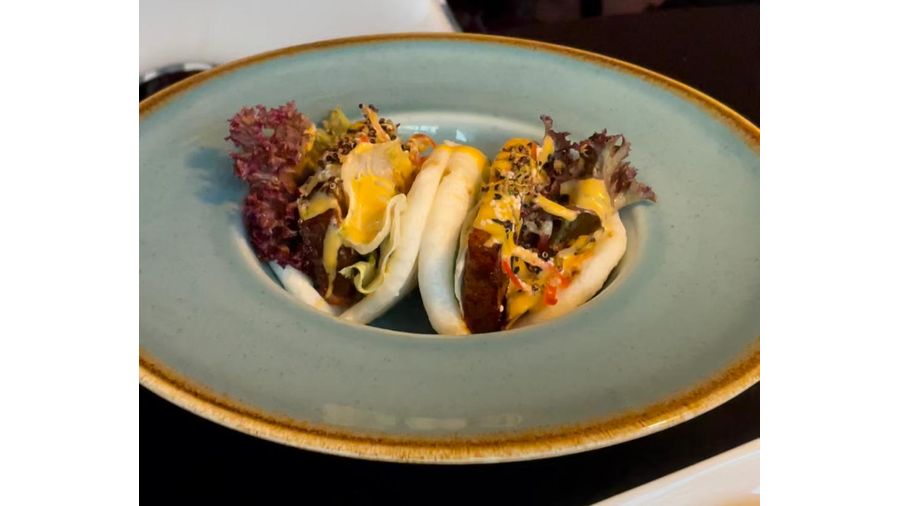 Roast Pork at The Wise Owl Steakhouse
Soft chunks of fatty pork belly are served on mashed potatoes with sauteed veggies on the side. It's neat, it's classic and it's the ultimate indulgence.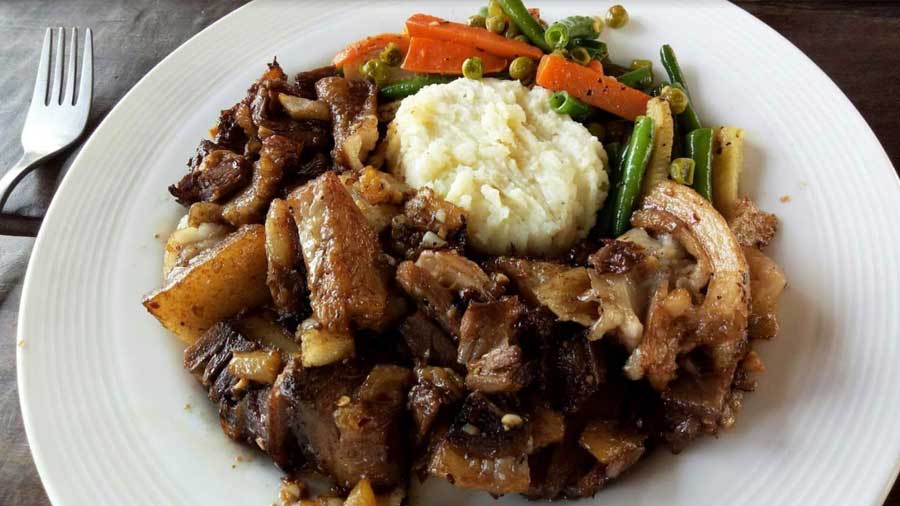 Five-Spice Pork at Momo I Am
Perhaps one of the most under-rated numbers at Momo I Am, the Five-Spice Pork is quite the stunner. Crunchy fried pieces of pork are sautéed with veggies and star anise, fennel seeds, peppercorns, cloves, and cinnamon which work together to create a unique flavour profile. Pair it with their mixed stir-fried flat noodles or a great soup.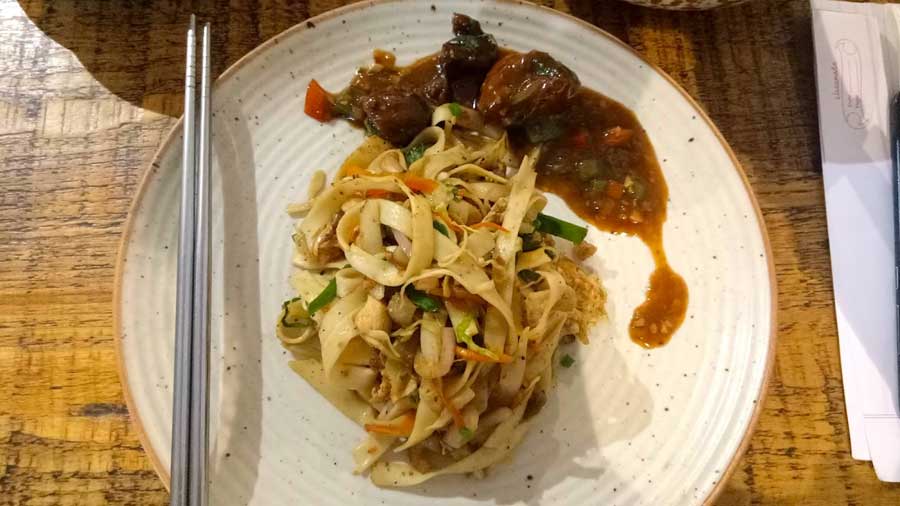 Grilled Pork Chops at Macazzo
Pork chops taste the best when you're not sharing, and Macazzo even lets you choose your own base. Customers can choose between Asian soy and honey, barbecue, peri-peri, pepper mushroom, and wine and cream sauces. These sinful chops are served with veggies, mash and garlic bread on the side.
Honey Smoked Spare Ribs from Yauatcha
The pork rib may not be the leanest cut but it's definitely more versatile in terms of flavour. Yauatcha works towards elevating its profile by smoking spare ribs in jasmine tea leaves and honey. The ribs are braised for over an hour, so the fat renders down to make the meat juicier and they're accented with flavours of soy, ginger and red rice yeast. The ribs are garnished with fresh pomegranate and diced mango cubes which add a fruity sweetness.
Grilled Ham Steak from One Step Up
The Park Street diner offers thick pan-seared pieces of ham that are served with your choice of sauce - mushroom or pepper. It is paired with Aglio olio spaghetti and salted veggies. It's elegant, wholesome and well worth a try.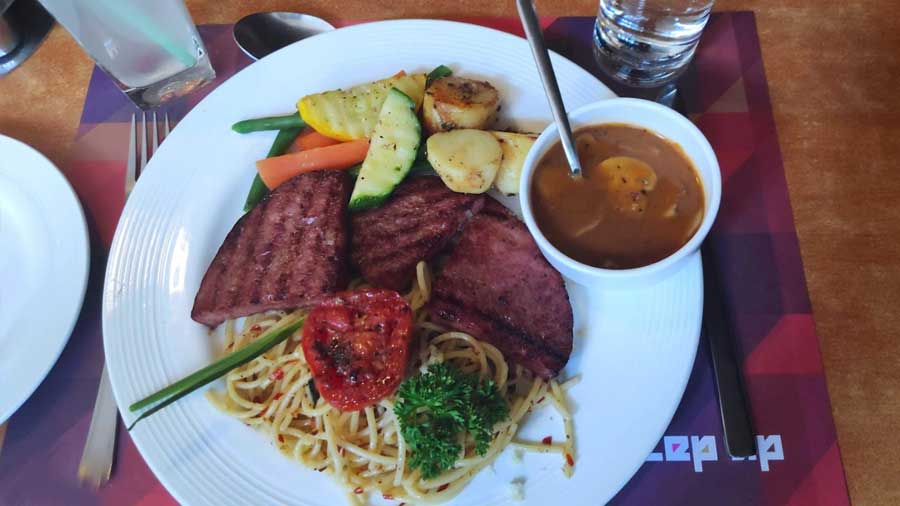 Junglee Pork from Surfiré The Coastal Cafe
Rajasthani Junglee Maas can be all kinds of regal (it really was the choice of aristocracy as Mewars of Rajasthan served it to royal hunting parties) Surfire essentially recreates this rich number with pork. Cooked for over three hours in ghee, chillies and salt, the meat is supposed to be fall-of-the-bone. But the best part is definitely the gravy which is prepared with the most decadent spices!
Pork with Bamboo Shoot from Shillong Point
This spiced North-Eastern curry is actually quite light and it's packed with the hypnotising aromas of bamboo shoots. The meat is soft and the bamboo shoots add a great bite to the dish. Pair it with simple white rice to get the best of flavours.
Pork Bharta at Cafe Porkotini
If you're keen on tribal cuisine, this rustic salad could be just your thing. Indigenous to certain communities in Tripura, this bharta features the familiar medley of roasted chillies, ginger, onion and coriander. Seasoned with salt, pepper and lemon juice, this salad lets all the flavours sing. The best part? The drizzle of mustard oil over the top accentuates flavour notes.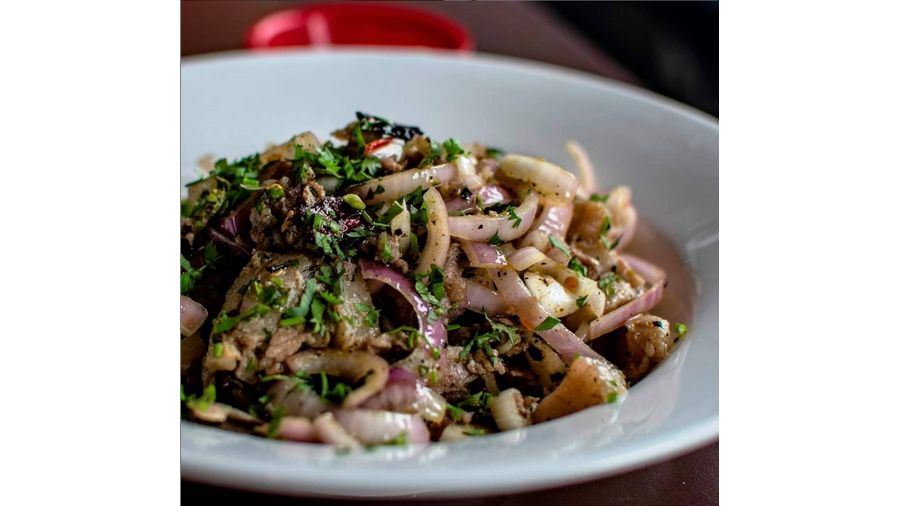 cafeporkotini/ Instagram