The pool of smartwatches is an overcrowded one but customers keep coming back for those five-six known brands, the ones that are well promoted. And OPPO is certainly among that clutch of popular names. The latest is the OPPO Watch Free, which has a long of list of hit features but also a couple of misses.
Among the biggest and brightest screens you will find in the sub-6K range, there's a lot going in terms of what can be done, especially when paired with a phone. But first, the design, which is somewhat out of the box, thanks to the tall design; it looks good. The matte-finish strap complements the slightly curved display. This is a 1.64-inch AMOLED screen, which certainly has contrast and brightness working in its favour. The absence of buttons on the watch means, everything is controlled with swipes, which work well; it's a very responsive touchscreen. Not much can be written about the charging attachment because it's the same two-pin magnetic option. There are a couple of quibbles here. First, despite being an AMOLED screen, you don't have the always-on feature. Second, auto screen-off is restricted to 10 seconds, which could have been more.
Where OPPO has tried to go the extra mile is parameters. These are days when every other smartwatch is offering 100-plus activity tracking; this one is not an exception. What I found different is the level at which sleep tracking happens. Most sleep-related data is tracked well and you get a comprehensive display through the app. An additional feature is 'snoring', which can be tracked if the smartwatch is connected to the phone via Bluetooth because there are no microphones on the watch.
Second, step tracking as well as heart rate monitoring seem to be spot on here. There is also SpO2 measurement but I would rely on an oximeter for that one feature. Another feature worth having at this price point is hydration goal. You can set reminders and the amount of water to drink — 50ml, 100ml and so on. A goal can be set for this option. On the wrong side of the table is the absence of the menstrual tracking feature.
In the app department, things are pretty respectable while the UI is also pretty good. There are plenty of watch faces to choose from and an option to customise a watch face according to what you are wearing. Battery life is a respectable 10-11 days if you workout longer and keep brightness levels turned up while charging doesn't take too long. What I am slightly curious about is the naming… why the word 'Free'?
Is it for you?
For anyone looking for a no-nonsense smartwatch, this one definitely has plenty of features. Quick notification, a bright screen, decent battery life… the OPPO Watch Free has enough features to keep you engaged.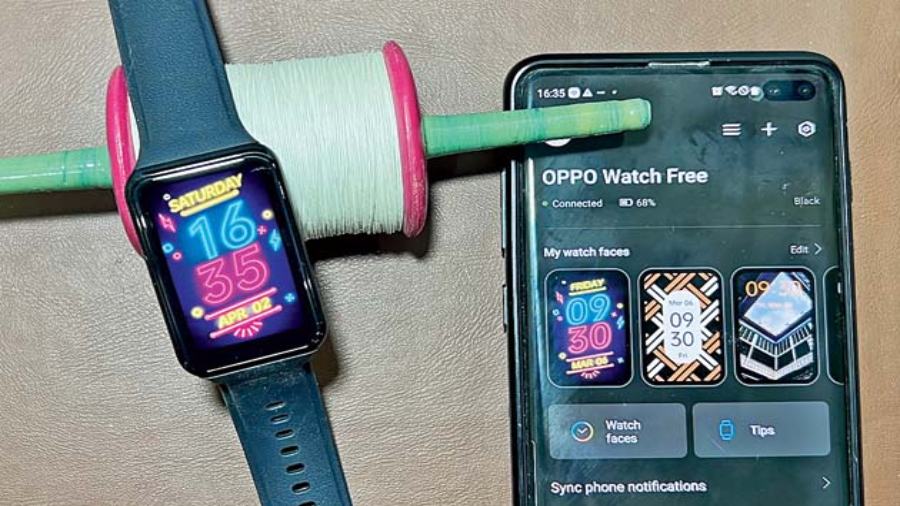 The HeyTap Health companion app has plenty of watch faces to offer
At a glance
Device: OPPO Watch Free
Price: Rs 5,999
High notes
• Bright, AMOLED display
• Good sleep tracking features
• Accurate measurements
• Good battery life
Muffled notes
• Lacks always-on display
• Auto screen-off is restricted to 10 seconds