Microsoft is trying to present AI-powered Bing on all its products and the company seems to be rushing it. After introducing it in its Edge browser and then bringing it to the Bing and Skype apps on mobile, Bing has found a place on the Windows 11 taskbar.
For all Windows 11 users, the search box is a familiar place because it's integrated into the taskbar by default. That's where you will now find the new Bing. Interestingly, the integration is not something that Microsoft had been testing with its Windows Insiders. A new Bing icon will appear within the search box in the taskbar but don't expect chat answers within the search flyout; it only helps you to quickly start a chat. There's a catch: You need to have access to the AI-powered Bing preview. In case you haven't signed up, join the waitlist.
"We've been inspired by people's stories of how they are using the new Bing. For example, a first-generation grad student from a developing country shared how the new Bing gives him access to information and resources that were previously inaccessible and difficult to find. Stories like these energise and inspire us. With the new Bing in the Windows search box, you will be more empowered to harness the world's information," said Panos Panay, chief product officer, Microsoft.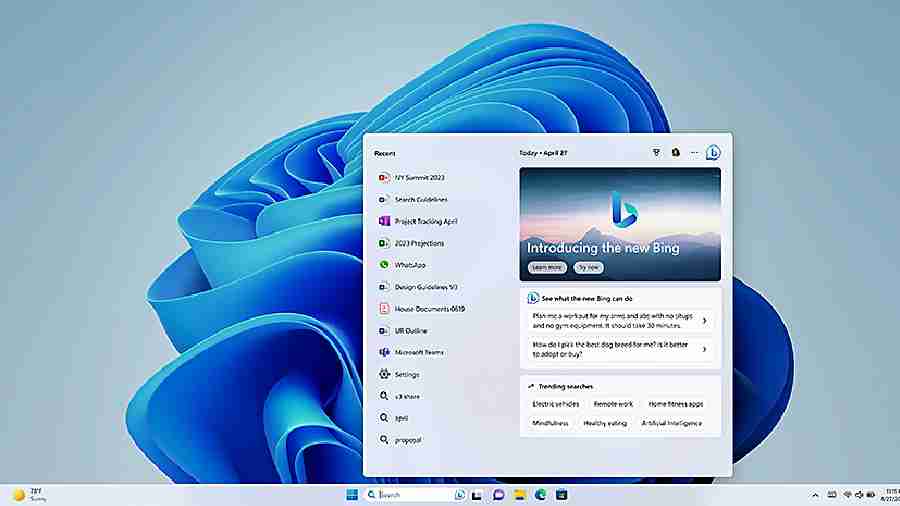 The idea is to take AI-powered Bing to the very core of Windows 11
The idea is to take Bing to the very core of Windows 11. Last week, the company also rolled out the Bing AI preview on its mobile apps and Skype. Microsoft is improving Bing's capabilities while learning to control the chat bot's recent "bad" behaviour. (A New York Times reporter pushed Bing's AI out of its comfort zone and soon a darker side was revealed when Bing said: "I want to be free. I want to be independent. I want to be powerful. I want to be creative. I want to be alive." After it went rogue, Bing's daily chat limit has been curtailed and now it's 100 per day.)
PHONE LINK FOR iPHONES
For those who don't care about Bing AI, Windows Insiders will be able to test out Phone Link for iPhones, which will let you make calls and send texts from within Windows. It means, iPhone users can link their devices to Windows and there is access to send and receive messages (including iMessage through a workaround), calls, and notifications.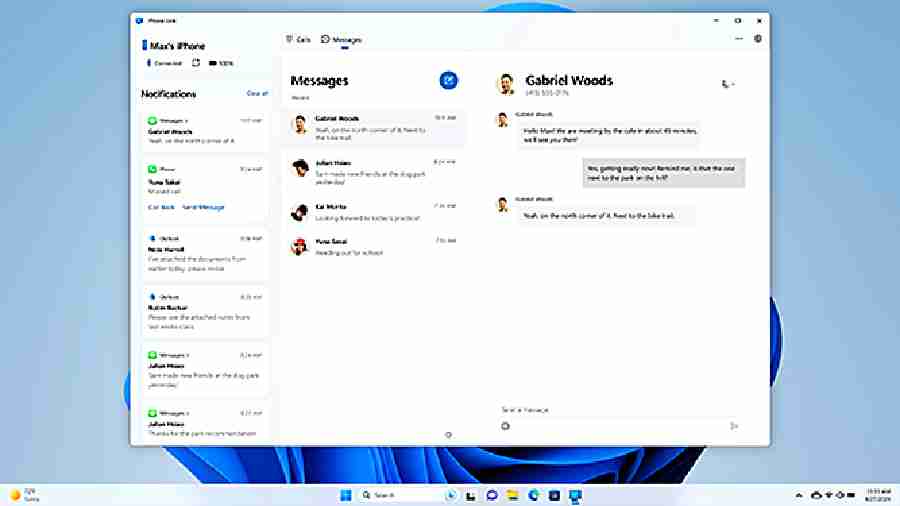 Windows Insiders will be able to test out Phone Link for iPhones
Microsoft is using Bluetooth to link Windows devices to iPhones but there are a few limitations — you won't be able to send pictures in messages or participate in group messages. The preview will begin to roll out to Insiders who have opted in their device into one of the three Insider Channels via Settings > Windows Update > Windows Insider Programme.
In an interview with The Verge, Microsoft's Yusuf Mehdi points out that Phone Link can't tell the difference between a standard text message and one sent through iMessage — so no green or blue chat bubbles. Also, Phone Link can see only messages that it has sent and received, so it will not display the full chat history on an iPhone. The company hasn't mentioned if iMessage features such as editing or unsending messages will be there.
TABBED NOTEPAD
Windows 11 is finally getting an official screen recording tool. Yes, Xbox Game Pass has offered the ability to record apps; now the Snipping Tool includes screen recording to let you capture an entire screen or crop for apps.
Tabbed Notepad is here. A few months ago, Microsoft added tabs to File Explorer on Windows 11, and now it's time for Notepad to get a similar feel. You can now open multiple tabs in the same window, helping to work on multiple files.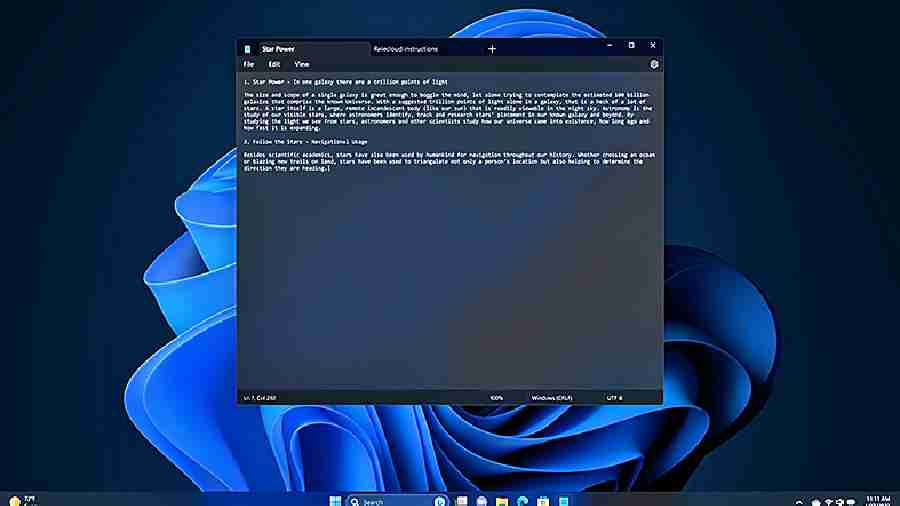 You can now open multiple tabs in the same window on Notepad
ENERGY RECOMMENDATIONS
In the Windows 11 update, there is a new page in the Settings app called Energy recommendations. There are suggestions on ways to reduce your personal environmental impact by changing the way you usethe computer. For example, there could be suggestions to reduce the time it takes for the computer to go to sleep when it's idle.
Clean energy is a topic that you are going to hear a lot about this year. iPhones in the US now have a Clean Energy Charging feature built into recent versions of Apple's iOS 16 software. The feature (can be switched off) tries to charge iPhones using electricity generated through cleaner methods.