Marriott International that introduced a Mood Diets menu earlier this year, is back with Mood Diets 2.0, a menu with a dash of vegan to all the dishes, curated from natural, plant-based dishes. The new Mood Diet 2.0 menu will be co-created by crowd-sourcing authentic recipes via a contest that will be hosted across 15 cities and the top three recipes will bag a spot on the menu. The Telegraph chatted with Himanshu Taneja, culinary director South Asia, Marriott International, on the unique concept of blending moods, cravings with ultimate yum sustainable food and more…

Earlier this year Marriott International launched Mood Diets... could you elaborate on the concept? What do you attribute the huge success of Mood Diets to?
Mood Diets was curated in the middle of the pandemic as everyone was cooped up at home, which led to a distinct shift in eating and sleeping schedules. Consumers who were working from home were constantly looking for food options. On the one-year anniversary of the lockdown, Marriott International introduced the 'Mood Diet' menu to meet the nutrient requirements of consumers while simultaneously meeting the unconscious food cravings that emerged from fluctuating temperaments. Fulfilling the necessary parameter of being a trusted brand to safely deliver, Marriott Bonvoy on Wheels (MBOW) successfully created awareness about a menu that could be easily enjoyed from the comfort of one's home.

How is Mood Diets 2.0 menu different from the previous one?
Committed to serving innovative and scrumptious delicacies across its properties, Marriott International is introducing 'Mood Diets 2.0' menu, which is designed to meet the nutrient requirements of guests with a vegan touch to all the dishes, curated from natural, plant-based ingredients. This menu is more sustainable, reliable and brings into actuality our responsibility towards the environment.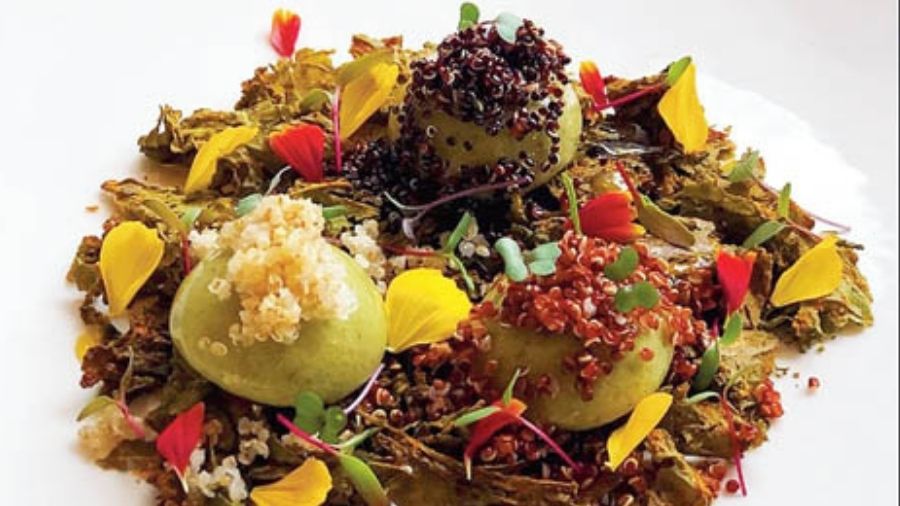 Black and white quinoa bhel, avocado mousse, crispy kale
Marriott International
Marriott International is inviting participation from connoisseur of flavours this year and indulging in a crowd-sourced menu. What is the idea behind this? What is the menu focused on?
Mood Diets 2.0 is an ode to sustainable living through a vegan menu that will bring forth dishes made of ingredients that are local and easily available, significant of the states they come from. The new Mood Diet 2.0 menu will be co-created by crowd-sourcing authentic recipes via a contest that will be hosted across 15 cities.
The ingredients chosen for the menu cater to a healthier lifestyle. The foundation behind using local ingredients is to upscale local appetite that is tasty, fresh, and dynamic. Every ingredient chosen for the menu will convert into a recipe with unique flavours, most of which are unchartered, enabling guests to visit and re-visit the menu and understand more about sustainability and giving back to the environment.
The contest is currently live across 15 cities. The recipes will need to be vegan based, simple and fuss-free preparations using one or more of the 10 organic ingredients shortlisted by our Master Chefs. The top three recipes will be featured in the upcoming Mood Diets 2.0 menu that will be introduced by the end of the year. Participation is simple and easy, recipes to be mailed at Mbow@marriott.com along with the participants' full name, location, and contact details. The ingredients and recipe format can be downloaded from here. The contest will run from the December 1 to 15. The new Mood Diet 2.0 menu will go live from January and will be available for order on Marriott Bonvoy on Wheels, the Marriott home delivery service.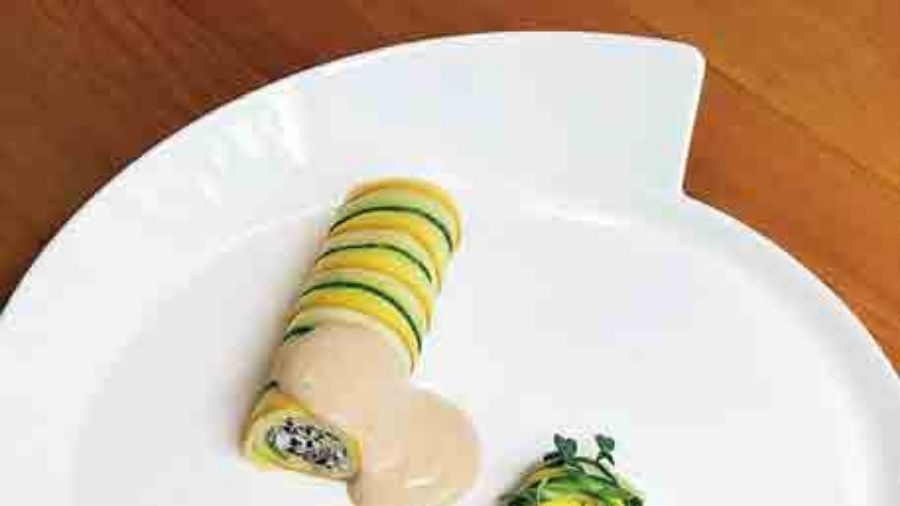 Fettuccine Spaghetti and roulade with garlic pepper emulsion
Marriott International
You are heading South Asia, Marriott International as culinary director. What would you say will be the top food trends of 2022 and years ahead?
2022 is looking very exciting as sustainability will be at its peak. The trend will incline towards plant-based and zero wastage conversations, set to make whirlwind change across the globe. Healthy snacking and fermented foods will also see an equal spotlight with unconventional flavoured preparations coming into the forefront. With everything opening up, experiential meals will make a dramatic comeback with varied cultural experiences that will be customised for the guests. Lastly, non-alcoholic drinks featuring local ingredients will surface on our bar countertops as patrons are slowly yet steadily moving towards a healthier drink palate.

As the saying goes good food = good mood. What, according to you, is a good hearty meal? What is that one dish that instantly peps your mood up?
According to me, a good hearty meal in many ways brings the best memories! Something you would have enjoyed eating in your childhood years, and still do. For me that would be chhole bhature. The meal never fails to satisfy me and brings with it the best memories of home.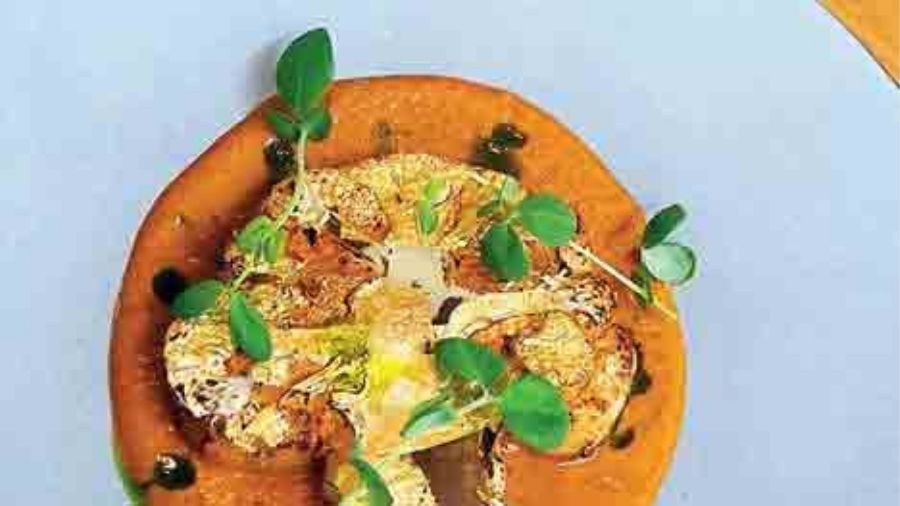 Roasted Cauliflower Steak with Pepper Coulis
Marriott International
Since I am from Kolkata, and the menu would be available at JW Marriott Kolkata too, what is your impression about Kolkata food? Any must-haves when you are in the city or something you look forward to trying?
Yes, this menu will be available at the JW Marriott Kolkata, known as the gastronomic city of India. The Kolkata cuisine is diverse, which entails unique ingredient compositions in recipes like kasundi, nolen gur, Gobindobhog rice, panchphoran or gondhoraj lemon. A must-have from the city would be hinger kochuri to be enjoyed with readymade tea during breakfast