Bright floral prints and easy-to-wear silhouettes are the highlights of designer Jyotee Khaitan's summer '22 collection that features a host of kaftans and cowl-pattern ensembles. Designed keeping in mind the contemporary taste of women and present trends, the outfits have a classy touch to it, suitable for the morn-to-night summer wardrobe. Actress Koushani Mukherjee shows how to get the comfy looks right, be it a brunch or a night party:
The Telegraph chats with Koushani...
What is your summer fashion like?
My summer fashion includes comfortable clothes, specially in cotton. Sandals, flats,
T-shirts… just dressing up in casuals and keeping it as casual and comfortable as possible.
When we say comfort wear what's the first thing that comes to your mind?
A spaghetti top and shorts. That's good to go for any outing during summer.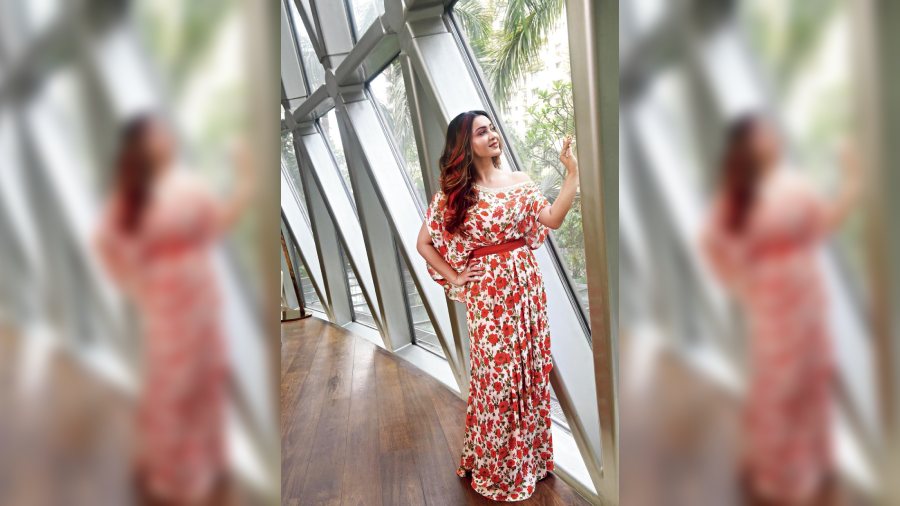 This light yellow georgette one-shoulder kaftan outfit spells out summer with its serried bright orange floral print. A thin sequin border highlight on the neckline and the orange belt around the waist gives a pleated fall to the outfit, adding a subtle glam and chic touch to the outfit
How do you like to generally style your summer looks?
A shrug over a spaghetti top to protect from direct exposure to sun as I am very concerned about my skin and if I am going for any party then I accessorise it with a scarf or some layers of neckpieces and a small earring.
Is there any fond summer memory that you would like to share with us?
The days when as a kid we used to go to school and wait for the summer vacations to begin. We used to have a long one-month summer vacation, spend time with family and have a nice get together at home. I used to specially wait for vacations at some cool places with mom and dad and there was nothing called diet. I could literally have anything, from ice cream and cold drinks to all kinds of junk food.
What do you look forward to most during summer ?
Mangoes! I really really love mangoes. Any dessert with mangoes, Alphonso mango sticky rice, mango shake... these are the things I die for during summer..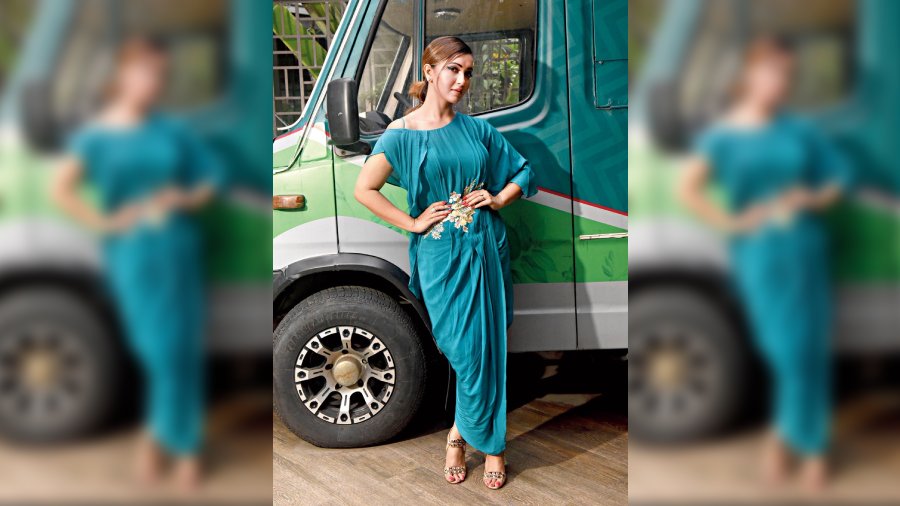 Add a floral touch to your all-glam party look for the summer feel! Koushani posed stunning in a teal draped asymmetrical kaftan outfit in crepe, designed with floral embroidery around the waist.
We shot with you an easy-breezy summer lookbook. What's that one outfit you lay your hands on because it is easy to wear ?
Kaftan. I am a person who dresses very simple when I am not attending any event. When I am in front of the camera, I really like wearing loose fits and comfortable trousers, and avoid denims. Printed trousers really catch my eye. Kaftan is easy to wear.
Talking of easy-breezy, who is the easiest co-star and director you have worked with?
I have worked with a lot of renowned actors from our industry and I really loved working with Jeetda. I look forward to working with him always. Director would be Rajda (Raj Chakraborty) as I started my journey as an actor with him. He has always been very special to me as a director.
A person from the industry who you find easy to approach?
I am very communicative. And whomever I have approached has been really kind and generous towards me to respond positively to my approach. It really depends on how you approach a person and the reaction from the other person comes that way. It is easy if you approach a person easily.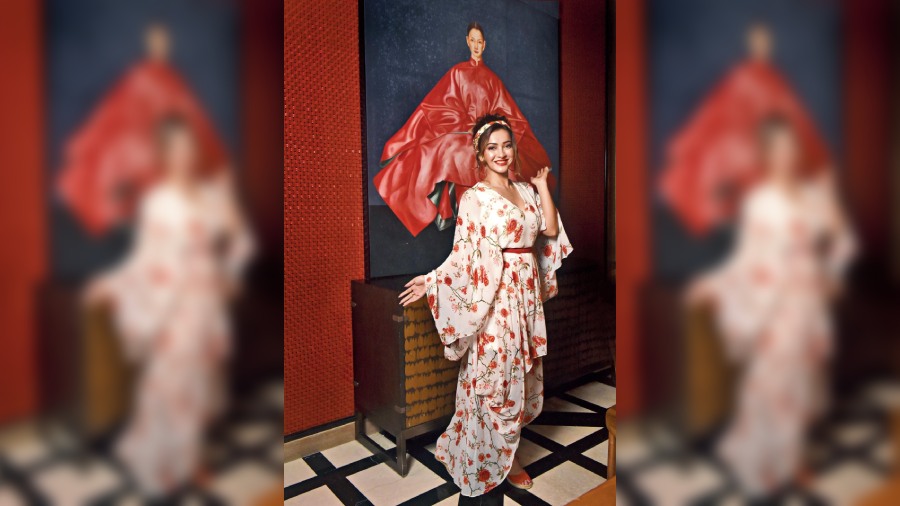 Koushani cut a pretty frame in this off-white, flowy asymmetrical draped kaftan. The georgette floral-printed outfit with exaggerated sleeves and cowl-pattern detailing is perfect for a fun summer brunch outing with the girl gang. The floral-printed belt is used as a hairband to tame the hair and create a comfy pulled-up hairstyle and the belt around the waist adds to the fun and charming vibe of the look
What is the easiest skill that you picked up till date?
I am a very communicative person and maybe this skill is really difficult for a lot of people who are introverts. Since I really like communicating with people, have good conversations, I am very extroverted and friendly by nature. I think communication is one skill that I find easy as an individual.
If you had to pick one thing or one person who makes life easy for you, who or what would that be?
Acting is one thing that I swear by and makes my life easy. No matter how depressed, upset or how much I am fighting with struggles in my life, if I am working on the floor in front of a camera that really makes things easy for me. I can deal with the worst if I am working because working as an actor makes me feel alive. That is what I swear by.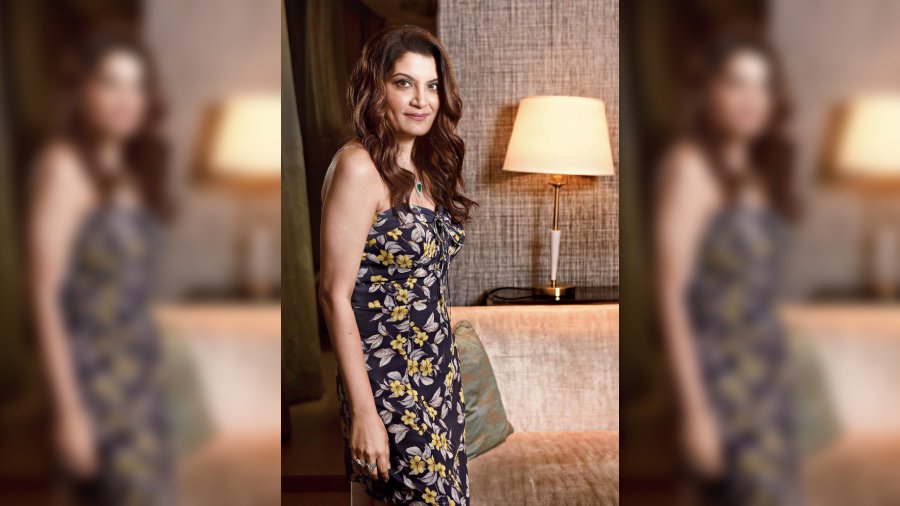 Our summer '22 collection features luxury pret pieces that blur the lines between classic elegance and contemporary maximalism. These gorgeous timeless and statement summer pieces have a summery vibe to it, detailed with trendy prints and embroidery on easy-breezy silhouettes like kaftans and draped pieces — Jyotee Khaitan, designer
Pictures: Pabitra Das
Make-up: Suman Ganguly
Hair: Abhinash Bhowmick
Location courtesy: JW Marriott Kolkata