Polki is pricey — there's no other way to say it! This opulent form of natural diamond is a big-ticket item in the wedding industry and Kolkata's jewellery houses are scaling down polki jewellery to make it more viable — commercially and otherwise.
No celebrity bride has walked down the aisle without polkis, be it Katrina Kaif or Priyanka Chopra. Even Dia Mirza, who had the subtlest bridal look in Bollywood history and went for an off-the-rack saree, could not do away with precious polkis. However, the new crop of shoppers wants more from their wedding-day jewellery than just a coveted designer label.
"Modern buyers want to wear their jewellery — they want to enjoy their precious pieces rather than have them sitting in a locker," says Abhishek Kajaria, the director of the Kolkata-based high label Avama Jewellers. A traditional polki jadau bridal set can cost you anything between Rs 2.5 lakhs and 7 lakhs. But brides and wedding shoppers are now seeking adaptable options so they can spend less and get the most out of a big purchase.
Avama, for instance, which is known for its ornate 'navratna' pieces, heavy-set 'jadau' and temple jewellery, has introduced a line of affordable, semi-precious polkis. "We use smaller polki pieces, which are budget-friendly. We also use semi-precious polki stones, which are more affordable and we also ensure that the weight of gold is minimum in the cost-effective pieces," Kajaria adds. 
The big shift
In the last few months, labels like Amrapali, Senco Gold & Diamonds, Anita Dongre's label Pink City have all introduced versatile polki options — where both the design language and prices have been scaled down. Sunita Shekhawat (often credited for modernising polki in the country) is producing functional, detachable polki pieces like a Rajasthani polki 'haathphool' (hand harness) that can be worn as a ring, bracelet and choker and can be styled for different occasions. 
High jewellery labels are compartmentalising their line-up for the post-pandemic market with the help of capsule edits targeted at different sections of buyers. Abhishek and Abhiyant Raniwala's heritage label Raniwala 1881, for instance, worked with brand invigorator Nisha Jhangiani to create their first ready-to-wear polki line with art deco influences.  
'Jadau', heavy polki or 'meenakari' are hardly out of the picture since value-based gemstones are considered investment pieces. But top-tier design houses are definitely expanding their production to cater to different budget needs. Intimate bridal soirees are also creating a demand for jewellery that isn't too extravagant or gauche.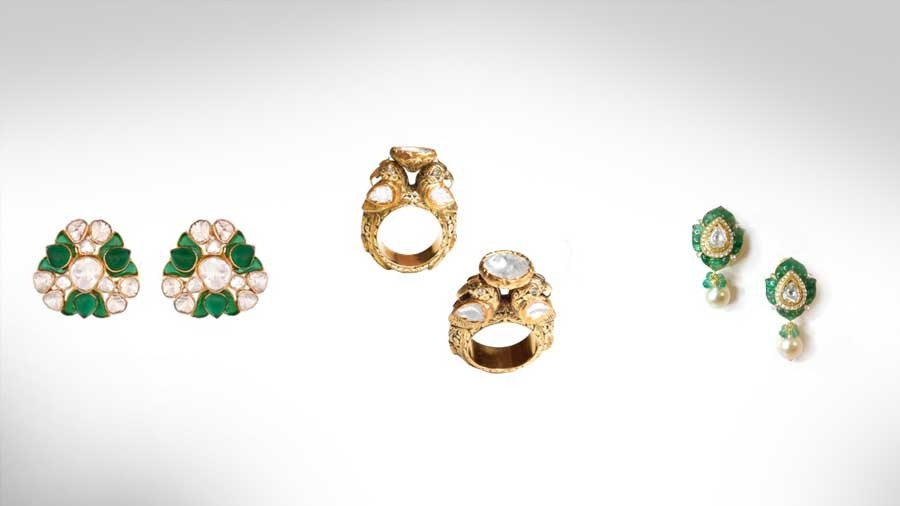 Wearable pret polki by Kulthiaa Jewel
Pretoria Street's Kulthiaa Jewel has made room for polki jewellery that will appeal to price-conscious buyers. "We have worked on a selection of pieces of polki in a range
of Rs 80,000 to Rs 2 lakhs. The designs are contemporary and unconventional, but they retain a sense of traditionality. It targets the emerging group of consumers. Small collectable rings, earrings and tiny pendants are a part of this capsule collection of budget polki," says Anand Kulthia, owner and director of Kulthiaa Jewel.
The pret push
Kolkata designer Harshita Sultania came up with an occasion-wear polki line featuring options under one lakh. While brides are okay with spending lakhs on their bridal look, economical polki is a winning trend when it comes to gifting or destination wedding fashion.
"We're still using precious polkis that are set in gold but we're making the pieces dressier and more ornate by using coloured precious stones like tanzanites or rubies that cost less than polkis. This is in huge demand in the gifting segment, since people want to opt for extravagant options that are somewhat economical. Moreover, when it comes to wedding fashion, young people are looking for wearable and colourful picks," says Sultania.
Polki's urban do-over is only helping the wedding industry attract a new wave of buyers. Young buyers, who usually steer clear of fine jewellery, now have the option of considering classical, affordable polki.
"Prét pieces in polki are trending big. The younger generation wants their jewels to resonate with their style and for them, less is more. This is why prét polki is doing extremely well with younger buyers. A bridesmaid, or the bride's sister for instance, would prefer these pieces over traditional options since they can be re-used as occasion wear," adds Kulthia.