In 2020, just before the pandemic put a painstaking pause on everyday life, Braganza & Co received a call from Ramakrishna Mission Vidyapith, Purulia, requesting their services to repair a piano that was once owned by Rabindranath Tagore.
Tagore, who shared a love for both stringed and percussive instruments, played a square piano, during his stay in Shillong between 1919 and 1923. He used the piano to compose a number of his songs and medleys. Santosh Kumar Sengupta, a celebrated Rabindra Sangeet singer, eventually came into possession of the instrument and donated it to Ramakrishna Mission Vidyapith, Purulia — an institution that is famed for teaching young students the nuances of music.
Tagore's square piano when it first came to Braganza's
"Braganza's usually refuses all repair requests when it comes to square pianos because they are very tedious to repair. We only took on this piano since it was once used by Rabindranath Tagore," says Tony, the second-generation owner of Braganza and Co. The 77-year-old music store was set up by Goan brothers Francis and Thomas Braganza in Kolkata in 1945. Today, Tony and Dicky Braganza, the second-generation owners, helm the establishment along with Penelope and Nigel Braganza, the third-generation heirs.
Before committing to the task, Braganza & Co sent their most skilled technician on a five-and-a-half-hour journey to Purulia to get a better understanding of what they were dealing with. "Once we were sure we could refurbish it, we transported it to our workshop on Free School Street and began the repair process," explains Tony.
Tagore was known to prefer the piano over most instruments owing to its versatility. In fact, the poet apparently believed that if a westerner had to sing his songs in European languages, they should be played in the Lieder format — piano and vocals. One of his favourite pianos was the cottage piano he used in Santiniketan, which was made by the German Hobbs and Company and was presented to Tagore in 1922 by a Dutch woman named Mary van Eeghen. The poet played this piano often and at times would make someone else play it for him to listen.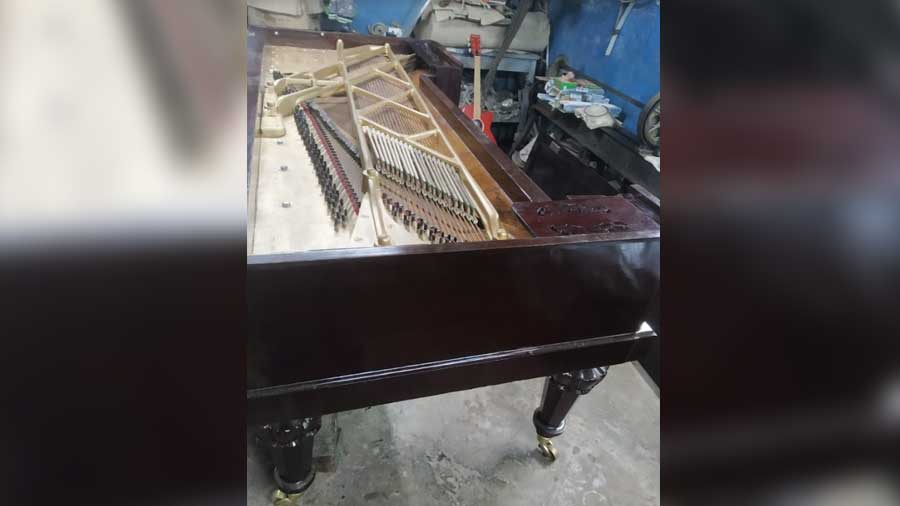 The piano during the refurbishing process
The square piano, however, which Braganza & Co was tasked with repairing, is quite different in make. It's made from a beautiful mahogany bark, dating back to 1750, Germany. The exact year and make of the instrument could not be pinpointed as the inscription has disintegrated over the last two centuries. The piano has a floating pedal — standard to all square pianos — and brass castings on each peg of the piano — which was an interesting find, unique to this particular instrument.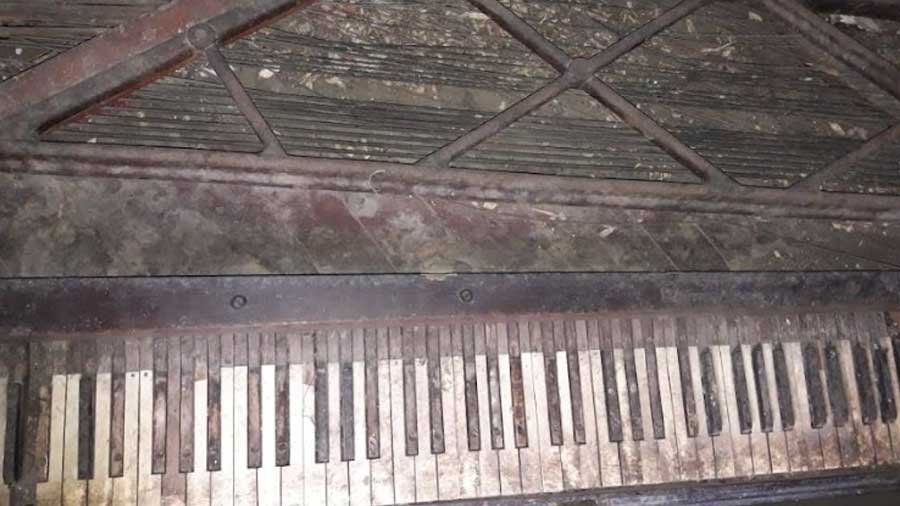 The condition of the keys
When it first arrived at Braganza & Co's workshop, the piano was in a shambles. But the bones of German pianos have proven to be nothing but enduring. "In order to begin the repair process, we needed an in-depth understanding of square pianos, but there's not a lot of literature available on square pianos. The refurbishment process was long and hard," says Tony. Braganza & Co went old-school, resorting to a research-backed trial and error method.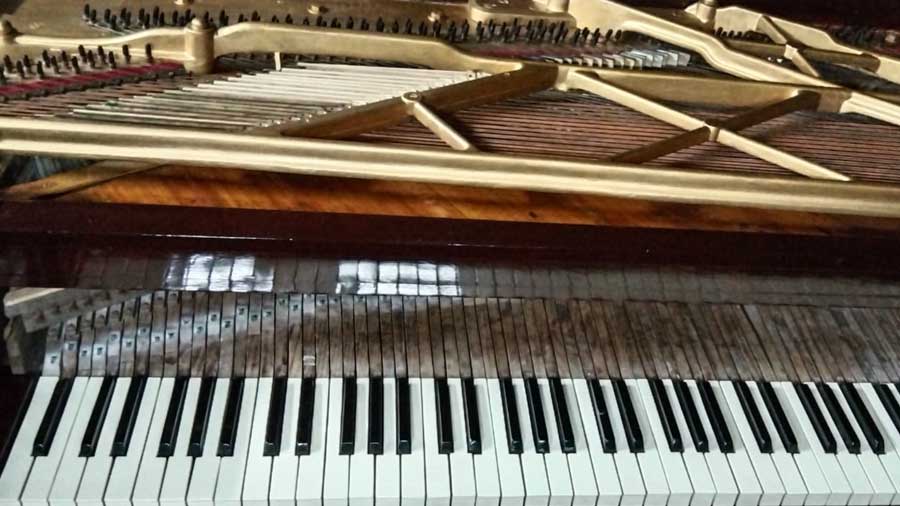 The refurbished piano
"The action of Tagore's piano was different from anything we had seen before so it took a lot of testing to figure out the right sound. We researched old photographs of square pianos and started with that," reveals Tony.
Square pianos have horizontal strings arranged diagonally across the rectangular case above the hammers — it's quite different to that of a grand piano, which Tagore was also known to play in Santiniketan. "If we had the opportunity to see the mechanics of a few square pianos and listen to the sound, this process would have been much easier. But we were going in blind, looking at photographs and trying to piece things together," Tony adds.
The refurbishment process was an intricate affair and took a little over two years to complete. A single brass casting remained out of the original four, so three identical castings needed to be reproduced.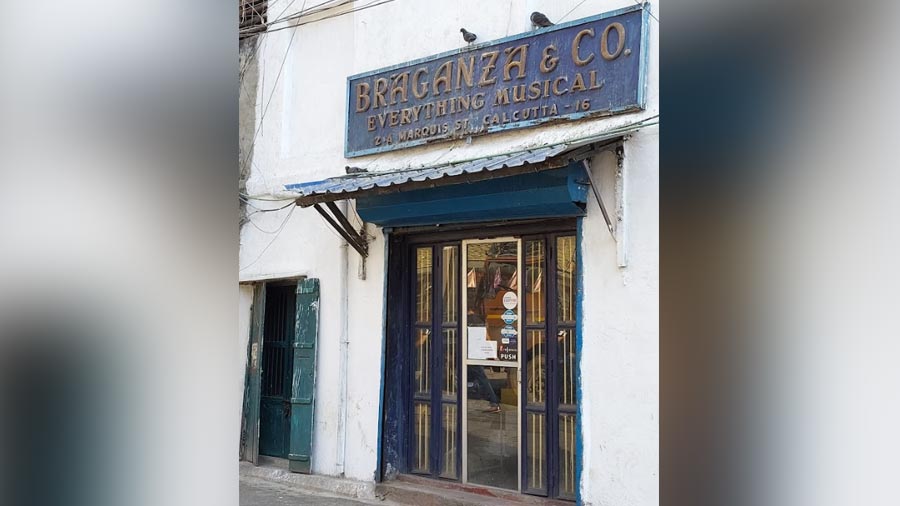 Braganza & Co had to resort to a research-backed trial and error method to restore the piano
"We procured the brass casting from Rajabazar — they have the best artisans," smiles Tony. Another tricky element was the floating pedal. When a piano has twin floating pedals (like most grand pianos) it's fairly simple to balance. However, single floating pedals sway to the side, like a pendulum, which can be problematic for the piano player. "We figured out the perfect balance so it wouldn't move to the left or right," says Tony, who's also an expert technician.
Once the piano was ready, it sounded impeccable. The melody mirrored the thin notes of the square pianos of the 1700s and its body resembled them too. Braganza & Co maintained the integrity of the mahogany bark and used a natural polish which resulted in a rich mahogany hue with crimson undertones. "We wanted to emulate the natural colour of the wood," smiles Tony.
"This is a great achievement for Braganza & Co. We've refurbished many pianos and instruments in the past, but this was special. We had to raise it from its ashes. We didn't think we would be able to do it but we're really proud that we did!" signs off Team Braganza's.