The modern Indian woman prefers lightweight jewellery that blends tradition with a touch of modernity and Harshita Sutania's polki and diamond collections comprising statement fine jewellery at her new store in Allenby Road is a shining take on just that and more. As we stepped into the warmly lit store, Harshita took us through few picks of her collection while also filling us in on the idea, designs, colour palette, motifs and services of her label.
Talking about her polki and diamond collections, she said, "So I specialise in polki jewellery designing and some pieces have polki with diamonds. The art itself is traditional, dating back to the Mughal time in Rajasthan, but the designs are modern. It is a very versatile and easy-to-wear collection — not something you get bored of, or wear once and are done. The designs are simple but they stand out. We keep a lot of large stuff, tennis bracelets and chokers too. I think these are the kinds of pieces that young women want to wear. They can wear jewellery from my collection to their family and friends' weddings, because now jewellery is not only for special occasions but for smaller celebrations too. And I think that's what you should keep in mind while picking your trousseau and jewellery pieces too."
The 1,000sqft store is clad in a warm, cosy look that invites you in, instantly. Done in light colours, of greys with a yellow glow, it exudes a homely charm. "We have a comfortable area for people who are here with the family or kids, so that they can sit and relax in an area that does not make you feel very bound — so that's the idea behind keeping a light colour scheme and an open floor plan," said Harshita.
"We also specialise in redesigning. A lot of clients have old pieces that have been passed on to them by their grandmothers, mothers, which they think are outdated and hence don't want to wear it. Old-school jewellery is given a more modern and trendier look with more polkis to it, newer motifs, fresher shapes and some colour stones, depending on what our clients prefer," added Harshita.
Speaking about the kind of jewellery she stores, Harshita said, "The age group of our clients is on the younger side, so they want pieces that are fun and trendy. So our pieces use a lot of colours. Our current collection has a lot of pastels and bright colours. We don't use a lot of florals, but a lot of geometric shapes. We use pastel stones like fluorites, rose quartz; these stones don't prick your eye, they are comfortable and soothing. The stones are manufactured and cut in Rajasthan and Gujarat, while the jewellery is designed here in Calcutta."
A tete-a-tete with Harshita: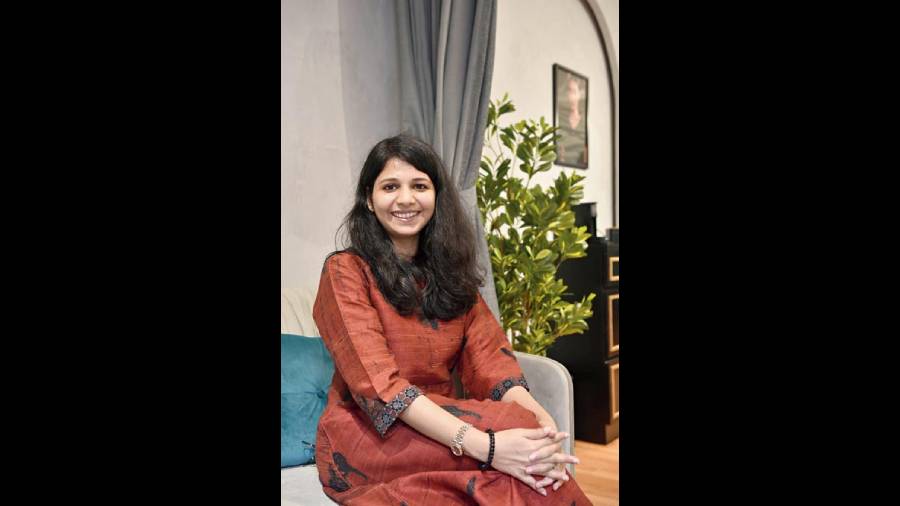 Harshita Sultania
How do you think the trend for fine jewellery has changed over the years?
We have been in the business for six years now and from what we have seen, earlier people would come with their mothers or mothers-in-law to buy jewellery or only people from that generation would be buying fine jewellery. But now, young women who are earning, want to pick up pieces that are easy to wear and suit their styles. They are spending more freely on the kind of pieces that we keep and they are more comfortable spending in the price range that we have. They don't want very heavy jewellery, or something they will keep in their lockers and probably not wear or forget about it. I think over time, people have started wearing more colourful jewellery instead of very traditional ones. Plain or simple jewellery, I think they prefer more gemstones, more colours, which mimic the trend in the West. All the western jewellers have always used a lot of precious gemstones so I think that trend is also coming in India now.
Take us through your label's colour palette and stone collection.
We have traditional rubies and emeralds, which also come in a variety of shades, but now over time we are seeing that people want something different from the traditional red and greens, so you have yellow and blue sapphires. The pastel shades like green and pink are the kind of colours people are preferring now and especially with the change in trend in bridal wear. Now, bridal finery is not very heavy on the eye. More of whites and pastel colours are coming into fashion wear, so I think you can see the same trend being mimicked in jewellery also.
At a glance
What: Harshita Sultania Jewellery (@harshitasjewellery)
Where: 8A Allenby Road, First floor (opposite Forum mall)
When: 11am to 7pm (Monday to Saturday for walk-ins and by appointment only on Sundays by calling on 8335078183)
Pocket pinch: Rs 50,000 onwards
A sneak peek into the collection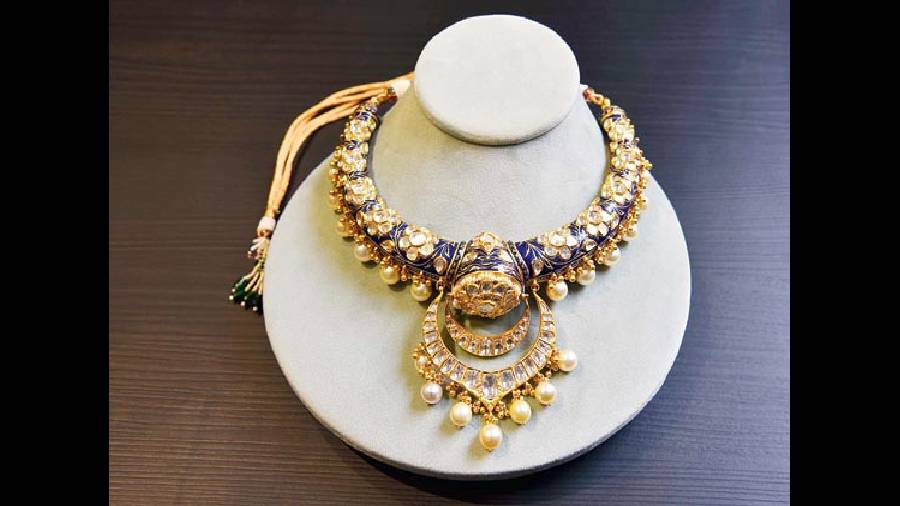 This 22-carat gold Hansli necklace that is studded with polki and South Sea pearls with meena work at the back, exudes royalty and resplendence. The traditional art of polki jewellery comes alive in this reversible piece that was worn by Rajput princesses in the past.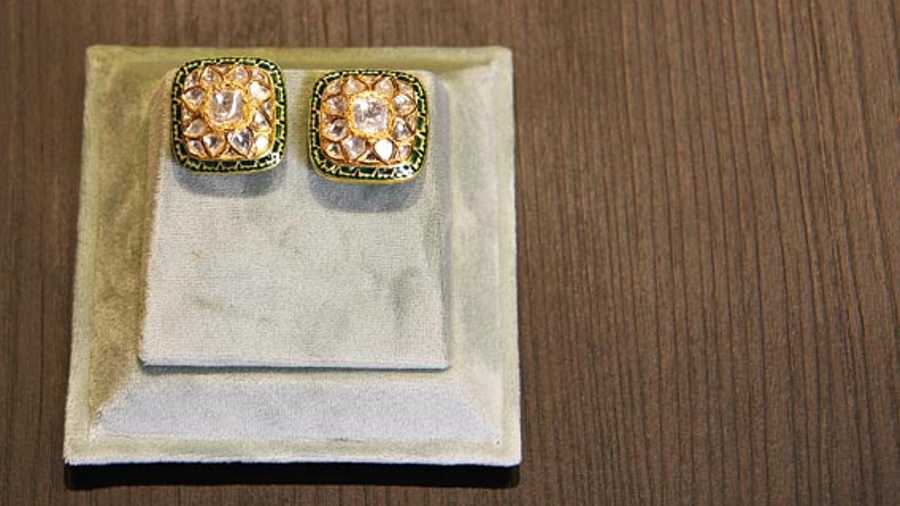 The modern-day woman prefers lightweight jewellery and this pair of green polki ear studs having floral motifs with meena work in the border is modern style statement done right, blending traditional and modern elements.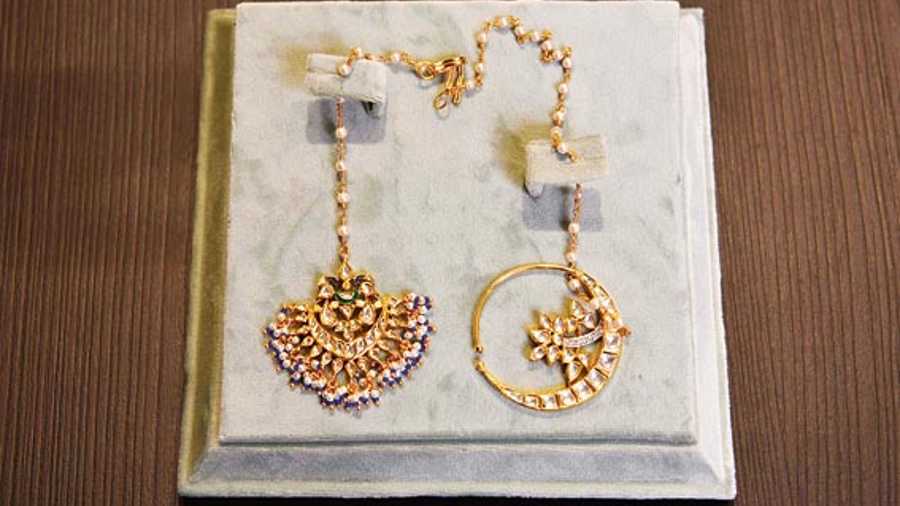 Trendy meets traditional in this beautiful polki and pearl maangtika with two little peacock motifs. The blue, white and green with the pearly sheen will look good with heavier jewellery that can be worn on one's wedding day or any festive occasion.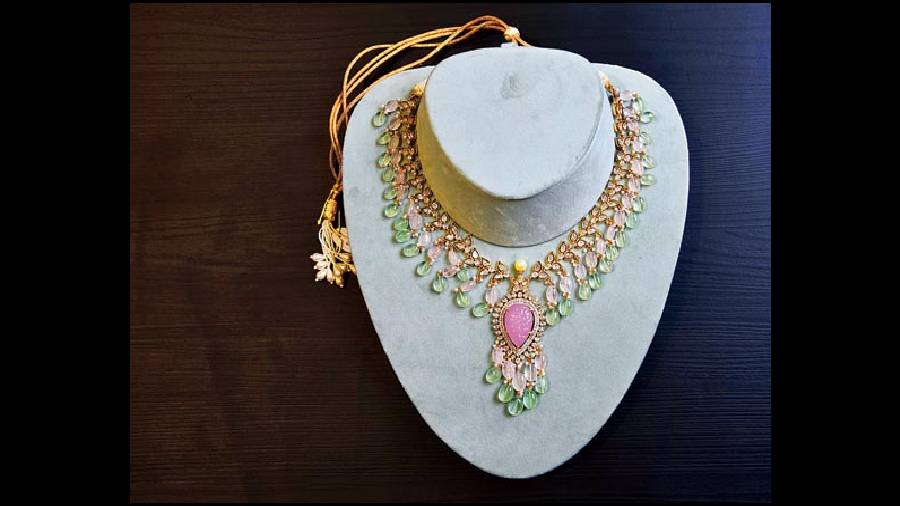 Lightweight and fun, this pretty polki fusion necklace studded in a nice pink rose quartz gemstone and fluorites, and a few lines of diamonds, has leaf-like green fluorites dangling at the edges, to give it a floral look and feel. The light pink, green and white will stand out with any modern, ethnic or fusion attire.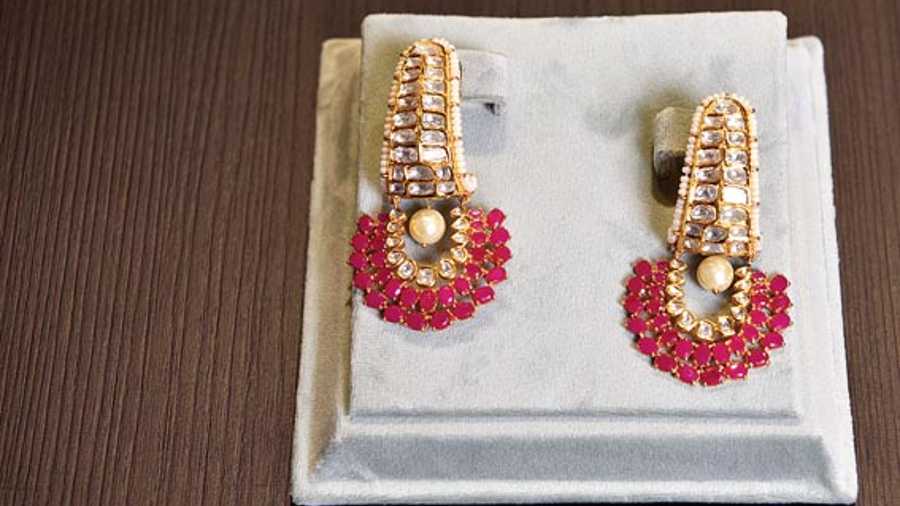 Uniquely made on a single piece of gold with no joints, is this gorgeous, lightweight earring strung in pink rubies, pearls, polki and gold with pearls at the edges.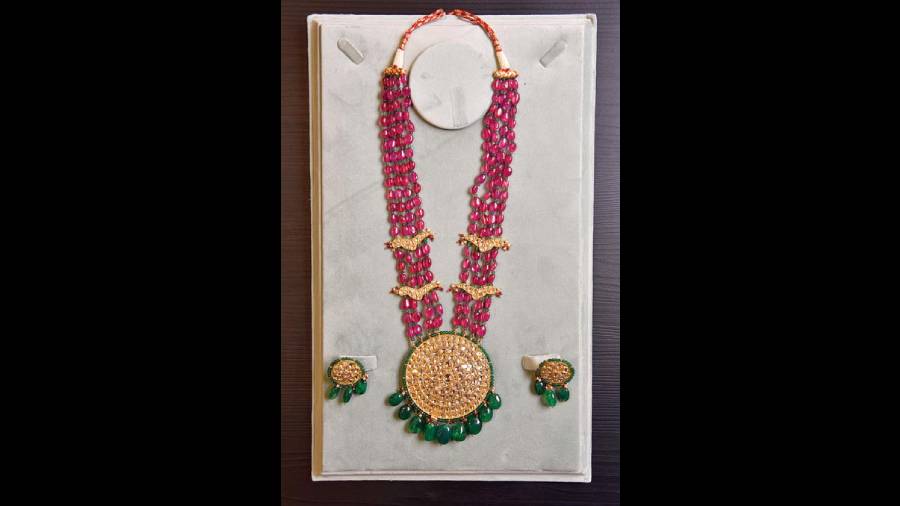 An elaborately designed jewellery set keeps you sorted for family occasions or large gatherings and this polki pendant set which is made in 24-carat gold can be worn by both younger and older women. The round centrepiece is studded in diamond with green ruby drops. It is strung with pink rubies with birds in diamonds, lending a delicate look to the set.
Pictures: B. Halder